Beauty basics: Students at Camp Zama learn tricks of the trade
by
Sue Jorgenson
October 30, 2002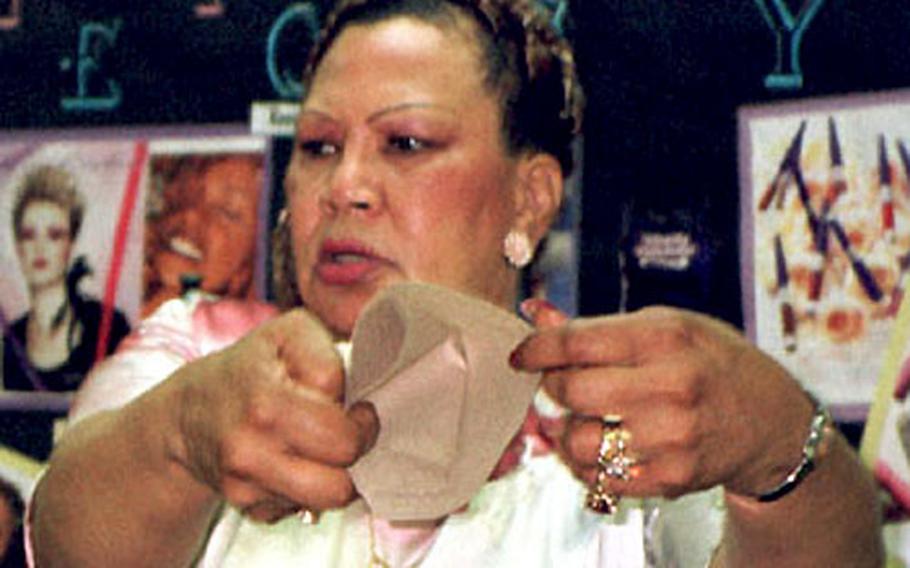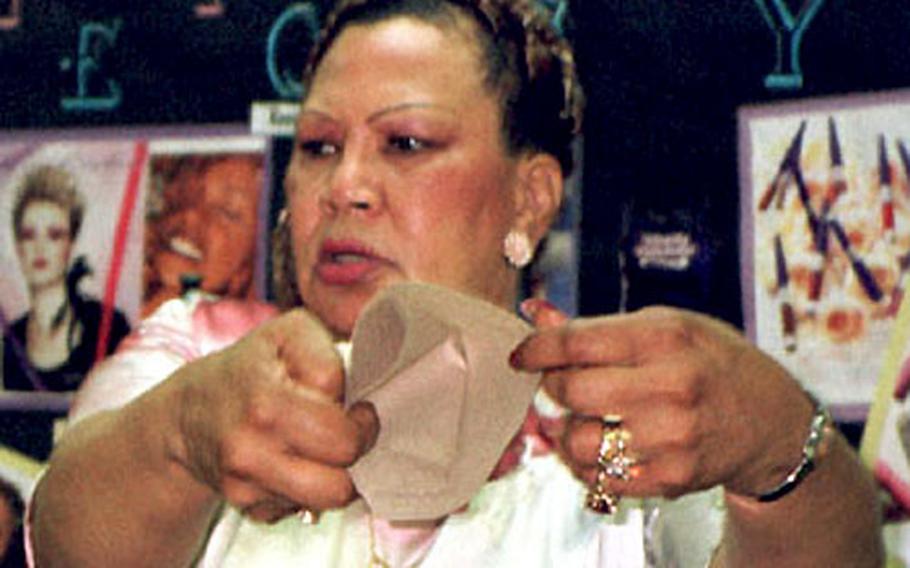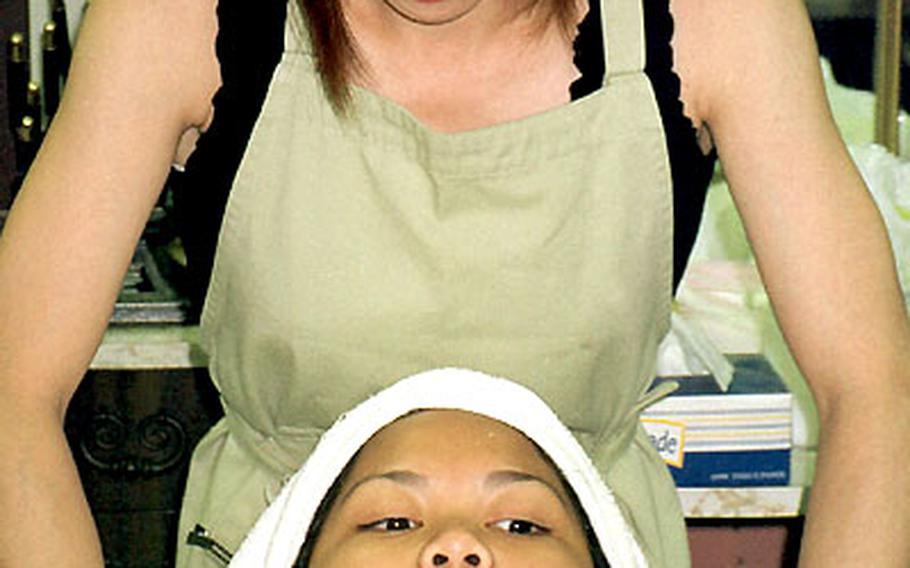 CAMP ZAMA, Japan — Mrs. Donald's eighth-grade class is learning about fungus, infection, blood circulation and the importance of sterilizing hands and equipment.
"Sanitizing and sterilization are the most important," said Donald in a voice that gets the attention of her Zama Middle School class. Students grab paper towels and alcohol solution and begin to wipe down their work tables and hands.
Donald is not a biology teacher. She is training students in the step-by-step process necessary before they can get on with the fun stuff — manicures.
A cosmetology teacher for 23 years, Naomi Bobbie Donald has taught countless students the ins-and-outs of manicures, hair styling, facials, make-up and massage. Many will go on to major in other studies, but what they learn in her class are things that she hopes they can use no matter which career they choose.
"I guess cosmetology really is the only subject that I know of that teaches across the curriculum. We have math, we have biology, we have physiology, we have chemistry — we have all of it," Donald said.
Jose Ocampo, 14, signed up for the class to learn about doing nails. "I've never done it so I'm learning. I'm not really into make-up," said the ninth-grader who shrugs off the teasing he gets from fellow classmates for being the only male student in the class. "I came to learn. There's a possibility I may use it in the future," Jose said.
His classmate, Jessica Taft-Luetke, 14, likes manicures and facials, but hairstyling is her main reason for taking cosmetology.
"Hair — that's the one thing I wanted to do because I think it's fun to experiment with hairstyles," she said.
But having recently learned about manicures, the ninth-grader didn't waste any time using what she had learned. "Yesterday I gave my little sisters manicures," Jessica said. She also plans to try out hairstyles on her younger siblings.
Eboni Coleman, 16, is one student serious about pursuing cosmetology as a career. "I'm planning on being a cosmetologist and specialize in hair and nails. I want to own a salon." Eboni said she wants to finish college and do some modeling.
"I train them so if they would like to enter at an entry level they would be able to do so. But my intention is for the student who is truly interested in cosmetology is to get the training, do the state board (licensing exam) if they want, but go on and get their degree," Donald said.
The full-service beauty salon in Tokyo's New Sanno Hotel will be the next classroom for 32 high school and 18 middle school students taking Donald's cosmetology course.
Many returning students participated in the internship program when it began last May. "From when they got there until closing, they were busy working on clients getting their hair done for the prom," Donald said.
This year, five or so students will go each Saturday to work in the New Sanno salon. The salon owner coordinates with Donald in advance so students with the proper level of training can be sent to perform services requested by clients.
"They don't go up there for the sake of going up there. They go up there to work. They get a portion of the pay — a portion they get back — which makes it even more attractive," said Donald.
"This program is set up to help the kids. Our main focus is the children here not only at Zama High School but throughout the military bases. What we're trying to do is to show that once children can get the basic skills, they can try to apply those skills within a real professional salon," salon owner Milton Mayo said.
To give students a preview of how the pros do it, Mayo recently brought two of his salon employees into Donald's class for a show-and-tell session.
Emoto Nami, a professional cosmetologist from Mayo's salon, specializes in "esthetic massage," more commonly known as facials. She demonstrated her techniques on a few lucky students who relaxed in the classroom salon chair while Mayo narrated.
"She has a technique. When you have a technique, you have confidence. When you have confidence, you can do anyone," Mayo said.
Nami, being very slight of frame and weighing less than 100 pounds, showed that size is no criteria for ability in this field. "She can massage clients bigger than me for 100 minutes at a time. You try just standing, being on your feet for that long a time," Mayo said.
The salon owner also stressed to students the importance of putting clients at ease.
"Be relaxed as a professional and be able to communicate. If you can't communicate, it's difficult to make the customer relax. If they're not relaxed when you explain things, they won't be listening," Mayo said.
Next on their itinerary is a day at Yokosuka Navy Base's nail salon, also operated by Mayo, so the students can absorb what they can from professional manicurists.
In November, the "total look" show at the New Sanno Hotel will give each student the chance to showcase individual style and taste. Students will select and model an outfit, along with hairstyle, nails and make-up done with the help of their classmates.
"If they are showing off an evening hairstyle, then the garment should be likewise," said Donald, who has instructed students to choose a dressy rather than everyday school outfit.
The show will be as much about building self-esteem as about individual expression for the teens.
"The one thing that I have always wanted for my students is to improve their self-esteem in whatever it is that they get involved in, to help them to feel good about themselves.
"That is what I feel this show does. … I know that personal presence and being able to present that to an audience is so important for their self-esteem. They walk away feeling I can do this and I can do it well," said Donald.
Tickets for the Nov. 23 "total look" show will be sold through the hotel and school, and profits will go toward home-school scholarships and cash prizes for hair shows, Donald said.
"This scholarship is offered every year to seniors in cosmetology. Last year, I had five seniors that were cosmetology students. They received $100 each," said Donald. She also awarded cash prizes for the top five winners of the school's hair-styling competition.
"This year there will probably be more because we're getting an early start. We hope to have vendors that participate in the salon to award scholarships as well. There's no end to where this home-school partnership can go. It's for the students' sake," Donald said.
Style Connection 2002-2003
The student "total look" show will be from 7 to 10:30 p.m., Saturday, Nov. 23 at New Sanno Hotel.
Tickets are $25 per person and must be purchased in advance. The price includes a four-course prime rib dinner and the student show.
The show is sponsored by the home-school partnership of Zama High School and New Sanno Beauty Salon.
For tickets and information, contact Naomi Bobbie Donald at DSN 263-5269 or the New Sanno Beauty Salon at 03-3440-2577.