Bar Sleuth: When in Gaeta, you have to go to Vic's Bar
by
Jason Chudy
March 30, 2006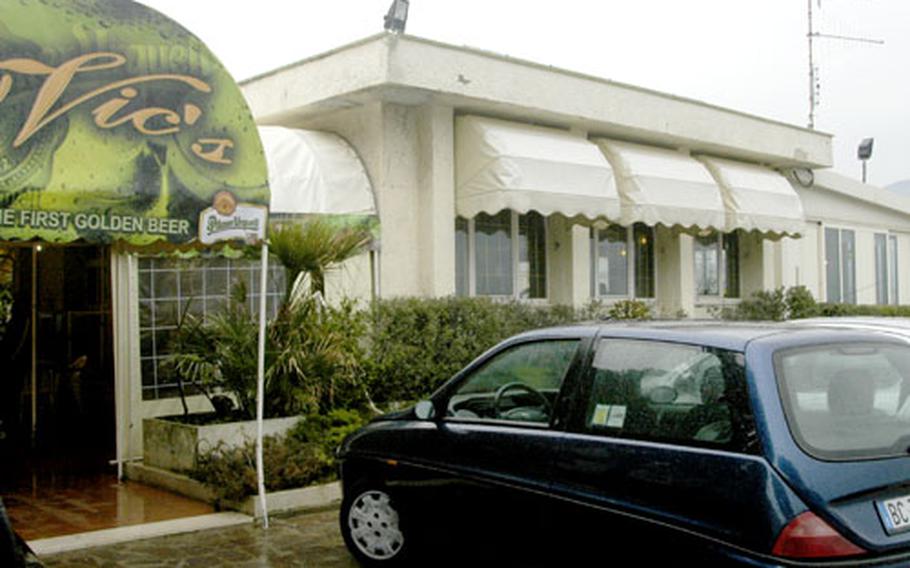 GAETA, Italy — Casablanca had Rick's, Gaeta has Vic's.
And like the fictitious movie bar, anyone who's anyone who visits this small, sleepy port town has been there.
Vic's balances the wants of young American sailors on liberty — cold beer on tap, mixed drinks and wine — with decent American favorites and Italian specials.
It's something that owner Vittorio Bonaventura has balanced out quite well. While Vic's will never be known for fine dining, it's a fun place to spend some time with friends.
Even on a cold, rainy Wednesday afternoon a handful of people came in and out of Vic's, ordering drinks and lunch, with one woman migrating toward the three computer Internet cafe terminals against one of the back walls.
And although Vic's prices on drinks and food are a little higher than most Italian restaurants in the area, visitors are paying for more than food — they're also paying for a darn nice seaside view.
Vic's is set right on the Gaeta waterfront, just next to the pier facility that's home to USS Mount Whitney, and has a great view of the Formia, the Aurunci mountains and the coast south as far as the Mondragone region.
The view on the inside is not that bad, either. The bar is typical American military, complete with plenty of bottles and Navy stickers, posters, plaques and flags posted around the place. Most of the decor in the dining area is old nautical, with maps, charts and framed prints of ships on the walls. There's also a couple of TVs set around the place.
When the weather's better, there's a covered outdoor eating area that gets quite crowded during summer time. Plus, many major European — and American — sporting events are shown on a big-screen TV out there, drawing crowds of sports fans.
Vic's is a comfortable place — it's close enough to the base to make it one of the final stops for single sailors headed back to the ship after a night on the town, but also for families wanting a burger or submarine sandwich.
As always, if you drink, do so responsibly. Don't drink and drive.
Vic's BarGaeta, Italy
Drink prices: Draft beer is 4 euros a pint. Mixed drinks are more and wine prices are average.
Food: International menu featuring plenty of Italian pasta and pizzas, with American classics such as sub sandwiches, hamburgers and a small "Mexican menu" with quesadillas and Buffalo wings. Yes, we know Buffalo wings aren't Mexican.
Entertainment: Other bar-goers, TVs and music. Many major sporting events shown on big-screen TV in patio area.
Clientele: A mix between Americans and Italians, which becomes more heavily Italian if there's not a ship in port. It's a family place in the day and in evenings and weekends when a ship's in, tends to draw many sailors.
Dress: Casual.
Location: Along the Lungomare Caboto (seafront road), just past the NATO fueling pier.
Web site:www.vicsbar.it. Includes a "virtual tour" of the bar and restaurant.