Bar Sleuth: Patrons at Belgian bar hear birds chirping by last call
by
Kevin Dougherty
April 6, 2006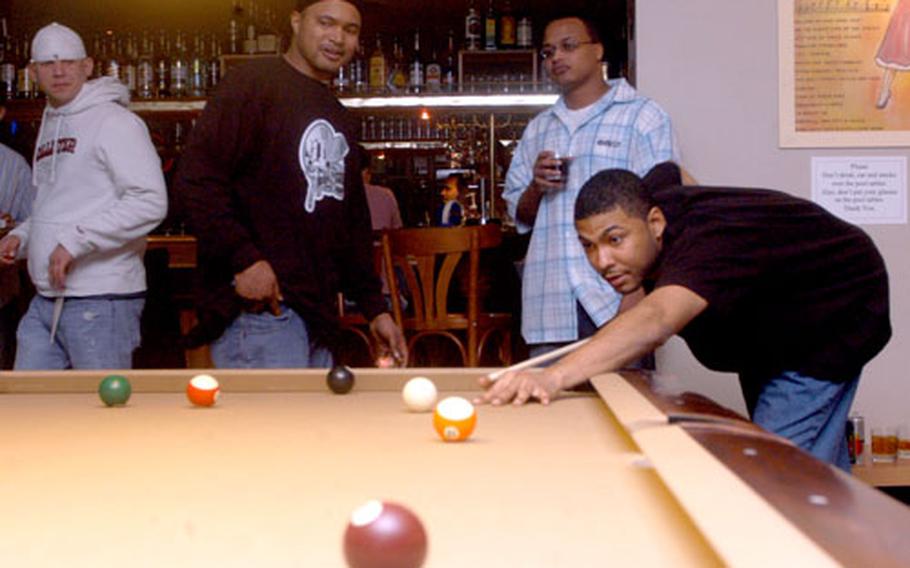 JURBISE, Belgium — Strippers, slots and shots.
Add pretty patrons to the mix and a dash of decadence, and that just about sums up a Saturday night at Conway's Sports Bar, a sleek-looking establishment frequented by folks from SHAPE in nearby Möns, Belgium.
"Most of the places don't stay open as late as we do," said Clara Marsh, a beautiful French miss who tends bar at Conway's.
Late night watering holes matter to patrons of any nationality, rank or gender, especially when they work odd hours, as is the case with some people at SHAPE. On Friday and Saturday nights, Marsh and her bar mates serve up until 5 a.m. Closing time the rest of the week is 3 a.m., though the doors stay open if the place is still hopping.
Prior to becoming Conway's, the bar was known as Brunswick Pool Club, as in billiards. Back then, the club boasted nine pool tables and a bar, said Steve Welterlen, a disc jockey at Conway's.
In late 2004, Brunswick closed to undergo extensive remodeling. The joint re-opened as Conway's Sports Bar last October, though with fewer pool tables (two). Their absence gives patrons more space to mingle and dance, though the latter takes on a different connotation come Saturday.
"Every Saturday night we have a stripper," Welterlen said as he stood near a pair of dance poles. "But sometimes it's a male striper. You have to please the ladies as well."
Word has it the Saturday "talent" usually stops shy of his or her birthday suit.
Adjacent to the bar area is Flamingo, a gaming room with the infamous one-arm bandits, poker machines and a roulette wheel, all of the electronic variety. Only soft drinks, water and coffee are served here.
Back in the front room, Air Force Senior Airman Tony Brown and some friends are schmoozing with Marsh and her friend, Danielle Magoon. It's Thursday night and a steady stream of foreigners, from Germans to Danes, are stopping by Conway's for a nightcap or two.
"They take care of us Americans," said Brown, a firefighter from nearby Chievres Air Base. "They support us, and security-wise you can't ask for anything better."
Marsh overheard Brown's critique, and added that an empty taxi is never more than a few minutes away, no matter the hour.
"We're here," Marsh said with a grin, "to protect and serve."
Upon hearing that, Brown stood up and ordered another round.
As always, if you drink, do so responsibly. Don't drink and drive.
Conway's Sports Bar
Jurbise, Belgium
Drinks: Beers; cocktails starting around 5 euro
Food: Full menu
Entertainment: Darts, billiards; gaming room with slots, poker machines and a roulette wheel; Saturday night strippers
Clientele: International crowd, including Germans, Danes and Americans
Dress: Casual
Location: 10 Av. De la Toison d'Or., Jurbise, Belgium
Web site:www.conways.be
---
---
---