Bar Sleuth: John's Tavern's appeal starts with location
by
Vince Little
March 30, 2006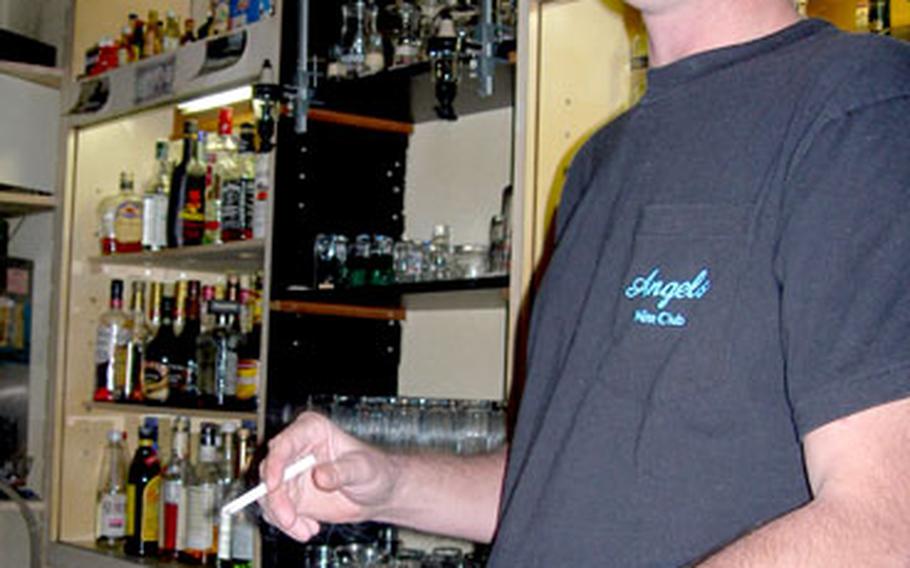 FUSSA, Japan — Location might be the most attractive thing about John's Tavern: It's safely inside Yokota Air Base's "Green Zone," just outside the nightly 1-6 a.m., three-block curfew area for nearby "Bar Row."
But the appeal certainly doesn't end there.
It's a little larger than most Japanese pubs, with cozy seating and ample walking space. Drinks are plentiful and reasonably priced, and patrons looking for conversation don't have to compete with the music level or atmosphere.
Mike Sewell, a civilian contractor with the 730th Air Mobility Squadron at Yokota, has been a regular since the place opened in July 2001.
"It's a bit of an oasis, away from downtown," he said between hands of cribbage.
Tavern owner John Lewis, 40, spent four years in the Air Force, all of it at Kadena Air Base, Okinawa, and then got out in 1989. He returned to his hometown in Ohio but came back two years later.
He worked various jobs in Japan for roughly a decade before settling down in Fussa. One night at a friend's bar just up the street, Lewis had a revelation.
"I said, 'I wanna open my own place,'" he recalls. "I didn't know why. I just wanted to try it. Two weeks later, I opened here. … It worked out good, 'cause I'm still here."
It worked out so well, in fact, that Lewis now owns another place in Fussa and a bar in the Philippines right outside what used to be Clark Air Base.
U.S. military and patriotic décor are displayed proudly at John's. Over the years, unit patches have multiplied above the bar, while a POW/MIA flag hangs on a wall alongside the American colors — both donated by Tech. Sgt. Mark Massucco, a former Yokota C-130 crew chief who recently left for Grand Forks Air Force Base, N.D. He said the U.S. flag originated at Hurlburt Field, Fla., and has flown on missions to Kuwait, Iraq, Afghanistan and elsewhere.
"I always carried it with me," Massucco said. "I retired the flag 'cause it was tattered, and I brought it to John's where everybody can see it."
And here, they can hang out until the sun comes up if they want. No reason to hurry back to base in this part of town.
As always, if you drink, do so responsibly. Don't drink and drive.
John's TavernFussa, Japan
Drink prices: Most drinks are in the 600 range. Higher-shelf cocktails and special drinks cost more. You can wrap your hands around a hefty mug of Asahi draft for 1,200 yen.
Cover: One-drink minimum.
Hours: 7 p.m. until whenever.
Food: Bar items such as pizza, fries and chicken nuggets — but a new menu is in the works.
Entertainment: An electronic dartboard (free drink for a bull's-eye). Variety of music. DVDs playing constantly on the bar TV.
Clientele: Open to all but frequented by lots of officers and DOD civilian types.
Dress: Casual.
Location: Go out Fussa Gate and take a right. At the first traffic light, go left. When you reach the second light on that road, look over your right shoulder and you should be able to spot the tavern on the left side of a side street.
Contact: Call 042-552-1675 or e-mail: johnstavern@yahoo.com