Bar Sleuth: In Itaewon, Jester's mix of clientele holds no fools
by
T.D. Flack
March 2, 2006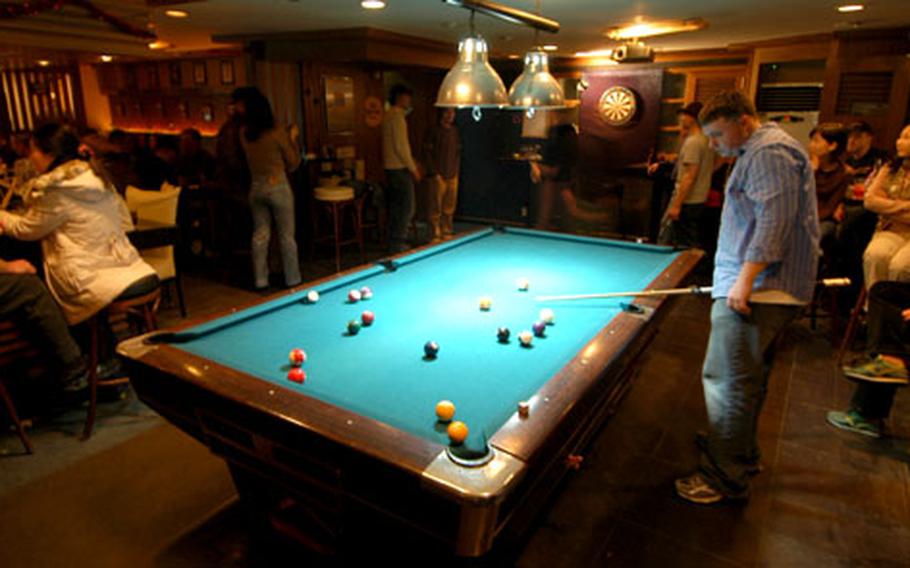 ITAEWON, South Korea — It's often easy to describe bars in the Itaewon party district by their clientele.
"That's a military bar," you'll hear. Or, "It's fun, but it's mainly ex-pats."
But visit Jester's, a small bar tucked away in a back alley here, and you'll find yourself in a good mix of company.
"We have a real variety" of customers, said Wayne Gold, part owner of the year-old bar. He said you can find English teachers, military members, Korean-Americans and more any night of the week.
And because it closes later than many of the other bars — about 4:30 a.m. on weekdays and 5 or 5:30 a.m. on weekends — "staff from other bars come here," he said.
Gold works the bar and the grill. He serves burgers, tuna patties, fries — what the Canadian termed "pub grub."
He said the goal when opening the bar was to create an inviting environment.
"It's a really laid-back bar … it's a chilled place," Gold said. "It's not all about the money."
Cole Williams, a U.S. soldier in the bar one recent weekend, agreed.
"It's friendly," he said. "They treat you like you're family here."
Williams and a group of friends were playing darts, sometimes pausing to allow pool players to shoot when their playing space overlapped.
Seating is tight in the L-shaped bar, and getting to the bathroom can be tough when all the tables fill up.
The music seemed as varied as people ordering drinks, and ranged from rock to pop.
As always, if you drink, do so responsibly. Don't drink and drive.
Jester's
Itaewon, South Korea
Rating: Five beers out of a six-pack
Drink Prices: Same as most of the bars in South Korea; $2-$3 for draft beer; $3-$5 for bottles
Cover: None
Food: "Pub grub" — burgers, fries, etc.
Entertainment: Pop and rock tunes play from a laptop computer's database
Clientele: Mixed — military and ex-pats, Korean-Americans, English teachers and others
Dress: Casual
Location: On the alley that runs between Three Alley Pub and the Hamilton Hotel. It's on the right side of the street (when walking toward the Hamilton) on the second floor.