Bar Sleuth: At Tokyo's Gaspanic, the rule is guzzle or go
---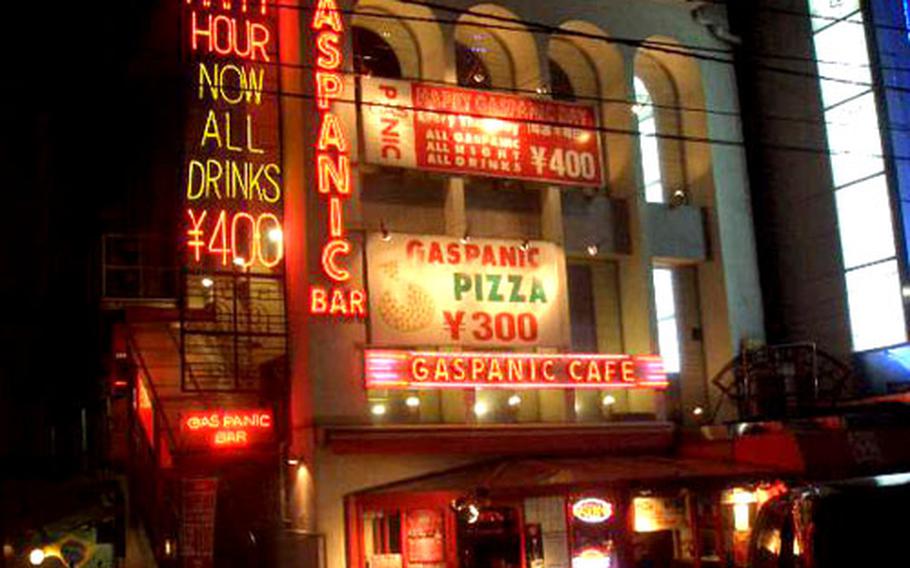 TOKYO — Everybody must be drinking to stay inside Gaspanic.
Seriously — a sign on the wall says so.
Famous for dancing on tables and of all sorts of decadence, almost anyone who's been to Tokyo knows the name Gaspanic.
The bar — a chain with four locations in the Roppongi area of Tokyo and two in Shibuya — is an institution, created in the aftermath of the 1995 sarin gas attack on the Tokyo subway system.
The chain is famous for cheap drink specials, rowdy crowds, a raucous atmosphere and a fairly simple drink rule: have one, at all times, or leave.
Big bouncers enforce it.
In general, the music is pumping, the people friendly.
"You meet a lot of people from around the city," said Navy Seaman Chris Cablayan, a cryptologist from Yokosuka Naval Base. "For a lot of people, that's the first club that comes up."
He thought the Yokohama location, now closed, was best — it was the largest of the chain's bars. The others are pretty cramped once things get pumping.
Petty Officer 1st Class Michael Collins, also a cryptologist from Yokosuka, said the main location in Roppongi was the first bar he visited in Japan.
"It was a little crowded, but I had a good time," he said. "It was a good montage of music."
The drink options include American, Japanese and European beers and a full selection of the latest fruity drinks with names not exactly printable.
Prices are average for the neighborhood, with drink specials on off nights and early hours, depending on the location.
Guidebooks call Gaspanic the best or most horrific place in Tokyo, depending on their readership. It's an OK place for a drink with friends, but it's best for meeting new people, especially ones who might be there hoping to meet you.
The flagship location in Roppongi actually is three bars in one — there's a dance club, a restaurant and a bar in the same building. Many servicemembers have passed through that location, so much so that it's practically a rite of passage for those visiting Tokyo who want to experience the nightlife.
Or dance.
Or stare.
Pretty much anything goes in Gaspanic. Just as long as you keep on drinking.
Gaspanic
Tokyo
Drink prices: 400 yen during drink specials to 900 yen (about $3.50 to $8)
Cover: None
Food: In Gaspanic Café (main Roppongi location only)
Entertainment: DJs, dancing on tables
Clientele: Young, hip, drunk
Dress: Little
Web site: www.gaspanic.co.jp
Location: Four in Roppongi, two in Shibuya. See Web site for maps and hours.
---
---
---
---