Aviano educator rediscovers love of long distances
by
Kent Harris
May 30, 2010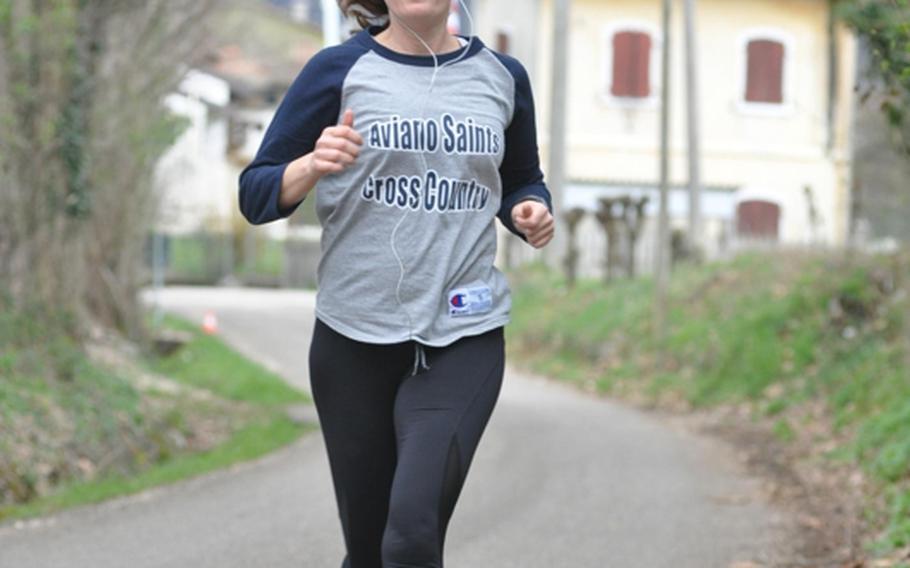 During school time, Aviano High School counselor Kim James can be found in her counselor's office trying to inspire and motivate ninth-grade students to get ready for the real world.
Dressed in sweats and running shoes after the bell rings, she's a bit harder to track down. But the inspiration and motivation are still clearly in evidence — for those who can keep up with her.
The 34-year-old plans to run in the New York City Marathon in November and has already earned a spot in the event. Competitors are ensured of spots if they can post qualifying times in official races, and James did so by besting the 1-hour, 37-minute mark in a half-marathon in Pordenone, Italy, in October.
"Mine was 1:36," she says with a smile.
So she's not exactly thinking about crossing the finish line first.
In fact, it will be James' first marathon. She's competed in a series of half-marathons in Europe, but has never run 26.2 miles at one time. A few years ago, though, she wouldn't have even been in the running.
A member of her high-school cross country and track teams, James spent more than a decade away from the sport. She started again in 2007 while competing in the base's "Biggest Winner" competition — modeled after the television show "The Biggest Loser." She won the competition and dropped more than 40 pounds in 18 months by running, bicycling and watching what she ate.
She hasn't stopped since.
"She keeps getting faster and faster," said Laura Corder, the school's cross country and track coach and a former marathoner herself. "She's faster than most of our kids. She pushes the others. It's good for them."
James really got into gear when she joined a local running club, Atletico Aviano. Since then, she has run several times a week — including longer runs when she isn't competing in one of an array of races around Italy.
"There are a lot of races," she said. "I really love half-marathons."
Several members of the Italian team talked about running in the famed race in New York, James said. So she started thinking about it herself. But while her teammates' interest appears to have waned, hers hasn't.
"It'll be difficult," she said.
But she doesn't see why she can't just keep on running through the streets of New York.
"My goal is three and a half hours," she said.
James runs about 30 miles a week, but plans to increase that to about 40 in the coming months. Like many long-distance runners, she'll be spending a lot of that time on her own. But she'll also be training with the cross country team, running with students half her age.
"While I'm working with them, I'll be helping my own training," James said.
James arrived at Aviano in 2002, where she works as a ninth-grade counselor as well as the career practicum teacher, helping seniors put together résumés and get various internships around the base.
Corder said she also serves as a good example for kids because she lives a healthy lifestyle.
"She's always been a role model," Corder said. "But now she's a running role model."
James smiles at the thought.
"I guess I am now," she said. "I've never thought about it too much. But maybe I am."