At Righetti in Vicenza, dining and paying are self-service
by
Nancy Montgomery
July 27, 2016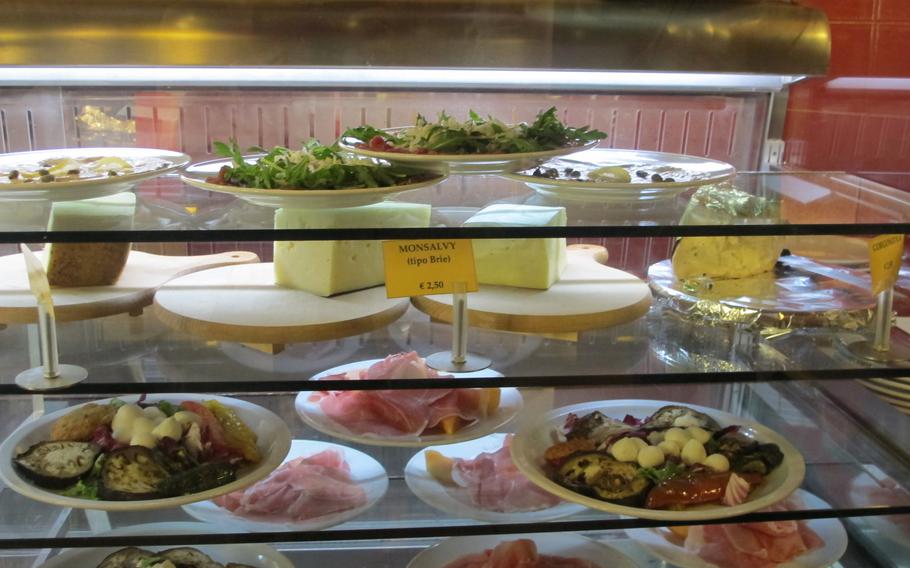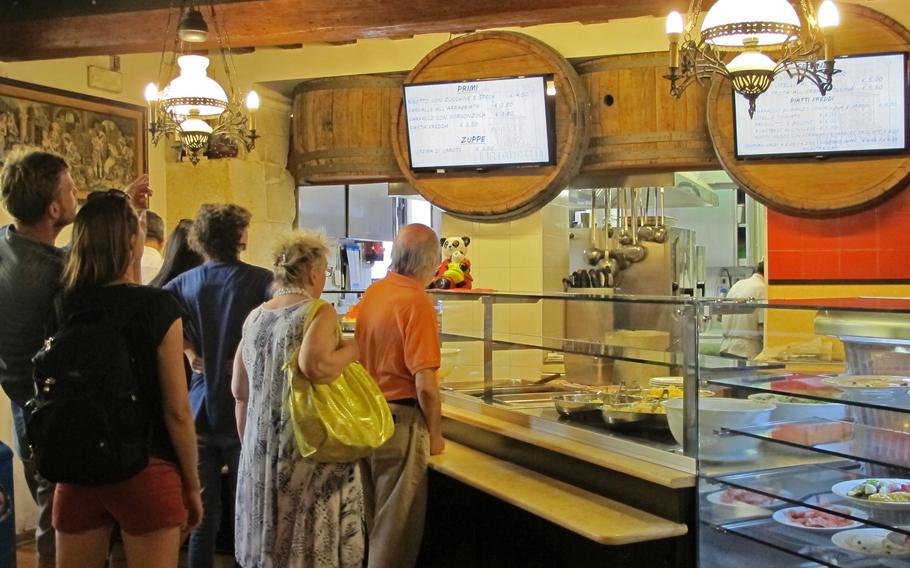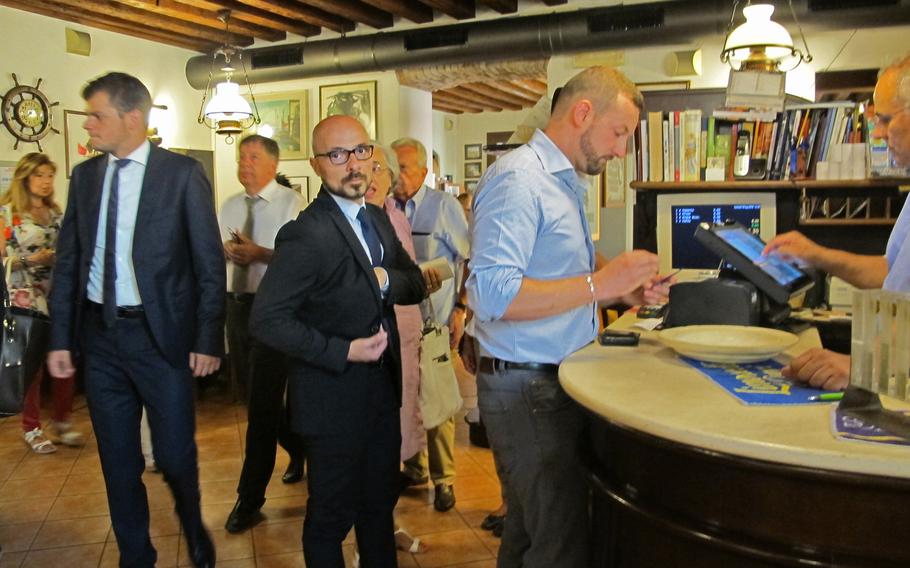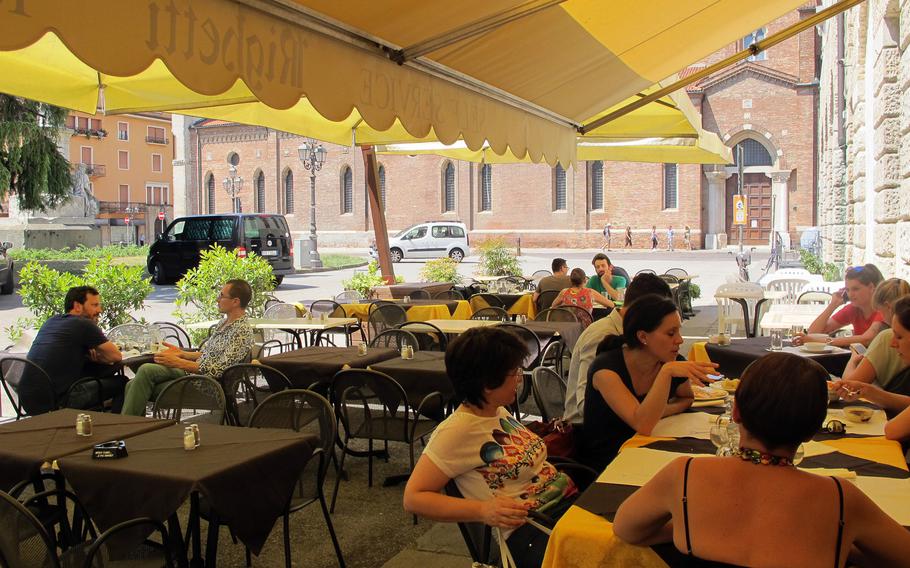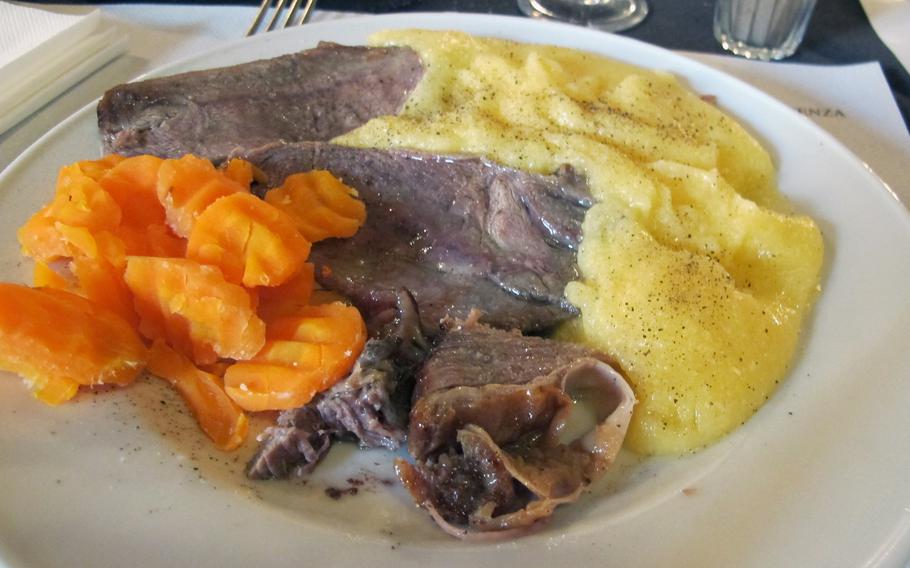 Before I'd ever dined at Righetti, the landmark self-service restaurant near the center of Vicenza's old town was the subject of a most charming conversation I had with an Italian man. He spoke no English. My Italian is limited to about four words, including vino. Yet we were somehow able to understand one another.
He asked where the duomo was. I was confused: Vicenza has dozens of churches, but a duomo? What is a duomo, exactly? Did he mean the Basilica Palladiana right behind him?
No. He wanted to go to Righetti ristorante, near the duomo, which I later learned means cathedral.
It rang a bell, but I still couldn't help.
How long had I lived in Vicenza, he demanded. Two years, I replied in Italian — due anni.
And yet you don't know where Righetti is, he said. He looked at me, clearly impressed with my stupidity. I shrugged. "I don't know what to tell you," I said in perfect English. We parted, smiling.
Finally, I went for lunch on a sweltering summer Tuesday. The place was busy but capacious, and a worker offered a table either in the piazza under the awning or inside with the air-conditioning. I wanted to sit inside, but what about the dog? The restaurant is one of the few in Vicenza that has a sign banning canni.
"No problem," he said, the first of the restaurant's nice surprises.
The self-service restaurant is known for its low prices and attracts a large and loyal clientele of students, locals and tourists willing to figure out the process.
Inside, we saw men in suits, men in shorts, women in a variety of attire and a clientele of all ages. They set their own tables with placemats and silverware, got their own jugs of water and wine, took their own bread from a giant glass bin, and queued for first and second courses, both hot and cold.
There was another queue at the cash register. But did you pay first, like at the autostrada snack bars? Did someone come around and count your plates like at some sushi bars in Tokyo?
It turned out that Righetti patrons pay on the honor system. You simply tell the cashier what you had, after the evidence is gone, on your way out.
The trust placed in customers — and the low prices — apparently keeps people honest.
The restaurant, which has a relaxed, happy vibe, is unlike gorge-inducing cafeterias in the U.S. Selections are limited — about three each first and second courses, along with some appetizers and desserts. And it's not all you can eat.
I chose the roast veal (5 euros, or about $5.50), polenta (50 euro cents), and sides of Brussels sprouts and carrots (2 euros each). My companion got the risotto with zucchini and bacon (4.50 euros).
The risotto was fine. The veal was so delicious I ended up eating the fat I'd trimmed off when the rest was gone. The carrots were sweet, if not warm. As for the cold, mushy, bitter Brussels sprouts, just don't get them.
I went to the cash register, recited what we'd had, and forked over only 18 euros.
RIGHETTI
Vicenza, Italy 36100
Hours: Noon to 3 p.m. and 7 p.m. to 10 p.m. Monday through Friday. Closed weekends.
Prices: Inexpensive
Reservations: Available
Attire: Casual and business.
Information: Phone: (+39) (0) 444-543-135; website: www.selfrighetti.it/inglese/Righetti.html