Animatronic dinosaurs snarl at visitors to Okinawa's Dino Park
by
Matthew M. Burke
January 17, 2018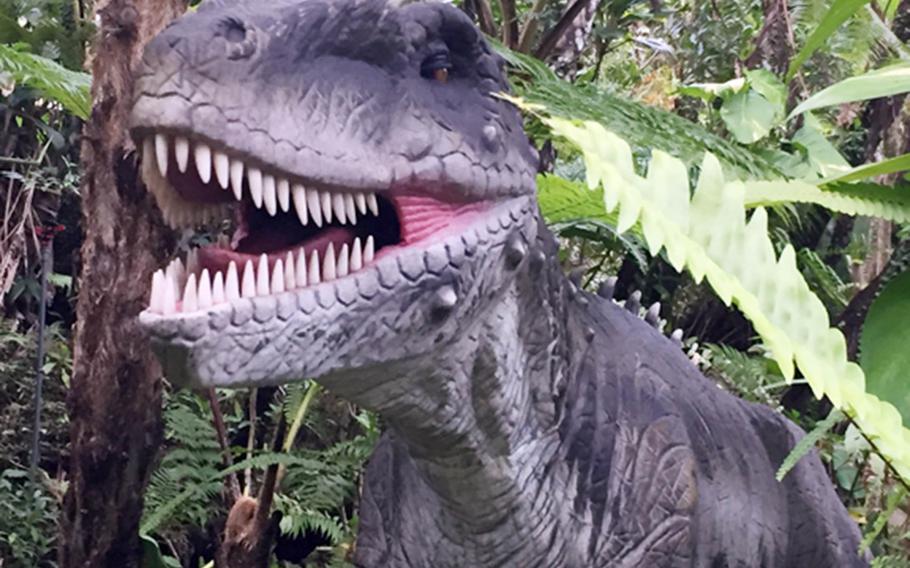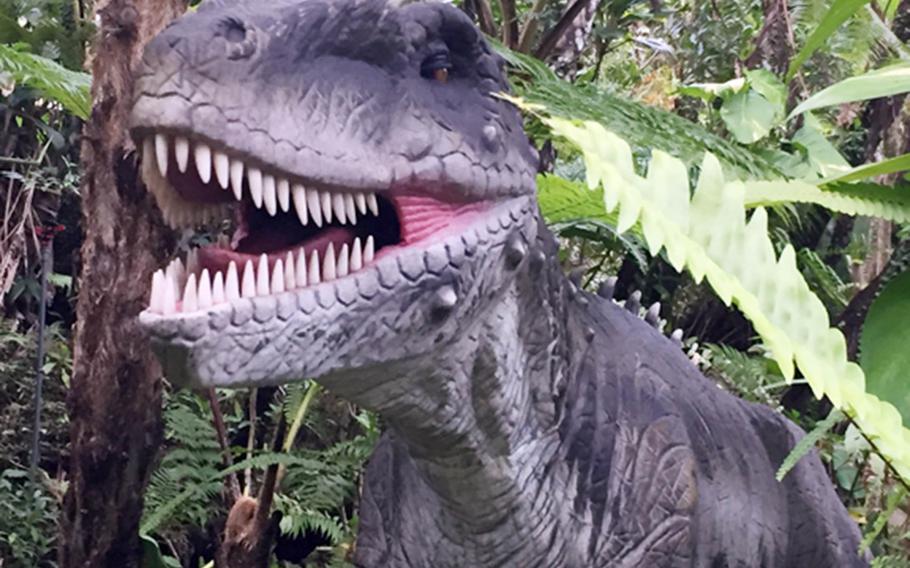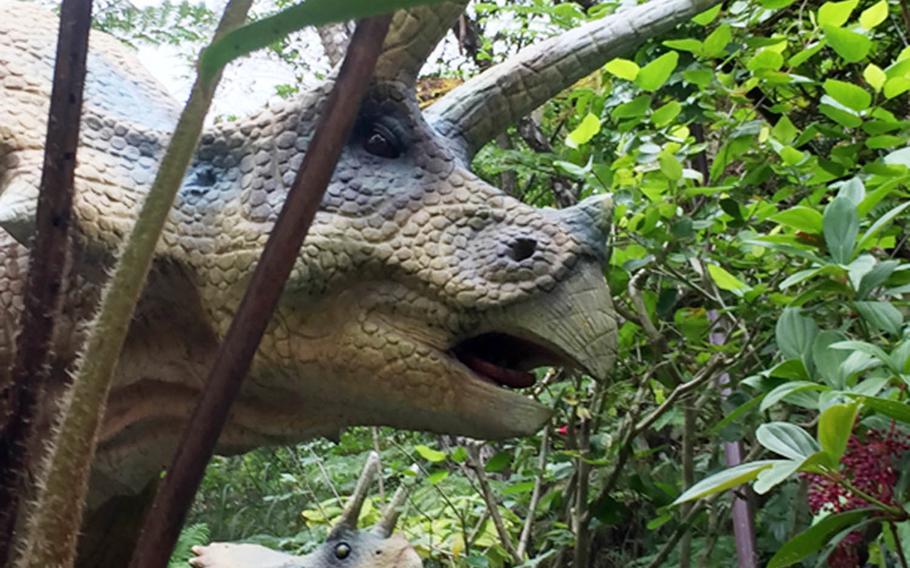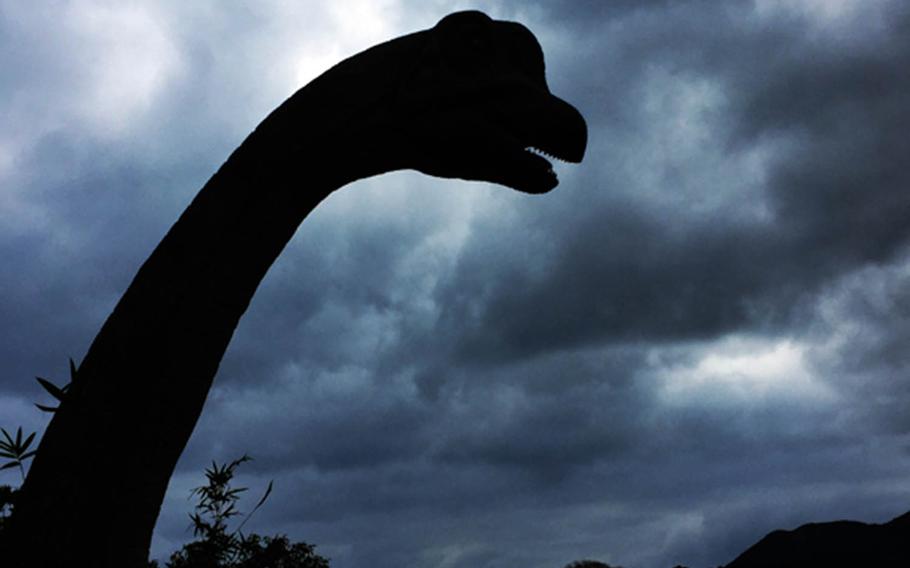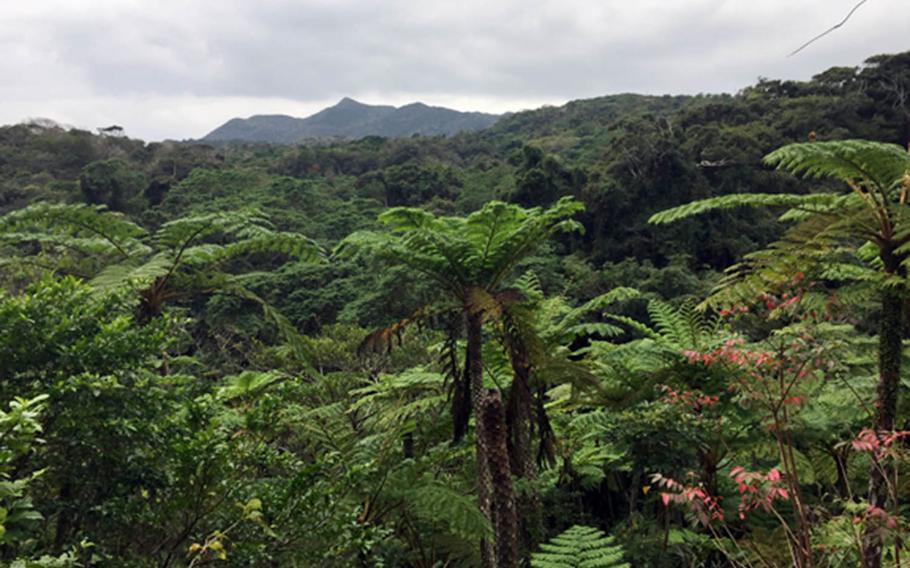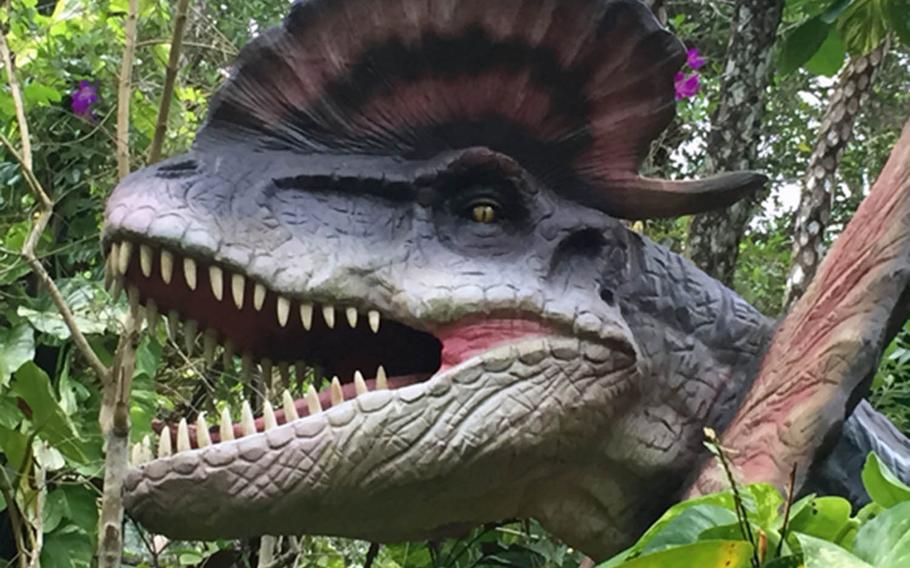 "Jurassic Park" was supposed to have taken place on an island off the coast of Central America. But if author Michael Crichton had visited the forest of Yanbaru in northern Okinawa, he might have well set his classic thriller in Japan instead.
To the lay person, the forest is a near-perfect representation of prehistoric times, with exotic plants and animals, ancient trees that bubble out of the ground like rising dough to blot out the sun, thick hanging vines and the smell of millennia of plant decomposition.
Thankfully, some enterprising individual shared Crichton's vision when staring out into this lush sea of green that is Yanbaru and brought us Dino Park.
Dino Park is a fun family experience for those living on Okinawa, especially for those with children captivated by the now extinct reptiles. It is a surprisingly large operation that features animatronic dinosaurs, big and small, set against Yanbaru's primordial wilds. The park also offers stunning views of more than a dozen flower varieties that bloom in various seasons.
The park consists of a vast visitor's center that has a shop and confection factory and winding trails and stairs on the side of a rather steep hill through the jungle.
Dinosaurs are both out in the open and relatively hidden amongst the foliage. Thanks to motion sensors, they come alive as you pass; their shrill shrieks are enough to frighten toddlers and small children.
I went to the park with my wife and 2-year-old son on an overcast day in January, not really knowing what to expect. We parked across the street next to an enormous inanimate Triceratops. My son giggled with glee.
As we approached the ticket booth, another dinosaur that was nearly the height of an adult human and resembled the Velociraptor came alive. It shrieked and its head jerked to the side as we passed.
I jumped.
Then, laughing, we walked through the life-sized jaws of a Tyrannosaurus rex.
My son dug his fingernails into my neck and told me he was no longer interested in our visitdespite his growing love of dinosaurs.
Needless to say, I entered Dino Park alone.
When it came to the stars of the show, Dino Park had all my favorites. There were, among others, the T-rex, Allosaurus, Brontosaurus and the Dilophosaurus, which dispatched "Jurassic Park" villain Dennis Nedry by shooting poison and eating him in the classic Steven Spielberg film.
I'm no paleontologist, and obviously the dinosaurs were smaller than they had been in real life, but they all looked like they could be real as they turned and glared at me.
When they shrieked and groaned, like my son, my body reacted, usually in the form of goosebumps running up and down my spine.
I smiled and inhaled in the fresh, oxygen-rich jungle air deeply.
The T-rex open its mouth wide, revealing razor sharp teeth. The Dilophosaurus shot liquid from its mouth.
There were some inaccuracies. For example, the Dilophosaurus did not actually spit poison in real life; so the exhibit followed the movie, not reality — but somehow I didn't care. I wasn't looking for a science lesson.
Like a child, I wanted to be transported, to see the dinosaurs, to imagine them, in what seemed like their natural habitat — and I wanted to enjoy a nice, safe walk through the jungle as well.
Dino Park delivered and no one was eaten in the course of writing this story.
Dino Park LOCATION
1024-1 Nakayama, Nago-shi, Okinawa-ken 905-0004. GPS coordinates: 26.6354311, 127.96162419999996
TIMES
9 a.m. to 6 p.m. with last admission at 5:30 p.m.
COSTS
800 yen (about $7) for ages 16 and older; 500 yen (about $ 4.40) for ages 4 to 15.
FOOD
A store onsite sells food and drink, including homemade confections.
INFORMATION
0980-54-8515; www.okashigoten.co.jp/subtropical