Airmen go Vegas with exciting Texas Hold 'Em poker tourney at Yokota
---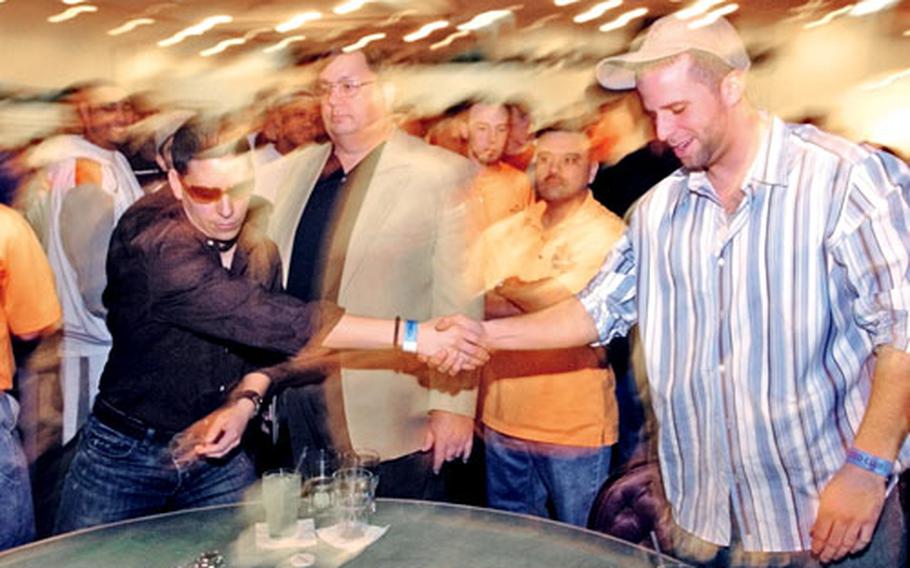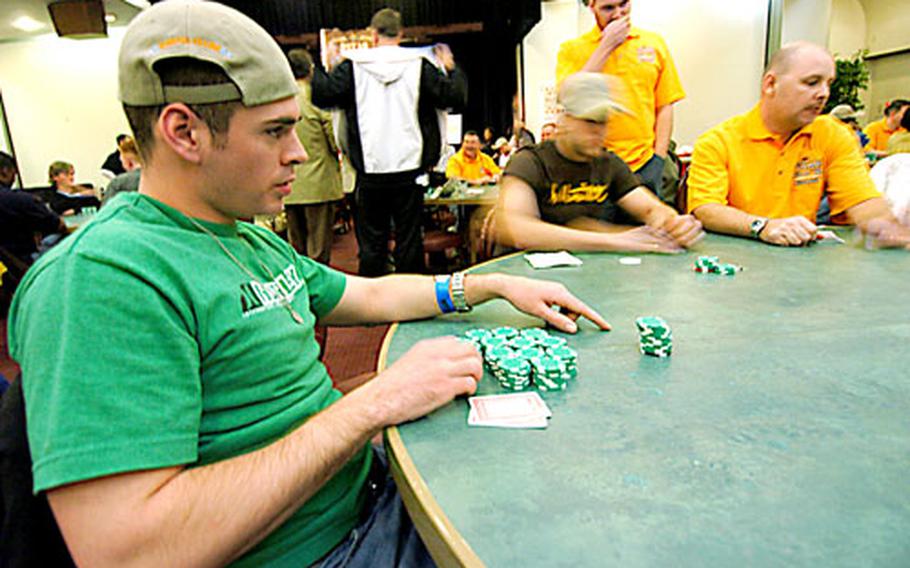 The Texas Hold 'Em craze sweeping the United States has officially surfaced in Japan.
It's long been a favorite at private poker gatherings and Internet gaming sites. And on a recent Saturday night at the Yokota Officers' Club, it was the ballroom's main attraction during a base-wide tournament complete with dealers, pit bosses and a raucous spectator's gallery.
But there was no buy-in, and no exchange of money. Instead, 120 players at 15 tables battled for three prizes: a trip for two to Las Vegas with $200 in spending money, a 27-inch LCD flat-screen television and an iPod Shuffle. Others received embroidered Yokota fleece pullovers with the Texas Hold 'Em logo, caps and specially- designed playing cards.
"We're not gonna say it's as good as the World Series of Poker. We don't have cameras installed at the tables or anything, but this is awesome," said Justin Lucas, a marketing department writer and editor who acted as a pit boss. "It's the No. 1 played game online. It's huge. A lot of the professional poker players have almost rock-star status.
"We're doing this as close to real Vegas as possible."
The tournament's 120 seats filled in three days, and there was a waiting list of at least 50.
"That tells us, 'Hey, people really love playing this game,'" said Jacqui Maldonado, special events coordinator for the Yokota Enlisted Club, who helped organize the inaugural battle. "A lot of people had been requesting to play on base. Many also play in their own homes. So we're just trying to get those people out of their homes and into the clubs."
Lisa Knight Stevens,the 374th Services Division's marketing director, was instrumental in bringing the event to Yokota.
"In the past, these types of events weren't allowed," she said. "They were considered 'gambling' or 'games of chance.' … Because of their popularity, the Air Force came down with a directive saying how we can do these things legally.
"We're not encouraging people to come in and gamble away their money. It's a morale program. It's an opportunity for club members to come in, play a really awesome game, mingle with others and have a great time."
Each player began with $1,500 worth of chips. With 120 in the field, the "blind" antes were raised per round in an effort to speed things up. As individuals got eliminated, tables were consolidated.
In the end, Army Lt. Col. Loren Darmofal of U.S. Forces Japan had the steadiest nerves, outlasting all to become Yokota's first Texas Hold 'Em champ.
But the talk of the tournament turned out to be 18-year-old Jennifer Scott, who graduated from high school last year in Hawaii and moved here in October. She'd just picked up the game a month earlier when her family started throwing cards around the kitchen table.
"I didn't really have a secret," she said, still sporting her girlish grin after a solid 15th-place showing. "I folded when the cards were crappy and put in when they were good.
"I thought I'd flake out after the first part, before the first break. But I was still there after the seventh round. … It was awesome, but I'm permanently blushing."
She had a huge cheering section. At one point, it broke out into the wave.
"Half the crowd knows her now," said her father, Navy Warrant Officer Matt Scott. "One guy said, 'I can't believe I lost to a 12-year-old.'"
Airman 1st Class Justin Thibodeaux of the 374th Dental Squadron finished a spot higher than Scott. He said he learned Texas Hold 'Em about a year ago from his buddies back home in Lafayette, La.
"I've been addicted to it ever since," he added. "I love the competition. It's a rush. … It's awesome they brought it here. This is my first tournament, until I become a professional."
Capt. Tim Huang of the 374th Communications Squadron and his wife, Vicky, didn't fare quite as well but said they loved the atmosphere.
"It's one of the best things I've seen the club put out," he said. "The turnout was great. This'll be a big boost for members and put a lot of interest back in the club."
According to Robyn Sleeth, the 374th Services Division director, Texas Hold 'Em tournaments will become a quarterly staple at Yokota. He envisions someday bringing together base champions from across the Pacific for a one-table showdown.
Officials plan to stage the next base tournament in May at the Yokota Enlisted Club. Even more players are expected, and professional poker tables are being brought in.
Given this game's popularity, those card-peeking cameras can't be far behind.
The winners ...
A list of players (by order of finish) who reached the final table at the 374th Services Division's inaugural Texas Hold 'Em Tournament, held Jan. 28 at the Yokota Officers' Club:
Champion — Army Lt. Col. Loren Darmofal, U.S. Forces Japan; Runner-up — Staff Sgt. Robert Singleton, 374th Logistics Readiness Squadron; Third — Airman 1st Class Jesus Petroccini, 374th Dental Squadron; 4. Staff Sgt. Greg Vernon, 374th Civil Engineer Squadron; 5. Beau Venley, USFJ; 6. Amanda Scoughton, dependent spouse; 7. Airman Basic Ian Havermale, 374th Civil Engineer Squadron; 8. Staff Sgt. Jerry Scoughton, 374th Communications Squadron.
---
---
---
---