Afters hours: The taste of Nepal in K-town
by
Steve Mraz
December 20, 2007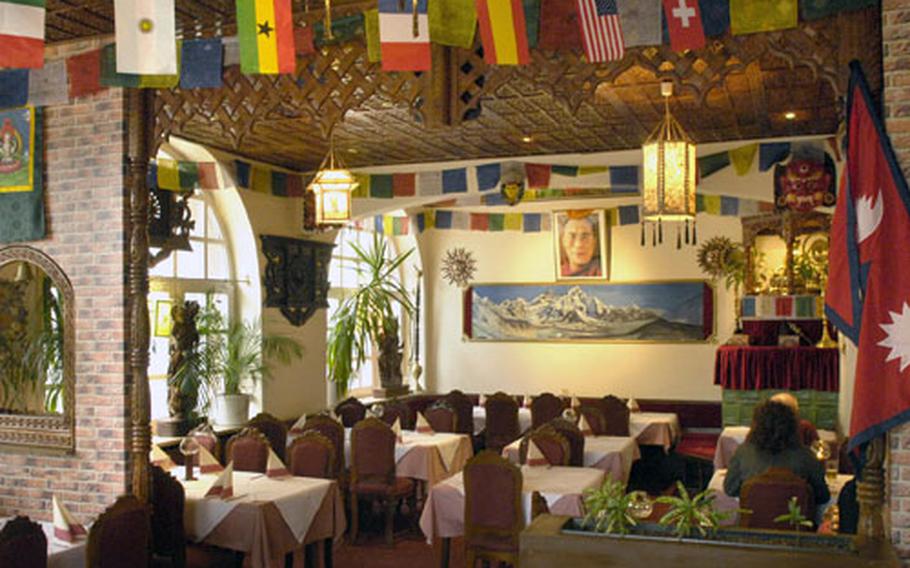 KAISERSLAUTERN, Germany — The word Himalaya may make you think of the renowned Asian mountain range home to Mount Everest. Until about a year ago, the word Himalaya immediately brought up memories from my youth of the psycho merry-go-round carnival ride of the same name. (I can still hear those carnies screaming "You wanna go faster?" as Ozzy Ozbourne's "Crazy Train" blared over nearly blown-out speakers.)
Since hearing rave reviews about Restaurant Himalaya and eating there a few times in the past year, I've come to equate the word Himalaya with exotic food that will knock your socks off.
A child of the South, I had never eaten Nepalese or Tibetan food prior to dining at Himalaya. Now the restaurant is one of my "go-to" places when eating out.
The menu — in both German and English — is filled with page after page of delicious dishes. A lot of what's on the menu are varieties of chicken, pork and lamb offerings, but the restaurant also has quite a few vegetarian dishes. On a recent Thursday, a colleague and I had Chicken Chopsey and Chaumien-Nudeln (with pork). The portions were generous and the food came out steaming hot.
To drink, I ordered a mango lassi, which is a mango yogurt drink that makes a smoothie taste like dishwater, and a bottle of mineral water. My buddy got an apfelsaftschorle. We were also served a tasty bean soup that was spicy but not too hot. The total bill was 25 euros.
The staff members all hail from either Tibet or Nepal so don't think you're getting a German take on this type of food. It's the real deal. The decor — of wooden elephants, mountain scenes and a picture of the Dali Lama himself — plus the soft music in the background gives an authentic feel to the place. The tables are covered with nice white cloths, which makes it all the more uncomfortable when you drop a noodle or rice on the table.
When ordering you'll likely be asked how spicy you want your dish. Medium was spicy but not overpowering. It did have my nose running though.
If you're planning on dining there on a weekend night, be sure to make reservations. This summer on a Friday night, all the four-top tables were gone by about 7 p.m. You can make reservations by calling the restaurant or filling out a form on its Web site, which also lists the menu.
Parking is a little scarce around the area, and you'll probably have to walk quite a ways. But it's not like you're having to hike up Everest to enjoy the Himalayan cuisine.
To see previous After Hours reviews, go to: stripes.com/afterhours
Restaurant Himalaya Kaiserslautern, Germany
Hours: Monday: 6 p.m. to 11 p.m.; Tuesday - Sunday: Noon to 2:30 p.m. & 6 p.m. to 11 p.m.Prices: Lunch dishes run around 7 euros; Dinner entrees go for between 11 and 20 euros.Specialties: Nepalese and Tibetan food.English menu: Yes.Dress: Casual.Clientele: Middle-aged Americans and some Germans.Location: Mainzer Tor 3; Steinstrasse 69.Telephone: 0631-320-4262.Web site:www.restaurant-himalaya.de.
---
---
---
---