After hours: Unique menu worth the trip to Mediterraneo
by
Kent Harris
November 20, 2008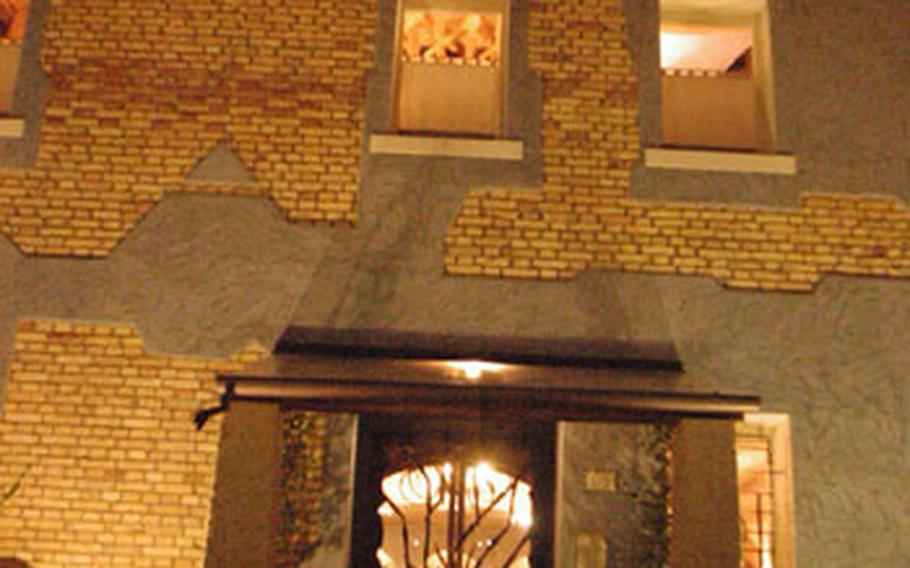 TAMAI di BRUGNERA, Italy — In the summer months, it seems like half the population of this small town southwest of Aviano Air Base is clustered inside the curiously decorated building on the edge of downtown.
But Orlando Bortolami says his restaurant has a capacity of only 200 diners at a time. And, there's a good chance those customers aren't from the from the local environs.
Bortolami and co-owner Monica Nardi brought many of those customers with them when they decided to relocate to Tamai from nearby Pordenone. That was about four years ago and the building they chose for their new restaurant had lots of room, but was run down.
"It was a challenge," Bortolami said of fixing up the place. It might appear to be unfinished to some on the exterior, because the blue paint is interrupted periodically by patches of brick that have been bared underneath the stucco.
Inside, bright pastels prevail. No two tables are alike. And, like outside, the decor appears to be a mix of modern and classic. That carries over to the food as well.
Bortolami says he started cooking at the age of 6 — that's about 36 years ago — and has been influenced by chefs from several regions in Italy. He's originally from Padova, but says most of his cooking influence probably comes from Naples. Many of the entrees are classic Italian dishes with some twists.
The current menu might be a bit confusing to most Americans, because it generally lists categories of food, but not the actual entrees. That's because the offerings change daily depending on what products are available.
So your waiter will have to tell you what pasta dishes and seafood and meat choices are available during a given day. And it's possible those choices will change during the course of the night.
Bortolami said the restaurant is working on a new menu that will feature classic Italian entrees each night as well as entrees that change every day. Still, don't expect to see Americanized Italian dishes.
And expect to wait a while on some nights when the place is full.
Valentina Lehman provided translation for this report.
Locale Mediterraneo, Tamai di Brugnera, Italy
Address: Via Pordenone 719. It's about 10 miles from Aviano Air Base. Go through the traffic circle near the back gate driving away from the mountains. Take a right at the next traffic circle and then a left at the stoplight. Take a right when the road ends. Turn right again at the sign for Tamai just before the autostrada entrance. Follow that road over an overpass and into town and follow the curve to the left. The restaurant is on the right just past the small traffic circle.
Hours: 7 p.m. to 1 a.m. Tuesday through Saturday, 7 to midnight Sundays and closed Mondays.
Prices: Pasta dishes 7 to 12 euros; fish courses 9 to 14 euros; meat dishes 10 to 15 euros.
English menu: No, but most waiters speak some English.
Dress: Casual.
Clientele: Italian families and couples from the local area as well as cities further away.
Phone: 0434-627775. Reservations recommended.