After hours: Umizoku Kobou in Okinawa
by
David Allen
May 1, 2010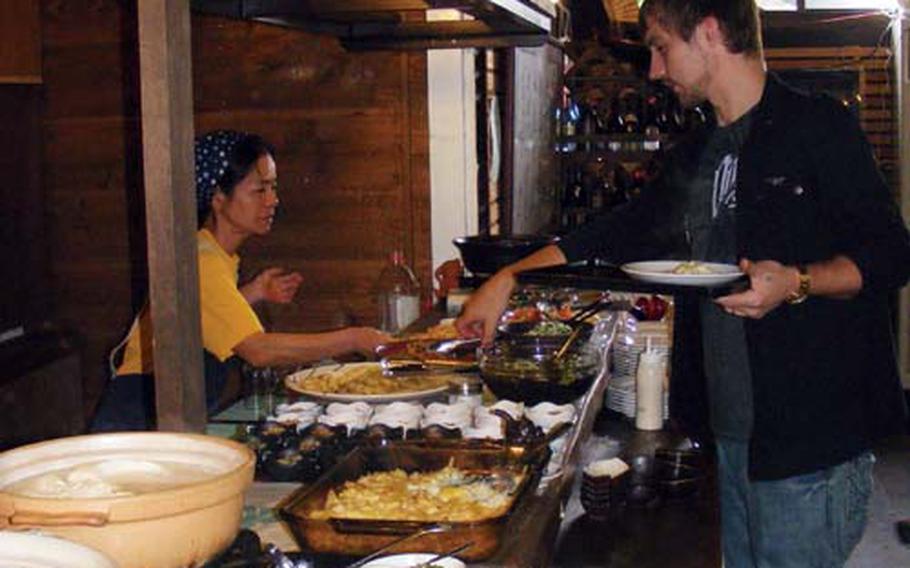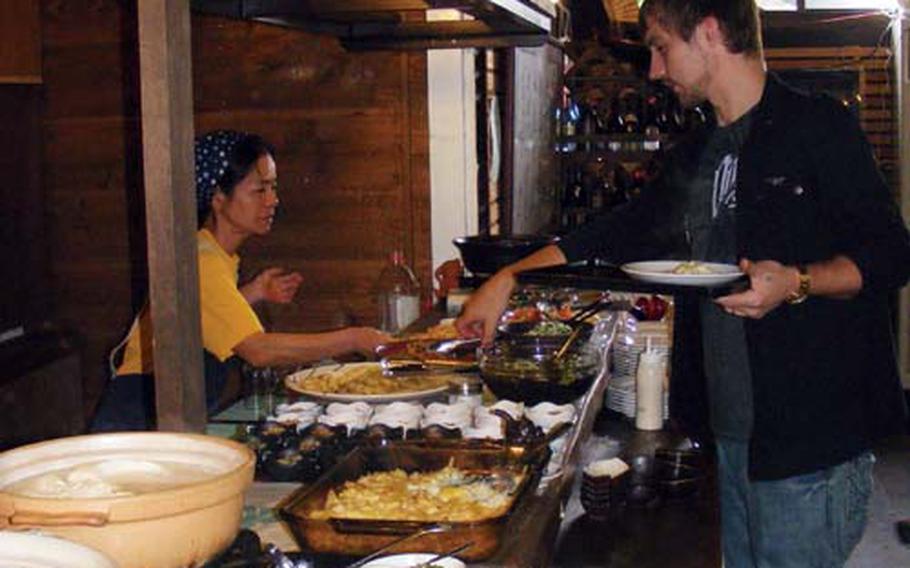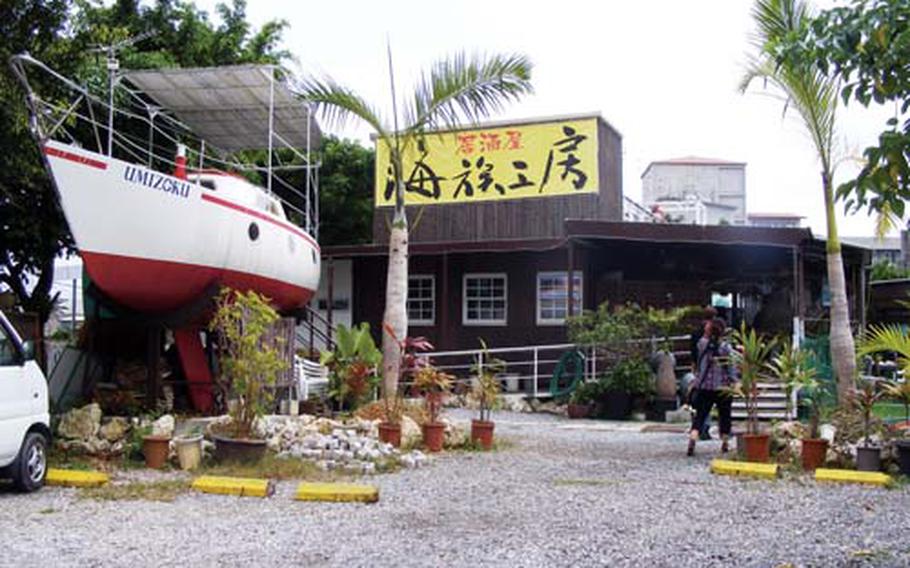 I love weird-looking restaurants and good food. The Umizoku Kobou (Ocean Family Studio) in Okinawa City has both.
It was the sailboat in the parking lot that grabbed my attention. Turns out it's one of several dining rooms offered for the evening crowd. There's also a karaoke room, garden settings and an "antiques" room for special parties. The restaurant was hand built by the husband of owner Kayoko Yamashiro.
She said his next project is to build a treehouse dining room.
The restaurant was his idea, apparently. Yamashiro said he is a deep-sea fisherman and a carpenter when the weather's bad. Yamashiro worked in a hotel restaurant before Umizoku opened almost four years ago.
"We love the ocean," Yamashiro said in between offering new trays of food on the buffet line. "That's why we have this theme. All our fish are fresh and locally caught."
The eggs are fresh, too. Yamashiro keeps nine chickens in the back yard. "They lay about six eggs a day and we serve them with udon noodles until we run out."
We went there for the daily all-you-can-eat buffet and were not disappointed. For 850 yen, I devoured several trays of great-tasting, down-home Okinawan fare, starting with a salad of locally grown veggies; mozuku, or seaweed with a vinegar dip; Chinese cabbage with white carrots and pork; Okinawa sea grapes; and octopus marinated in vinegar.
That was followed by a baked cheese and seafood gratin, or casserole; assorted vegetable, fish, pork and roast chicken tempura; and miso soup. The dessert, a vanilla pudding, was out of this world. I had three cups and promised to skip dinner to make up for it.
All this great food with cool jazz playing in the background — not a bad way to spend an afternoon.
And this was just the lunch buffet (11:30 a.m. to 2:30 p.m. daily). At night, Yamashiro pulls out all the stops. The restaurant becomes a combination of fine dining and izakaya fare. The awamori, Okinawa's distinct distilled rice liquor, flows freely for 1,200 to 5,000 yen per bottle.
I'd get the 10-dish special for 2,000 yen. It includes a duck meat salad, mixed pizza slices, two fried dishes, a meat dish, a fish dish, garlic rice or fried noodles, kimchi hot cakes, champuru (an Okinawan mix of fried veggies sometimes including fish and meats), and assorted sashimi.
With a liberal amount of awamori, that's a good prelude for a session of howling at the moon, if you ask me.
Umizoku Kobou
Location: Okinawa CityHours: Lunch buffet 11:30 a.m. to 2:30 p.m.; dinner 5 p.m. to 2 a.m. (3 a.m. Friday, Saturday and holidays)Specialties: Okinawa cuisine, fresh fish, sushi, sashimi, locally grown vegetablesEnglish menu: No, but there are huge pictures of the dishes on the Japanese menu. An English menu is in the works.Dress: CasualClientele: American and Okinawan mixed; familiesPrices: Lunch buffet 850 yen, all you can eat. A la carte food items 430 to 1,080 yen. Awamori (Okinawa sake) by the bottle 1,200 to 5,000 yen. Food is half price for women on Tuesday and Thursday nights.Directions: In Okinawa City, from Kadena Air Base's Gate Two, make the first left onto Highway 85 and continue to intersection with Highway 74 at Uechi, turn right to stay on Highway 85. Umizoku Kobou is on your left just before the fire station.Phone number: 929-1004 (Japanese only). Reservations accepted for special rooms.Web site: No