After Hours: The Waffle House in Norwich, England, offers everything waffles
---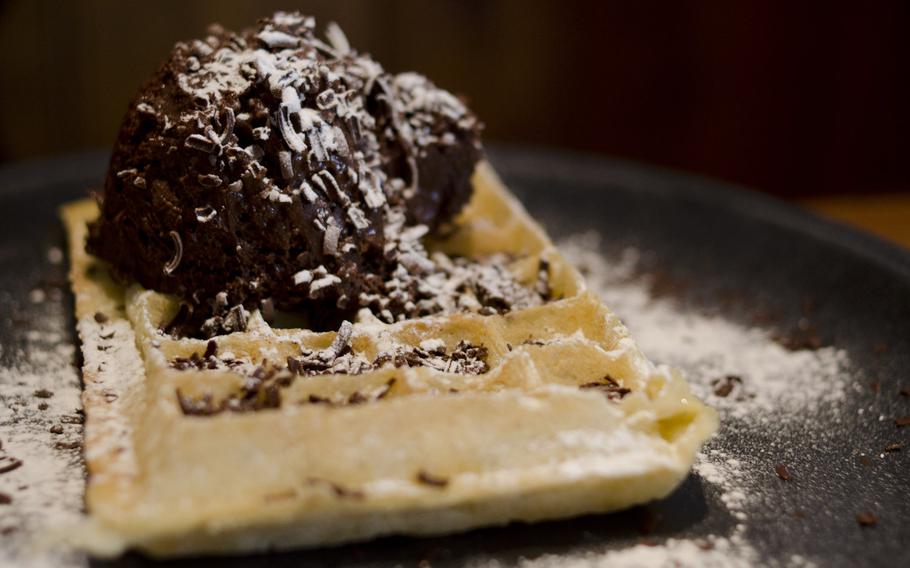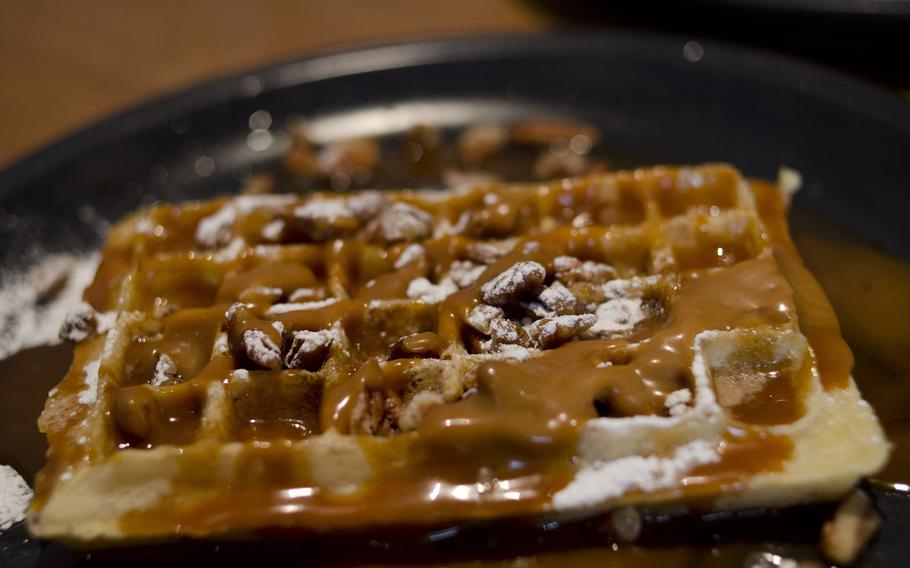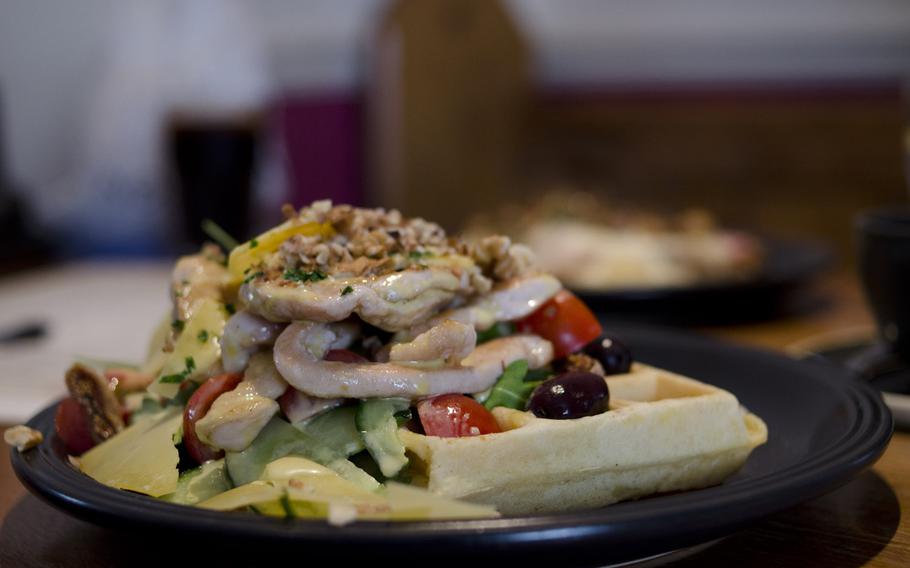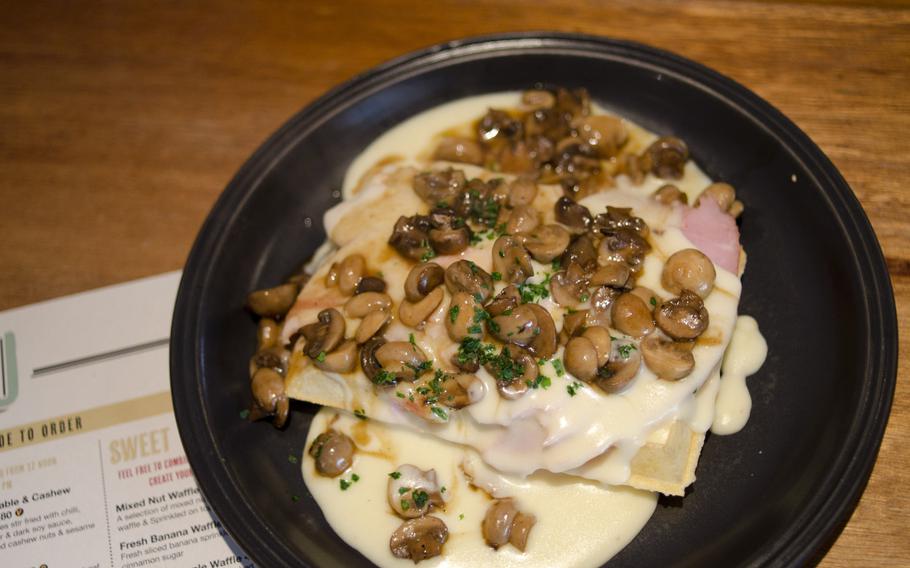 One restaurant in Norwich, England, has opened my mind to the possibility of waffles.
Americans have largely, and sadly, confined waffles to breakfast, accompanied with fruit and/or syrup. Europeans are not so myopic, and embrace waffles as a medium for dessert. Smother a waffle with syrup and drop some ice cream on it, and you have a pub dessert. Or use the stiff square of carbohydrates as a vehicle for melted chocolate or other sweet accoutrements and buy one to carry out on the street and munch while sightseeing.
The Waffle House in Norwich has decided even that is too limiting, and no aspect of the dining experience should be without waffles. Meeting the promise of its name, it offers waffles in virtually every dish, from chicken teriyaki to chicken salad.
This somewhat imaginative idea is executed simply enough. My order of warm chicken salad was a pile of greens mixed with bits of fig, toasted walnuts and gouda cheese, topped with long strips of chicken. All of this was plopped on top of a plain waffle. The waffle essentially became the croutons, providing the starchy counterpoint to the tangy lemon dressing and sweetness of the fig.
Simply slipping a waffle under food not usually associated with one unfortunately takes some of the glamour off the menu. The offerings of Oriental vegetable, cashew stir fry and Bolognese have great potential for creativity and fires the diner's imagination when it comes to how food can be combined with a waffle. It was a little disappointing that my waffle was simply an addition and not integrated into the meal. Why not add spices to the batter or cook the meat into the waffle?
But while The Waffle House might not have capitalized on its mainstay's creative potential, the waffle can bring a welcome nuance to entrees. My wife ordered one covered in cheese sauce and topped with ham and mushrooms. She pointed out that the waffle added a different texture to the meal and became less soggy than bread would have.
Lack of imagination does not diminish the quality of the desserts, which can be delicious, as my wife found out when she ordered the decadent chocolate mousse balanced by a plain waffle. My waffle with pecans and butternut sauce was more complex, with a mix of sweet and bitter flavors.
The menu is available online for anyone planning a trip to Norwich. (The Waffle House also has a St. Albans location). If the thought of Asian tuna salad with a bit of waffle padding sounds delicious to you, then the restaurant will be worth a trip.
mathis.adam@stripes.com
Twitter: @AMathisStripes
The Waffle HouseAddress: 39 St. Giles Street, Norwich, England
Hours: 10 a.m.-10 p.m. Mondays through Saturdays; 10 a.m. to 9 p.m. Sundays.
Menu: Belgian waffle combinations; gluten-free available. Beer, wine, cider and non-alcoholic drinks.
Dress: Casual.
Prices: Lunch and dinner entrees generally cost about 8 British pounds (about $13).
More information: Telephone: (+44) (0) 1603-612790; website: www.wafflehousenorwich.co.uk. The restaurant also has a Facebook page.
---
---
---
---