After Hours: The comfort of hearty Italian food at Seoul's La Cantina
by
Teri Weaver
September 28, 2006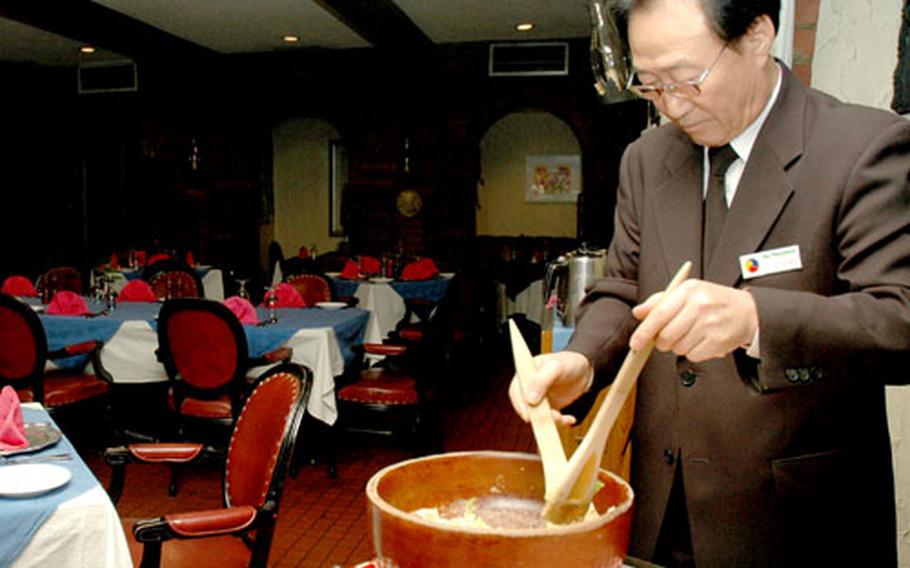 SEOUL — Comfort food comes in many forms, and as the weather cools my cravings for coziness generally turn to heaping amounts of cheese and pasta.
Lucky for me, the same must be true for many South Koreans, judging from the number of Italian restaurants thriving here. Still, picking through local eateries to find a match of reasonable prices with Western sensibilities (such as pizza without mayonnaise as a condiment or pasta without kimchi as a side dish) can prove a little challenging.
Recently I found a comfortable place that satisfied my taste buds without emptying my wallet.
La Cantina is a decades-old restaurant in the basement of an Woori bank building, across from the Lotte Hotel near Seoul's City Hall. The brick walls and leather booths create a dark, homey feeling that reminds me of red sauce and homemade minestrone. All that is missing is a Chianti-bottle candlestick on every table.
We started with the Caesar salad for two, made to order at your table. The waiter used iceberg lettuce instead of romaine and a canister of Kraft Parmesan shaken on at the end. But without a hot pepper or pickle in sight, it was a fine combination.
The tagliatelle with seafood proved even better. The tomato sauce tasted familiar with oregano and garlic, and the shellfish was a healthy mix of mussels, clams, shrimp and squid.
Of course, I had to sacrifice some pasta to save room for the cheese. We split an appetizer of asparagus in gorgonzola cream and a wedge of mascarpone-filled tiramisu for dessert. The tiramisu had just enough sweetness to compliment rather than overpower the creamy cheese and bitter chocolate and espresso flavors. It certainly helped me wash down my second generous glass of house red wine.
Other entrees from the menu include classic mixes of meat, sauce, cheese and tomato, as well as surf-and-turf options for those who are especially hungry. You can have a simple lunch for about $15 or break the bank with wine and many courses for dinner. In either case, it's worth it for some cozy comfort so far from home.
See the After Hours index for more restaurant and nightclub reviews.
La Cantina, Seoul
Prices: Most dishes run $15 to $25, glasses of wine less than $10, and appetizers and desserts range from about $6 to $12.
Specialties: Classic Italian fare, with pasta, surf and turf and a few Korean hints thrown in.
English menu: Yes.
Dress: Casual to business wear.
Clientele: Crowds vary from business during lunch and weeknights to dates and families on weekends.
Location: Across from the Lotte Hotel in the basement of the Woori bank building. Open seven days a week, though only for dinner on Sundays.
Phone: 02-777-2579