After hours: Sydney's Australian Bar and Restaurant in Germany
by
Warren Peace
May 16, 2010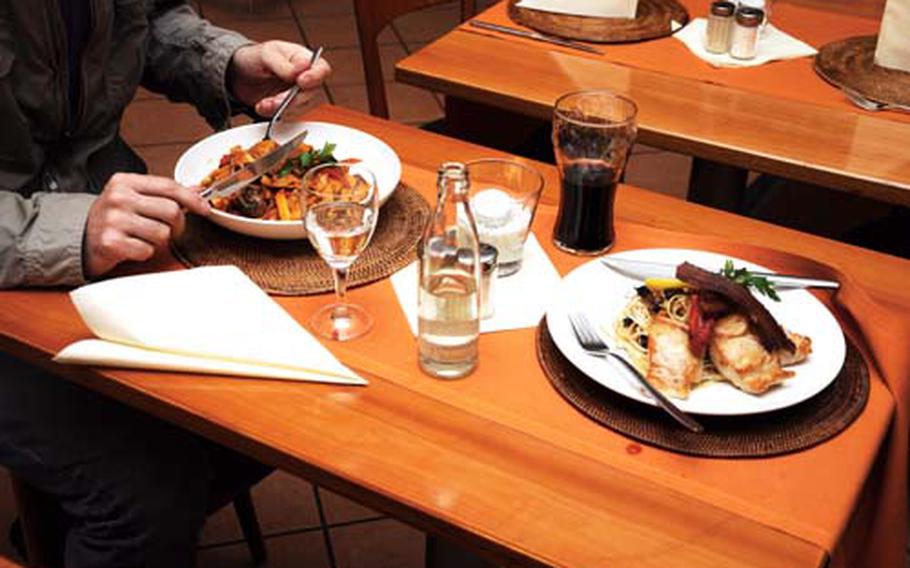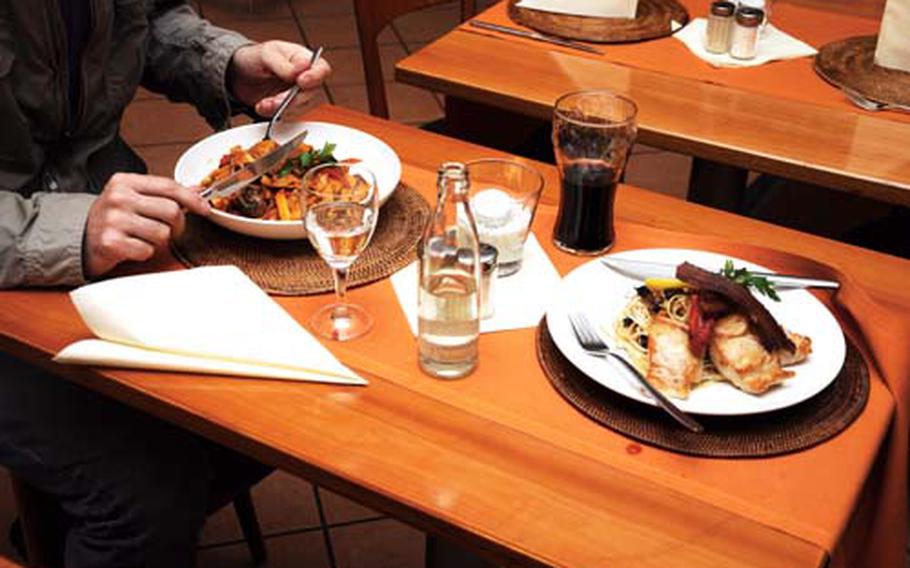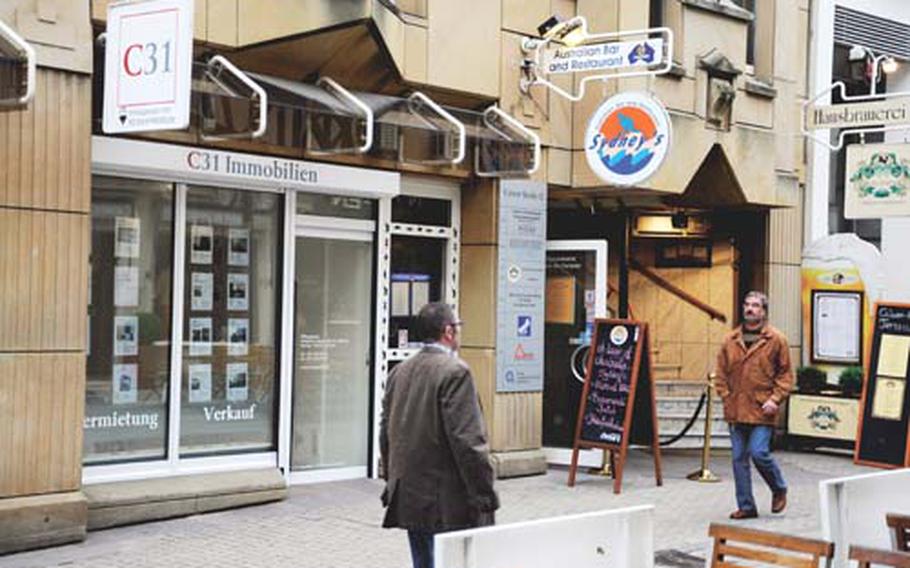 Scene Sunday, May 16, 2010
If you're looking for a stand-in for Outback Steakhouse in Stuttgart, Germany, you'll be disappointed with Sydney's Australian Bar and Restaurant.
If you are looking for a place that has the allusion of authentic foods from the land of walkabouts, we may have found the place for you.
Sydney's in downtown Stuttgart offers a range of food that may not be the typical meal of Australians, but it's a less American version than its U.S. counterpart. Dishes range from kangaroo with pasta to crocodile barbecue, fitting perfectly into an Australian stereotype.
The first thing I noticed about the place is its decor. As my lunch companion described it, "it was less than impressive and boring." The walls are painted in pastel colors and decorated with tokens of Australia like a didgeridoo, boomerang and poorly painted murals of kangaroos.
But we didn't go there for the atmosphere, so let's talk about the food.
I ordered the Crocodile Hunter dish. It was pretty good. It came with grilled crocodile filets and noodles in lemon sauce. The portions were adequate, but didn't justify a price of 21 euros. Neither did the taste.
I also had a side salad for starters. They brought me a plate with what looked like a head of lettuce on it with a few tomato and cucumber slices all covered in some kind of vinaigrette. Everything was fresh, but the lettuce was a chore to eat in its just-picked-from-the garden condition.
My lunch companion ordered the Australian Noodles with Vegetables and Grilled Kangaroo.
"The kangaroo tasted like a blend of ostrich meat and steak," he said. "It was definitely much juicier than I had expected. The noodles were basic – seemed like egg noodles. It was slightly spicy, flavorful and filling. I think the flavor and portion was good considering it was a meal under 10 euros.
"That said; I don't know if I would go back. I have walked by it a million times and been a little curious about it. However, like most novelties, it is really a letdown in the end."
Despite our criticism, you may still want to give this place a chance — if only to have the chance to eat kangaroo, crocodile or shark meat without crossing the Pacific.
Sydney's Australian Bar and RestaurantLocation: Calwer Strasse 31, StuttgartDirections: Parking is extremely scarce in downtown Stuttgart, so your best bet is to take the subway and get off at the Friedrichsbau station. Head south on Friedrich Strasse for about six blocks and turn left onto Lange Strasse, then make an immediate right onto Calwer Strasse. Sydney's is the fourth business on the left. The walk takes about five minutes.Hours: 11 a.m. to 1 a.m. Monday through Saturday, 5 p.m. to 1 a.m. SundayFood: Australian-theme specialties featuring kangaroo, crocodile and shark. There is a wide selection of beverages including wine, liquors, soft drinks and beers, including, yes, Fosters.Prices: The lunch menu has seven dishes and none is more than 9 euros. You can order from the regular menu all day and expect to spend much more. Appetizers alone range from 7 to 12 euros, with 9 euros being the most common price. Main dishes range from about 12 to 25 euros. The best deals are in the meals for four, which cost about 40 euros.English-language menu: Menu has English translations, and the staff knows some English.Clientele: During lunch, expect to see businessmen and women on their lunch breaks, and, in the evenings, expect a wide range of customers.Phone: 07112-261-707Web:www.sydneys-stuttgart.de/index.htm