After hours: Shogun Sushi-Wok in Piano, Italy
by
Kent Harris
April 12, 2008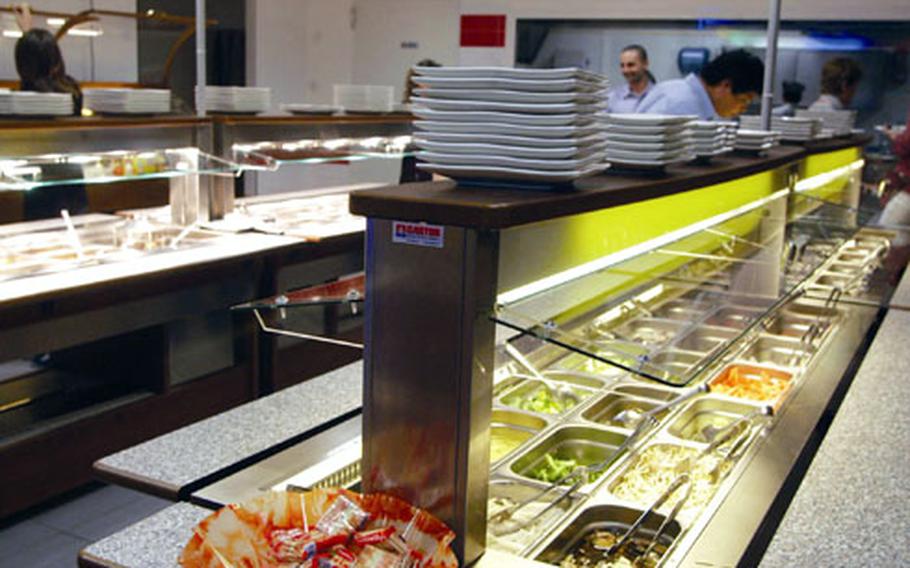 Restaurants around Aviano Air Base serve up mounds of tasty pasta and pounds of zesty pizza to Americans daily.
But those looking for less traditional fare — such as sushi — have had to look a little harder. Until recently.
Shogun Sushi-Wok debuted in February just a few blocks from the base perimeter. It's not only one of the closest restaurants to the base, but one of the more unusual for this part of Italy.
The Ni family offers a variety of foods from Chinese, Japanese and Thai traditions. Customers order their drinks once they find a table, then head off to the one-price, all-you-can-eat buffet lines. One features traditional Asian dishes already cooked, such as rice, noodles or fried shrimp. The other has an array of raw vegetables and meats — mostly seafood — that can be handed to a chef to prepare. Diners then watch the chef cook the food as there's only a counter separating the buffet area and the kitchen. Grab a new plate at the buffet counter for each visit.
Sushi, which is prepared daily by Ni Jinaqiao, is presented on trays off to the side of the buffet lines, near an array of desserts (also included in the fixed price). Ni Na, who runs the bar, said that seafood is delivered daily to the restaurant.
The restaurant is open for lunch (9.90 euros per person) and dinner (15.90 euros per person) seven days a week.
Expect to see a lot of fellow Americans there and to hear their conversations. The tables are packed tightly into two large dining areas, and there's constant traffic between the tables and the buffet area.
Those interested in sushi need to keep an eye out for new offerings, because they often get scooped up quickly, especially when it's crowded. That's not the case for the other food items — prepared and not prepared. Expect to wait just a few minutes while the chef prepares your food.
Shogun Sushi-WokLocation: Via Pionieri dell'aria 86, Roveredo In Piano, Italy
Directions: It's in front of Ovvio and can be seen from Aviano Air Base.
Food: An array of oriental fare, including sushi, in all-you-can-eat, buffet style. Some items are already cooked, and customers can watch chefs prepare the rest.
Clientele: Local Italians and Americans.
English-language menu: Yes.
Prices: 9.90 euros a person for lunch and 15.90 euros each for dinner. Children ages 4 to 8 half price. Drinks not included. A liter of water or can of soda costs 2 euros. A carafe of wine costs 7 euros and beers range from 2.50 to 3.50 euros. Take-out meals available for same price as dining in.
Hours: 11:30 a.m. to 2:30 p.m. and 5:30-11:30 p.m. seven days a week.
Phone: 0434-9499958. Reservations are usually not necessary.