After hours: Schwarz Das Restaurant, Heidelberg, Germany
by
Nancy Montgomery
March 8, 2009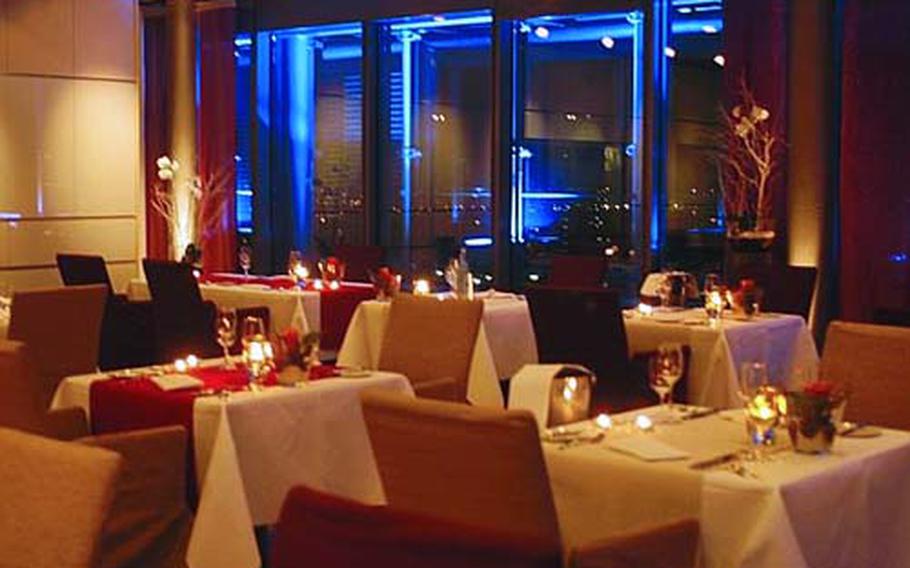 As I zipped up to the 12th floor in a glass elevator with Heidelberg falling away on all sides beneath me, I felt unusually cosmopolitan and modern.
A little later, Manfred Schwarz, owner of Schwarz Das Restaurant, pushed a button inside a special room for business dinners, and a giant floor-to-ceiling window noiselessly parted. We stepped onto the terrace, looked at the lights all around us, and, looming straight ahead, the castle. "It's fantastic, no?" Schwarz asked.
Yes. The restaurant — its panoramic views of the city, its sparkling interior — is fantastic, and most unusual in Heidelberg. It's exactly the thing for diners who find themselves tiring of charming restaurants on ground floors in ancient buildings. And who recently came into an inheritance.
On the top floor of the Print Media Academy building, with a moving metal sculpture of a horse outside, Schwarz Das Restaurant is lovely and posh, with candles on white tablecloths, twinkling ceiling lights, a dark, glossy floor and cool jazz playing softly.
Schwarz, who made his reputation cooking for heads of state, offers inventive, complex cuisine using luxe ingredients: truffles, foie gras, caviar.
The restaurant is not for the faint of wallet. Yet despite the dire financial times, the February Friday night I went, the place was nearly full, and Schwarz said that business remained good. Around me were: three couples, all in their 20s or 30s (one couple wearing jeans and hoodies); what looked to be a woman with her two adult sons, both wearing ties; a table of four men and two women; and three large groups of dressed-up middle-aged people.
My meal started with a glass of champagne and an amuse-bouche of tiny lamb slices and a cube of lamb shoulder on a toothpick atop a cup of consommé. Fantastic, no?
My starter was roasted scallops with cannelloni filled with smoked goose liver, garnished with truffles. My entrée was monkfish set on Asian vegetables, with a foam I found overly sweet and with an overwhelming taste of coconut. But the German white burgundy recommended by maitre'd Gianni Gasbarro was perfect.
Perhaps it would have been better to have had the roasted Argentine beef filet and baked smoked oxtail served with Thai leeks and Jerusalem artichokes? Maybe next time.
Schwarz Das RestaurantPrices: As with any restaurant with panoramic views and a Michelin star: very expensive. A starter, like the roasted scallop served with goose-liver-filled cannelloni garnished with truffles, 32 euros. A main course of monkfish with Asian vegetables and Swiss chard, 36 euros. A glass of Pommery champagne, 10.50 euros. Through March, the restaurant is offering primarily tasting menus. The four-course tasting menu is 75 euros.
Specialties: Gourmet, international
Dress: Dressy for the most part, but no dress code.
Clientele: Prosperous Germans primarily. Photos in the WC showed owner and chef Manfred Schwarz with luminaries such as Michael Schumacher, Gloria Gaynor and Joe Cocker.
English menu: Yes.
Location: In the Print Media Academy building, near the main train station, at Kurfursten-Anlage 60, 69115 Heidelberg.
Web site:www.schwarzdasrestaurant.com
Phone: 06221-757030.