After hours: S. Korea, Thailand 2 Restaurant
by
Franklin Fisher
March 21, 2010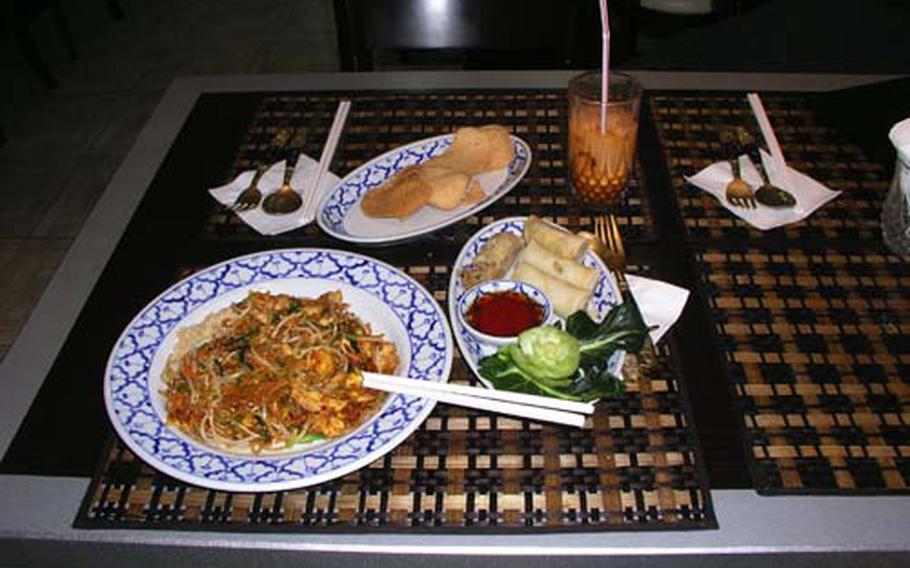 It's not often we find a restaurant near Osan that seems to get it all right — the taste and appearance of the food as well as efficient, pleasant service.
But that's the impression we came away with recently after an entirely pleasing meal at Thailand 2 Restaurant, just a few seconds' walk from the Osan main gate and up one flight of stairs. The restaurant has an all-Thai cooking staff, and its white-and-brown interior is decorated with Thai art objects, including brass statues of the kind found outside the country's Buddhist temples.
Among Thailand 2's most popular dishes, a staff member told us, are pad Thai, a rice noodle dish served with chicken, pork, beef, shrimp or assorted seafood; panang curry; seafood with black pepper; and gai pad med mamuang, chicken with cashew nuts.
We ordered pad Thai, with chicken, but started with an appetizer of spring rolls.
The spring rolls were made by the staff, we were told, which may account for why they were not only so tasty, but so fresh, and nongreasy in appearance.
But the high point of our visit came with the arrival of the pad Thai, served with crushed peanuts.
From the start, we encountered an array of subtle, fleeting flavors in play at the same moment, and that seemed entirely new to us. The ways each blended with the other made the pad Thai a richly satisfying dish.
About 80 percent of Thailand 2's customers are from the U.S. military community; the rest are usually Korean. The cooks know just how to adjust the degree of spiciness to the customer's preference.
We said we wanted it spicy for sure, but moderately so. They got it just right.
We decided to order dessert — kluay buat chee, or banana in coconut milk.
It was as good in its way as our noodle dish had been. We marveled at the taste and wondered whether it was possible we really hadn't ever tasted it before.
We're hooked, and have put Thailand 2 on our mental list of restaurants we want to revisit, and feel confident enough about to bring a friend.
Thailand 2 Restaurant
Location: Pyeongtaek, South KoreaHours: 10:30 a.m.-10:30 p.m. dailyPrices: Entrees 7,000 to 18,000 won; appetizers 5,000 to 6,500 won; soups 5,000 to 12,000 won; fried rice 7,000 to 9,000 won; desserts 4,500 won; beverages 1,500 to 15,000 won.Specialties: Pad Thai, panang curry, gai pad med mamuang, seafood with black pepperEnglish menu: YesDress: CasualClientele: Mostly U.S. servicemembersLocation: As you exit the Osan Air Base main gate, walk around to the right for about 30 seconds.Phone: (031) 668-7829Web site: None