After hours: Presswells Quality Fish and Chips, Ramstein-Miesenbach, Germany
---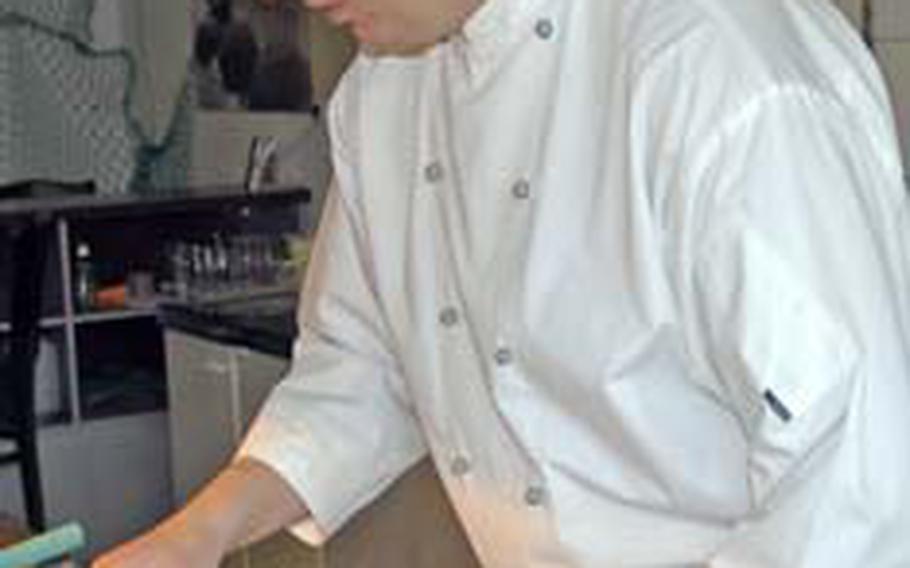 The fish was moist, fresh and fleshy, the batter golden, light and airy, with a hint of crispiness. The chips were sliced long and thick, a hearty portion of fried potatoes that could conquer a giant's appetite.
I'm already planning my next visit to Presswells Quality Fish and Chips in Ramstein-Miesenbach, Germany. What's most appealing is its authenticity. Right off the bat, my lunch companion and I were greeted by a friendly British accent. Not only does head chef and proprietor Marc Presswell hail from just north of London, but he has the cooking chops to go with the accent. Presswell, 36, has been a professional chef with the Royal Air Force for 20 years. Since opening Presswells a year ago, he's managed to balance the restaurant business with his RAF/NATO culinary duties at Ramstein Air Base. He's even cooked for Queen Elizabeth II.
We were regaled with such stories while our fish and chips cooked to perfection. I ordered the pangasius fillet, a white fish similar to cod. With chips, it cost 6.80 euros. My friend chose the mini fish and chips, a bowl of two small fillets of fried haddock with fat chips, for 4.50 euros. Both of our meals came with lemon wedges and a delightful tartar sauce on the side.
The fish is delivered fresh every other day from Hamburg. And the chips, as the British like to call their french fries, come all the way from north England. Our chef told us that only English potatoes will do, for their low moisture content and denseness.
Not in the mood for fish and chips? Presswells also serves up several varieties of home-cooked curry dishes, including chicken korma and chicken tikka massala and rice. Also available are English pies, such as steak pie — sirloin beef with garlic mushrooms in a rich, dark gravy topped with a flaky, puffy pastry, reads the menu — and Cornish pastry and cheese pie.
And chef Presswell makes some mouthwatering desserts. When we were there, he had a batch of homemade fresh éclairs out on the counter.
Next time, I intend to try the crab cake. It's a recipe that came from a customer and features crab claw meat, coriander, garlic, potato, lemon and fresh red chili. The American asked Presswell to cook his grandmother's crab cake recipe. It took Presswell a few times, but he got it right, and now it's a menu staple.
The restaurant's only drawback: It's a bit small, with not a lot of seating, but Presswell is looking to expand. Several days a week, the restaurant offers special discounts; on Friday, fish and chips are 5 euros.
Know a restaurant or entertainment spot you'd like to see reviewed in After Hours? E-mail John Taylor at: taylorj@estripes.osd.mil.
Location: Landstuhler Strasse 19a, Ramstein-Miesenbach.
Directions: From Autobahn 6, take the Ramstein-Miesenbach/Air Base exit. At the traffic light, turn left onto L363 (Landstuhler Strasse). Continue through the traffic circle, entering Ramstein-Miesenbach. Follow the priority road, turning left before passing the Barbarossa bakery on the right.
Hours: 11 a.m. to 2:30 p.m. and 4:30-9 p.m. Monday to Friday, noon to 9 p.m. Saturday; closed Sunday. Special discount days: Tuesday – $1 equals 1 euro; Thursday — one free beer with curry; Friday — fish and chips for 5 euros.
Specialties: Fish and chips with four types of white fish to choose from; curry dishes, English pies and homemade desserts. Also, sausage in batter and crab cakes.
Prices: Fish and chips range from 4.50 euros for the mini set, to 8.75 euros for the haddock fillet. Curry dishes are 7.50 euros.
English menu: Yes
Dress: Casual, casual, casual
Phone: 06371-406575
Web site: No
---
---
---
---