After hours: Okinawa Batake
by
Chiyomi Sumida
January 24, 2010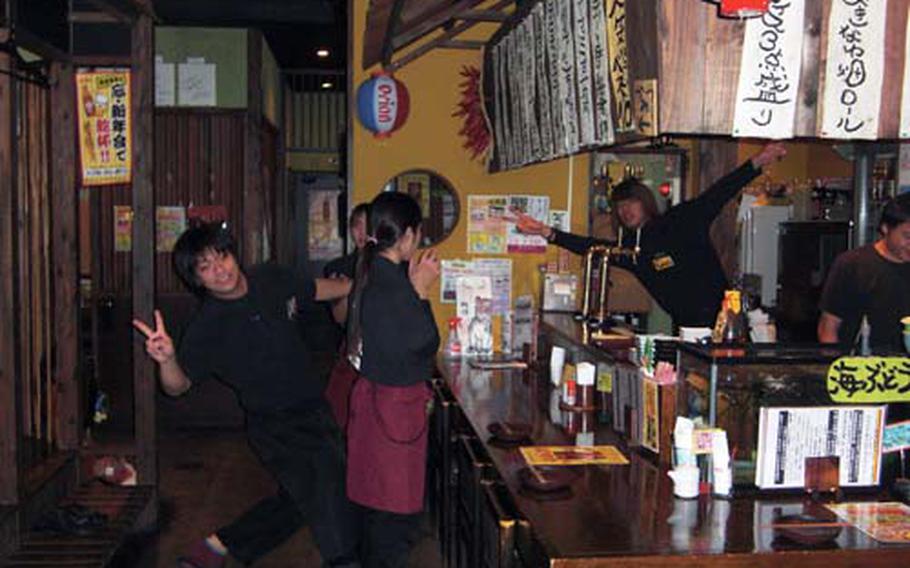 As Eisa is Okinawa's soul dance, pork dishes are the island's soul food. Because of their fondness for pork, it is said that there are only two parts of a pig that Okinawan people don't eat. From head to tail, nothing is wasted.
To indulge ourselves in the local cuisine, we recently ventured to one of the Okinawan restaurants, Okinawa Batake, in American Village, a popular shopping district on the island.
After being greeted by lively local music and the friendly smiles of the restaurant staff, we were ushered to a table where water ran beneath the floor. Choosing dishes from more than 80 varieties was a hard task. But help came from a list posted on the wall of "The top ten most frequently ordered dishes." Meekly, we followed the rule by the majority.
We started with chopstick-split tender rafute, or glazed pork, number one on the list, followed by ashi tebichi, or pig's feet; mimiga — sliced pig ears marinated in peanut butter; sea grapes; and tuna and avocado sushi rolls. We could have ordered grilled suchika, or thick cut of salt-preserved pork; peanut tofu; Okinawan spicy yakisoba; and taco rice. However, we found that each dish was so heavy that it filled us before we realized it.
I was surprised to find myself enjoying the deep-fried pig's feet, seasoned with a nontraditional spicy flavor.
"I've been curious about the taste and wanted to try this for a long time," my dinner companion said with a glow in her eyes as her fingers delivered a piece from the plate to her mouth. I was, too. Crispy skin and meltingly soft collagen-rich meat created a taste that I have never experienced before.
Okinawa Batake was opened six years ago to pass on the traditional Okinawan food to future generations, said the restaurant's head waiter, Yuta Tokeshi.
"We also try to create new dishes based on the tradition to serve the needs of our customers," he said.
I knew that I would come back to try the rest of the dishes so that I can boldly say that I have tried every part of a pig, like local people.
Oh, yes. The two parts that are not edible even to Okinawans — or so the joke goes — are nails and voice.
Know a restaurant or entertainment spot you'd like to see reviewed in After Hours? E-mail Karen Willenbrecht, Pacific After Hours editor, at willenbrechtk@pstripes.osd.mil
Okinawa Boatake
Location: Chatan, Okinawa
Hours: 6 p.m. to 2 a.m. Monday through Thursday, and Sunday; 6 p.m. to 4 a.m. Friday and Saturday
Prices: Most dishes between 500 yen and 900 yen. Average budget for one person is about 2,000 yen.
Specialties: Okinawan food and fresh seafood
English menu: Yes
Dress: Casual
Clientele: Mix of Japanese and Americans
Directions: Drive south from Kadena Air Base's Gate 1. Turn right at the Hamagawa intersection and turn left at the first traffic signal. The restaurant is on your left within 30 seconds' drive.
Web site:http://r.gnavi.co.jp/f081000