After hours: Okinawa
by
Karen Willenbrecht
April 4, 2010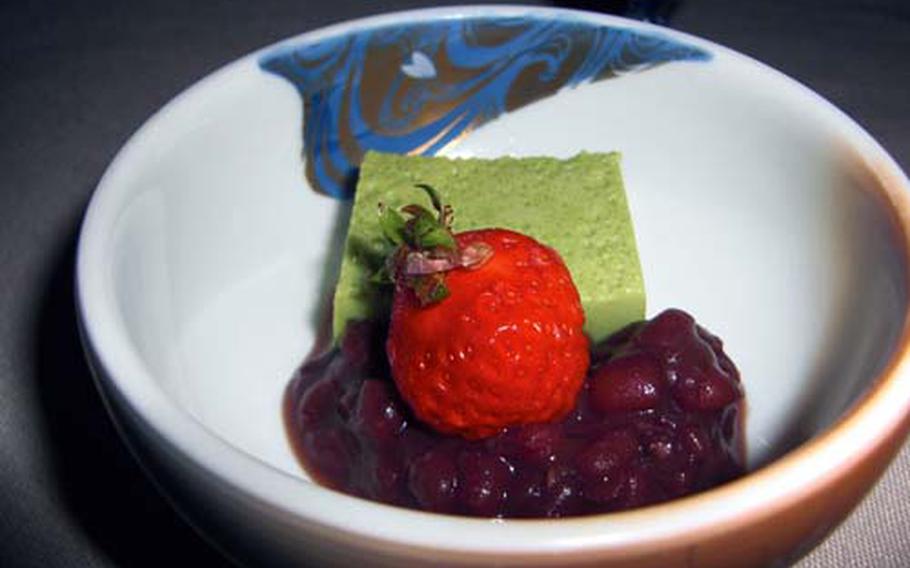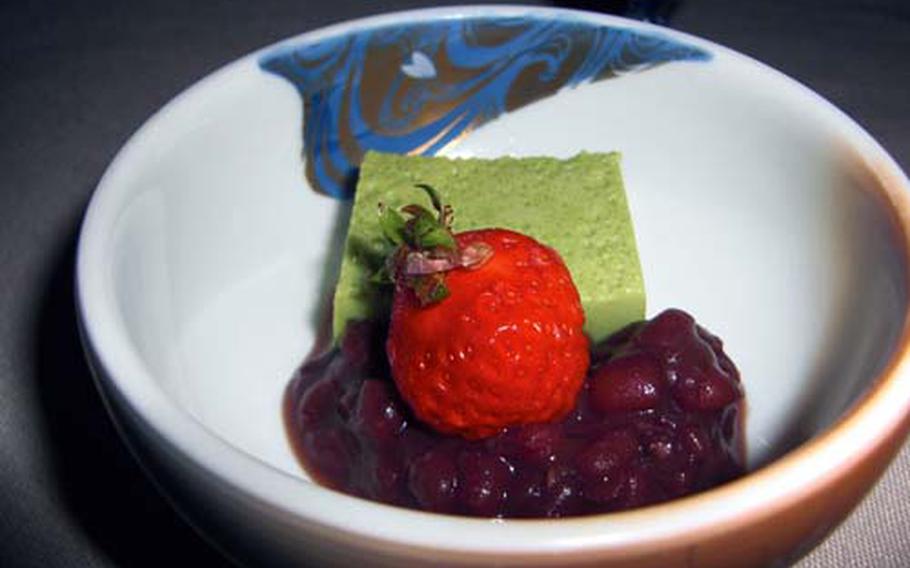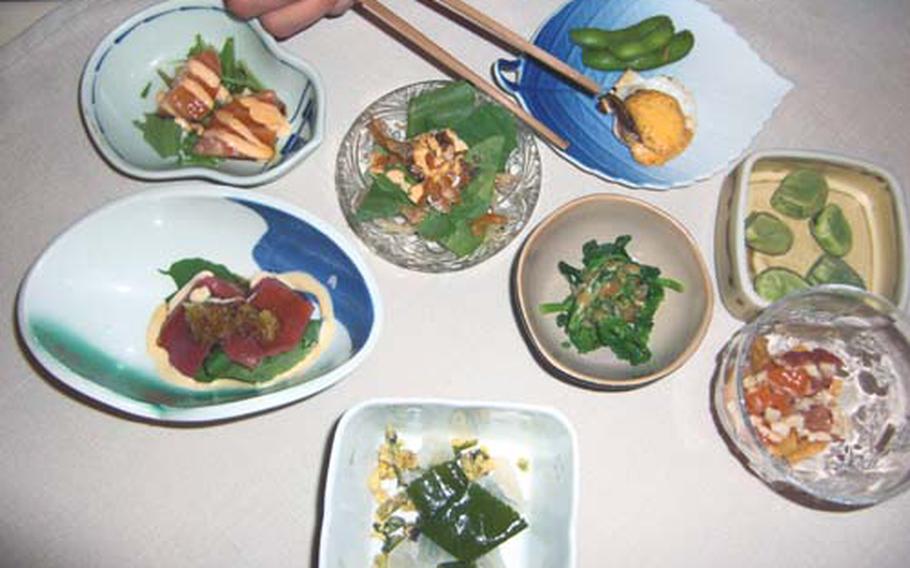 I'm probably not the only person who sometimes feels that deciding on a place to eat is the hardest task. On such a day, I recommend you visit this cozy restaurant in a quiet neighborhood in Kitanakagusuku. All you need to do is to tell the chef what you feel like eating — meat or fish — and your budget. The chef will then take care of the rest.
We were in the mood for fish on one recent evening. The chef, Mike Brice Sakai, a Japan-born American, disappeared into the kitchen, leaving big smiles behind. Soft jazz music filled the room, creating a soothing and relaxing atmosphere. The proud chef told me that Diana Krall is the name of the singer. What a perfect voice she has!
My mellowed mind was drawn back to reality when he brought appetizers to our table. Each dish was so carefully prepared — tuna and salmon sashimi, white fish sashimi wrapped with cherry leaves, field mustard greens with vinegar miso sauce, baked scallop and edamame green soybeans, lightly salted broad beans, marinated crispy salmon skins, and a tiny rolled cabbage.
My favorite appetizer for the evening was the sashimi wrapped with cherry leaves. The scent of sweet cherry leaves spread in the mouth. As I enjoyed it, I could see my dinner companion's eyes were filled with joy at the seasonal delicacy.
Our main dish was tuna tail pepper steak. The thickly sliced meat had a rich taste, yet the texture was very smooth in the mouth. Our culinary joy continued with dessert. Green tea mousse, strawberries and sweetened beans were a superb match of East and West.
Kappou Dining Kamekichiya opened in September, a dream come true for the owner, Sakai, who had long worked as a chef at major hotels in the United States.
As the evening quietly went on, Krall's sweet contralto voice continued.
Know a restaurant or entertainment spot you'd like to see reviewed in After Hours? E-mail Karen Willenbrecht, Pacific After Hours editor, at
Location: Kitanakagusuku, Okinawa
Hours: Tuesday through Sunday — lunch 11 a.m.-2:30 p.m.; dinner 5-9 p.m. Monday open by reservation only.
Prices: Lunch — 1,280 for ladies and 1,380 yen for men; dinner 1,500-10,000 yen
Specialties: Japanese food
English menu: No. Just tell the chef what you feel like eating.
Dress: Casual
Clientele: American and Japanese
Directions: Take Highway 81 east from Camp Foster's Shoppette gate, turn to the left at the first traffic light after passing a pet shop, Ocean Pet Club, on your right. Follow the road as you go down the hill and turn to the right at the first forked corner. You will soon start seeing small signs on the roadside which read "Green Green Café." Follow the signs. Kappou Dining Kamekichiya is on your right, before the coffee shop.
Phone: 098-989-0819
Web site:http://r.tabelog.com/okinawa/A4704/A470405/47005145/ (Japanese).