After hours: Naples, Italy
---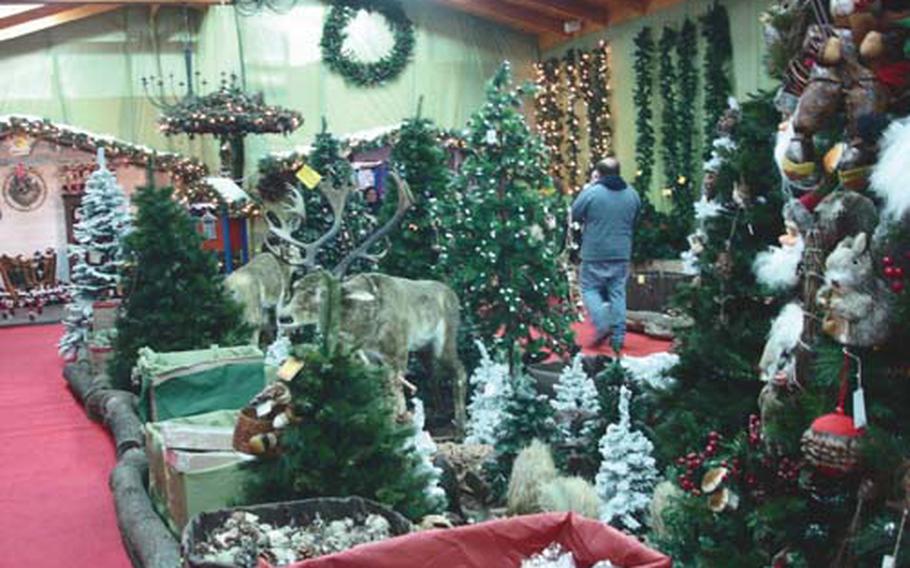 Visitors to downtown Naples, Italy, this time of year will inevitably head to Christmas Alley. But local Neapolitans know that, when it comes to holiday decor, Via San Gregorio Armeno is not the only game in town.
If you're willing to brave the Circonvallazione — a highway as dangerous to drive as it is difficult to pronounce — you can get into the Christmas spirit as early as October and keep the spirit going until February.
Located in the suburbs of Giuliano, Gloria sells outdoor furniture from March to September. Then it closes for a month as workers transform the grounds into a sprawling Christmas village that is open until the following February.
The giant yellow illuminated sign is easy to spot from the highway and might be bright enough to see from low-flying aircraft. As you head into the store, don't be put off by the trio of singing, larger-than-life chimpanzees dressed in Santa suits at the entrance. They may strike some as a bit creepy, but, once inside, it's traditional wall-to-wall Christmas.
The facility is mazelike, with about 10 rooms containing every possible decorating need one could imagine. Shoppers come by the thousands (especially on weekends) to be entertained by the displays and to buy everything from mass-produced glass baubles with every color of the spectrum represented, to the individual handmade presepe Nativity scenes Naples is famous for.
While the store doesn't sell live Christmas trees, the ones they do sell come in a variety of styles and colors, including purple, blue, silver and white. I think there may have even been a few green ones. Some have a theme, such as one with Venetian masks and another with various musical notes and instruments.
There are even trees designed to hang upside down, an increasingly popular trend with apartment dwellers who have precious little floor space.
Floor space isn't a problem at Gloria. The entire facility takes up more than 25,000 square feet, according to Cinzia Costigliola, the head buyer for the store.
"We have items from all over — Belgium, France, Germany, China, Philippines and, of course, Italy. Here, you can find everything," she said.
And yes, there is a Santa Claus. He's in the store for visits and to hear wish lists.
Although the store remains as a Christmas village until February, don't look for any post-holiday sales. That's not a tradition that has caught on here. Besides, the Santa decorations give way to La Befana, the central figure of the Epiphany celebration Jan. 6.
Some of the prices are a bit higher than at Christmas Alley, but the comfort of not having to battle massive crowds in the tiny streets and alleys downtown, the huge selection and ease of parking are well worth considering. Of course, you don't have to buy anything.
By Lisa Novak, Stars and Stripes
Know a restaurant or entertainment spot you'd like to see reviewed in After Hours? E-mail John Taylor at taylorj@estripes.osd.mil.
Location: Via San Francesco a Patria 112 in Giugliano, suburb of Naples.
Directions: The store is just off the Circonvallazione, also known as the SS162 or Asse Mediano. (Yes, it's confusing — it's Naples). Take the Giugliano exit and drive along the service road parallel to the highway. It takes you right to the store entrance. Parking is available for 1 euro.
Hours: 9 a.m to 1:30 p.m., and 3:30 p.m. to 8 p.m. Monday through Thursday; on Friday through Sunday the store stays open until 9 p.m.
Food and drinks: On the store's grounds, there is a small outdoor cafe selling snacks and drinks. There's not much in the immediate vicinity, except for some shady hotels we probably don't want to talk about.
Clientele: Neapolitans and others in the know.
Prices: Some of the more ornate pieces, such as lawn ornaments or handmade Nativity scenes, cost a bit much, but overall you won't go broke (unless you want to) buying a variety of items. No charge for browsing the off-beat items.
Telephone: 081-509-0058
Web site:www.gloriasrl.com (Italian only)
---
---
---
---