After hours: My Place bar, Misawa, Japan
---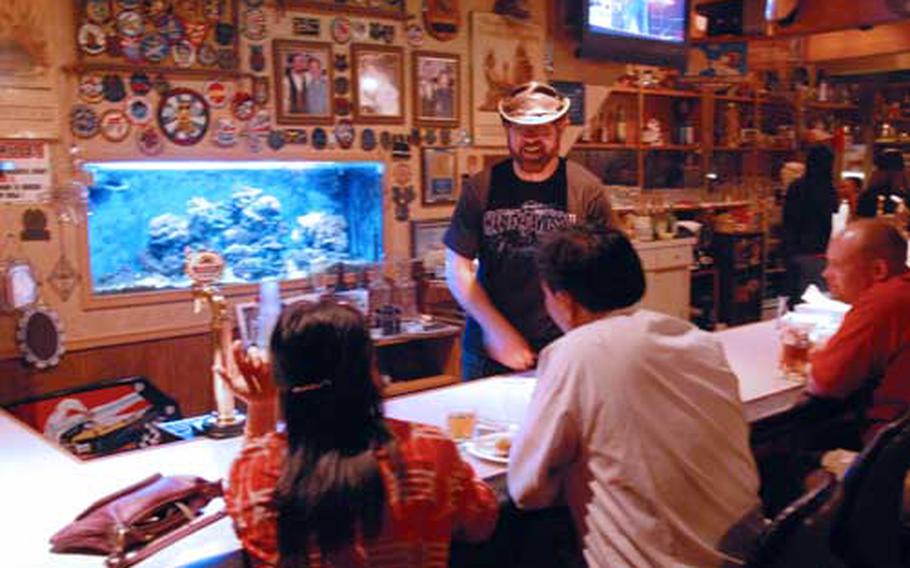 The best thing about the My Place bar is that, well … it feels like my place.
I've only been there five or six times since moving to Misawa earlier this year, but I already feel like a regular when I walk through the door.
And that's exactly the plan, said owner John Chamberlain. He's run My Place since 1999, but moved into his current location about five years ago. His goal was to open a little slice of America in a foreign country, calling it his "hometown tavern away from home."
He wants customers to feel "like it's their place," he said at the beginning of another busy Saturday night, with dart league customers lining up for their pre-game beers.
He renovated the current location by hand, laboring through day shifts after long nights in the old bar. It's one of the biggest bars in Misawa and its walls are plastered with photos of past and present customers and squadron patches and plaques.
Military retiree Lee Martin has been a customer for 10 years, and enjoys "the atmosphere."
"It's kind of like your hometown bar," he said.
It's hard to tell what Chamberlain is more proud of, his beer or his food. He has seven beers on tap, including Dead Guy Ale, from Oregon-based Rogue Brewery. The Kirin and Ebisu Stout also are favorites, he said.
The specialty drink is the 800 yen Blue Motorcycle, best described as "like a Long Island Iced Tea," without the tequila. It's "seriously locked and loaded," he said.
Every Sunday he offers a free buffet dinner — prepared by his wife, Satomi — beginning at 8 p.m. And every other Tuesday, he starts serving his infamous smoked ribs.
Customers say the food is outstanding, from the 500 yen chicken quesadilla to the 600 yen fries with cheese and bacon. The tortillas are made fresh daily, Chamberlain said.
He opens the bar early to host the Misawa Dart League. He does the same for parties.
The music leans toward rock, but all bets are off when the karaoke microphones start getting passed around — as they do nearly every night.
My Place is strict about following the drinking age, and a bouncer checks IDs.
But Chamberlain said that his customers also help ensure underage troops aren't drinking in the bar.
"They don't want to screw their own place up," he said.
Know a restaurant or entertainment spot you'd like to see reviewed in After Hours? E-mail Karen Willenbrecht, Pacific After Hours editor, at: willenbrechtk@pstripes.osd.mil.
---
---
---
---