After hours: Mussel Story in Uijeongbu, South Korea
by
Jon Rabiroff
September 8, 2010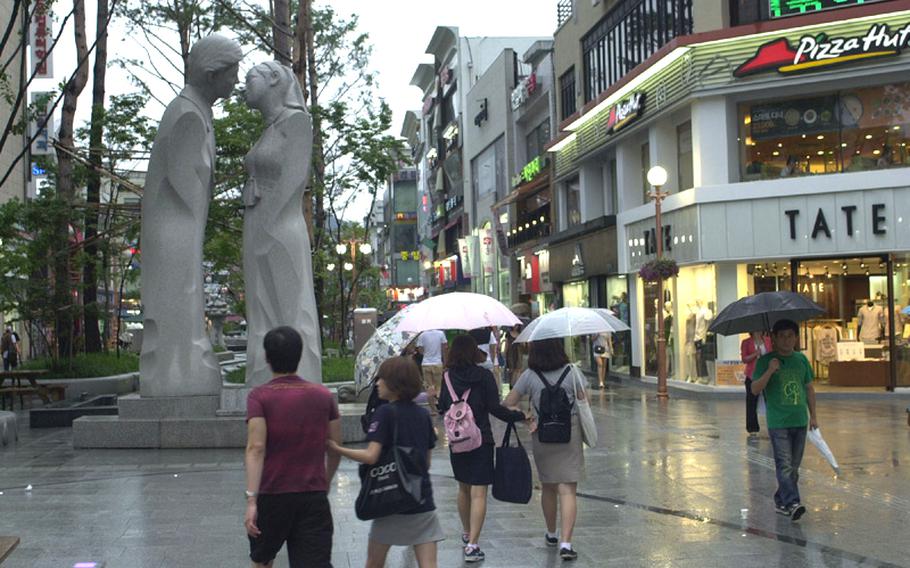 I don't know the name of the restaurant.
I'm not exactly sure what I ate.
But I'm definitely going back.
Anyone who has lived overseas for any period of time can probably relate to those comments because, as expats who don't speak the local language, sometimes we find ourselves ducking into restaurants where English is nowhere to be found — not on any signs, not on the menu and not on the lips of anyone working there.
Such was the case when I went to check out Uijeongbu's impressive new Culture Street — a half-mile commercial district that stretches north from the subway station, where a four-lane road was replaced by a heavily landscaped pedestrian walkway in the past year.
There are now large statues, pieces of art, a creek, a fountain, and poles and a tunnel-like structure that continuously flash various media images.
In short, this is the perfect place to spend a warm evening people-watching. But, while the area brings to mind the sip-and-stroll centers of Paris and New Orleans, there are no bars, restaurants or coffee shops along the promenade where one can sit down outside with a beverage and watch the world go by.
That brings me to the restaurant-to-be-named-later, which comes the closest to what I was looking for. The front of the establishment does open up entirely to the pedestrian area and if you sit at one of the tables in front you are only separated from the action by a wooden railing.
Close enough, I figured, so I took a seat at one of the front tables and was handed a menu written entirely in Korean. Thankfully, the menu did have photos of all the dishes, so I went with the safest bet — a 12,000-won plate of hot dogs and assorted wieners, and a cold draft beer for another 2,500 won.
After a while of watching happy couples and families wander by, I was about to leave when the waitress brought me a bowl of mussels. She wandered off before I could try to ask if she had made a mistake, so I proceeded to down the tasty mussels without much concern.
It was only after I showed a Korean friend photos I had taken of the restaurant's sign and menu that I figured out what was going on.
The name of the place, she said, is Mussel Story and on the sign there is reference to "unlimited refills." The cover of the menu encourages visitors to "lay down all the weariness of everyday life, recharge your energy and have fun. This is a place where everybody can share drinks without hesitation."
So, the next time I am in a people-watching mood, I will not hesitate to return. And, this time, I'm getting a few more bowls of mussels.
Location: Uijeongbu, South Korea
Hours: Open for lunch and dinner daily
Prices: 10,000 to 15,000 won for most entrees
Specialties: Korean cuisine
English menu: No, but photos of all food items
Dress: Casual
Clientele: Koreans
Directions: On "Culture Street," which runs about a half-mile north from the Uijeongbu subway station in South Korea; across from the KB bank building.
Website: None
---
---
---
---