After Hours: Mingo in Tokyo, Japan
by
Karen Willenbrecht
September 1, 2010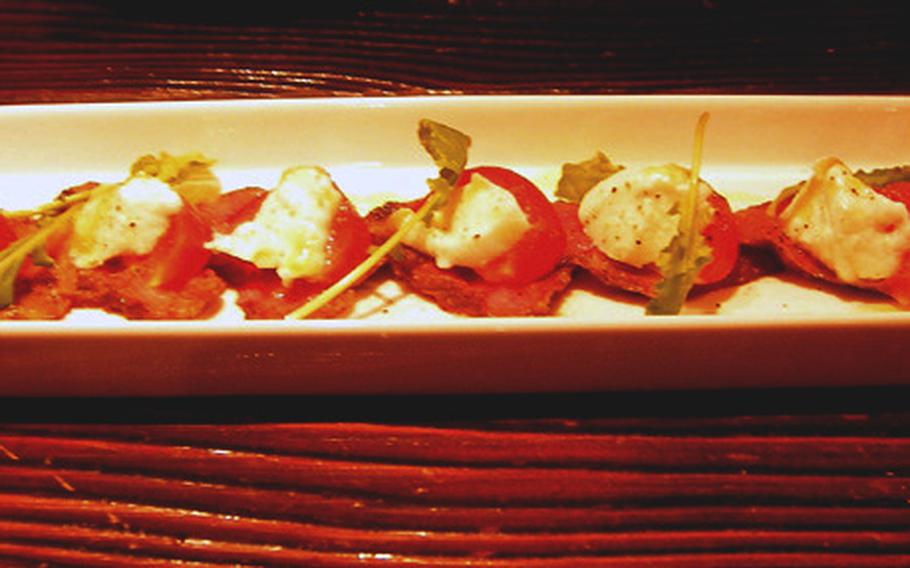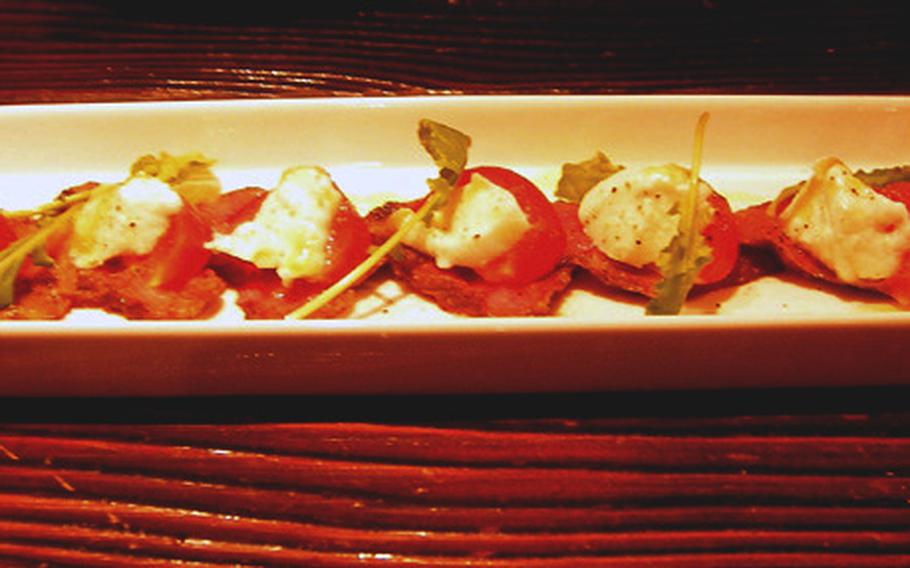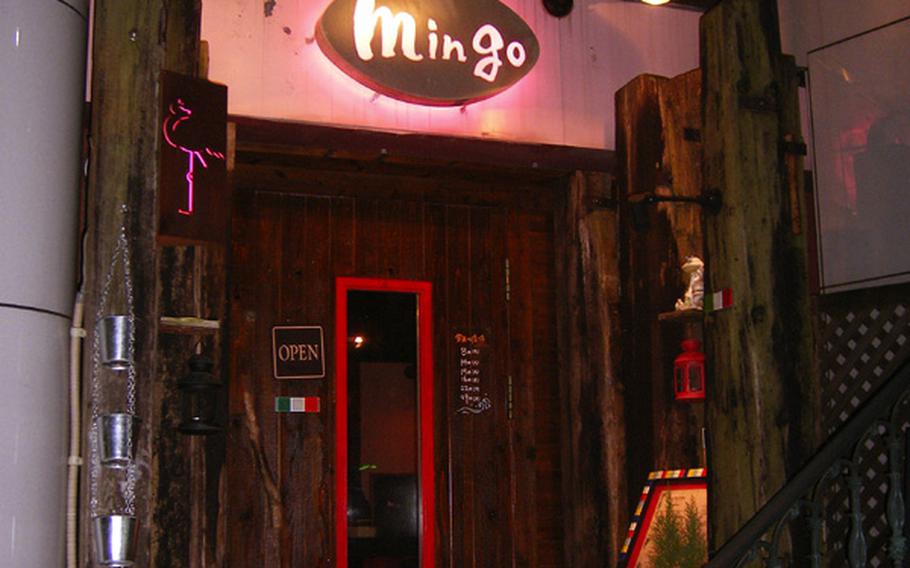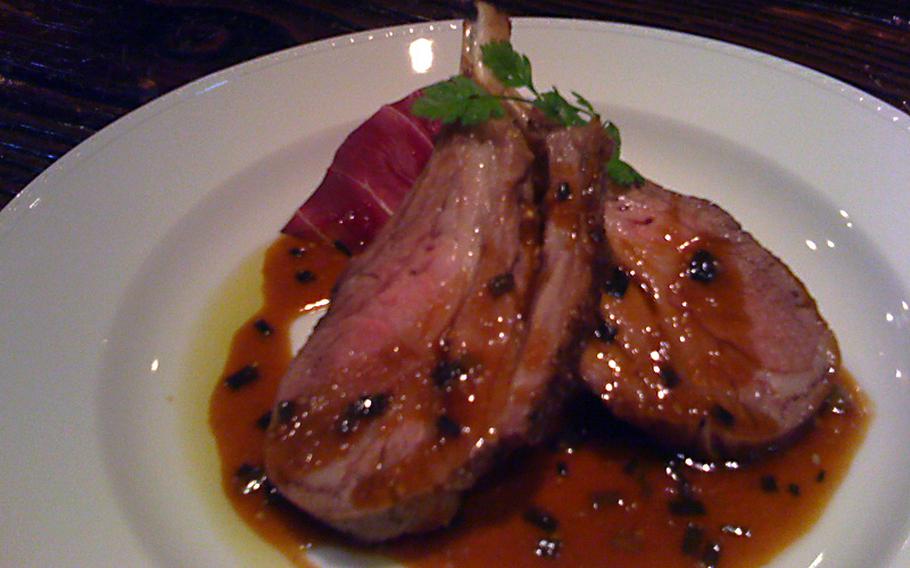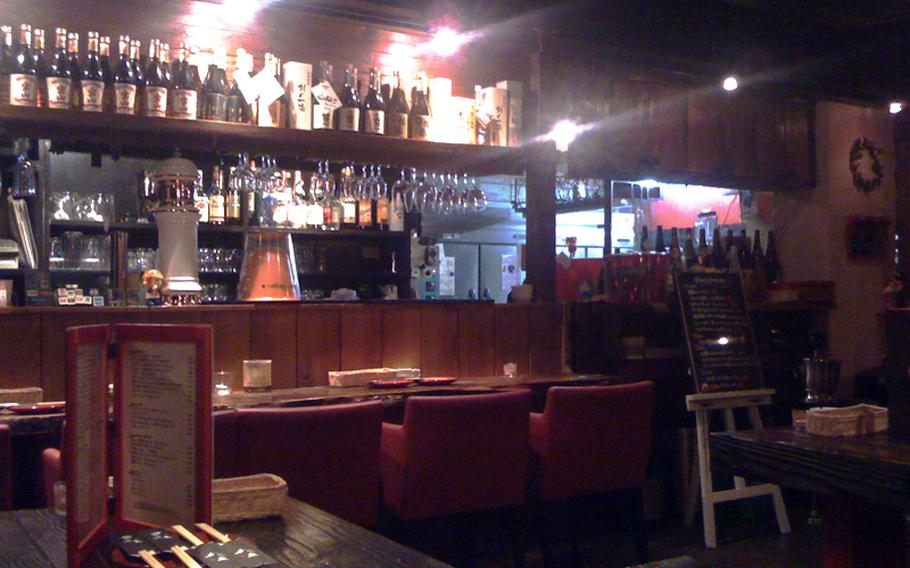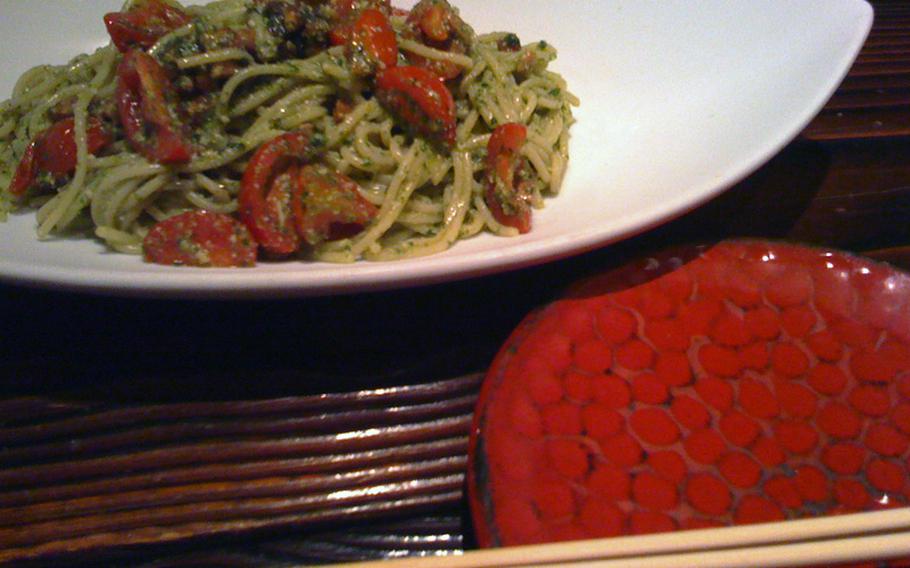 Staying at Hardy Barracks for a night out in Roppongi? I beg you — skip TGI Friday's and Outback Steakhouse. Instead, start (or end) your evening at Mingo, a tiny jewel serving delicious food just steps away from the gate.
Mingo (short for flamingo) offers traditional and not-so-traditional Italian fare. For purists, there's the usual assortment of pizzas, pastas and risotto; other dishes, such as a seared tuna and avocado salad, make good use of Japanese ingredients.
We started our meal, as always, with our favorite antipasti — tender wagyu beef slices served caprese-style, with cherry tomatoes, blobs of mozzarella, and a peppery dressing that gives the dish a flavor I can't quite identify or re-create but I crave it for weeks after a meal there. This dish doesn't appear to be on the English menu, but on the Japanese menu, it's fifth from the bottom under Antipasti; if you don't speak Japanese, just point.
We followed that with a more traditional pasta — a homemade tagliolini with Genovese sauce and chunks of slow-cooked bacon. The waitress offered us the option to have our pasta served cold, and since it was nearly 100 degrees outside, we somewhat skeptically accepted. This turned out to be a great decision; the chilled noodles were refreshing, much like eating cold soba, and the basil sauce kept the dish light. I'm also partial to the penne with gorgonzola, but the rich cheese sauce makes it better suited to cold weather, when you want heavy food and don't mind that the serving probably has 4,000 calories.
For an entrée, we had the savory grilled lamb chops (amusingly mistranslated as "grilled ram") with an oriental honey sauce. The meat and fish selection is small — just six dishes, plus a couple of daily specials — but the lamb and the roasted chicken are both well-executed.
Mingo has its cooking and service down pat — I've never had a dish that wasn't amazing — but it could use some help in the marketing department. It's tucked onto a side street with almost no foot traffic; its front door is half-hidden behind a stairway; and it doesn't advertise in expat publications. The lack of promotion is evident; if you arrive before 9 p.m., you'll probably have the place to yourself.
That's too bad, because this really is a terrific restaurant in a terrible location — the neighborhood chews up and spits out restaurants like Cookie Monster on a bender. So please. Skip the chains. Help keep Mingo in business. Otherwise, how will I get my beef caprese fix?
Location: Tokyo, Japan. 1-10-16 Nishi-azabu, 1F. From Hardy Barracks, go straight out the gate, cross the street and walk through the parking garage. Go up the steps at the back of the garage and walk up that street. Make your first right; Mingo is on the left, halfway up the block.
Hours: 6 p.m. to 5 a.m. daily; closed on Sundays and national holidays
Prices: Antipasti 380-1,200 yen; pizza 900-1,400 yen; pasta, meat, fish and risotto, 950-1,400 yen; beer, cocktails and wine around 500 yen
English menu: Yes, but you'll probably have to ask for it
Dress: Casual
Clientele: Good question. I've never actually seen other customers here, but I assume they're mostly Japanese.
Web site:www.mingo.co.jp (mostly Japanese, but the pictures are pretty)
Phone number: 03-6913-1511
---
---
---
---