After hours: Me Kara Uroko, Sunabe Seawall, Okinawa
by
Matt Orr
March 7, 2010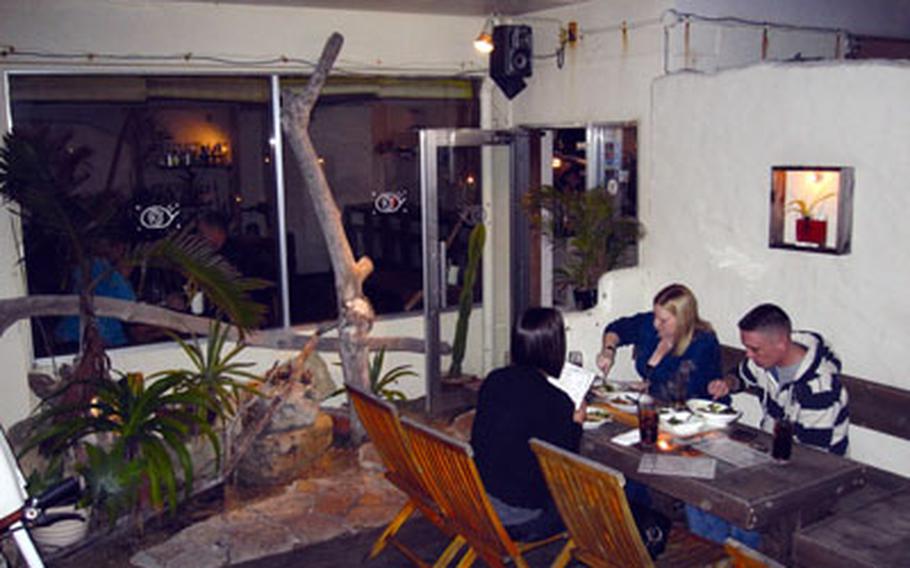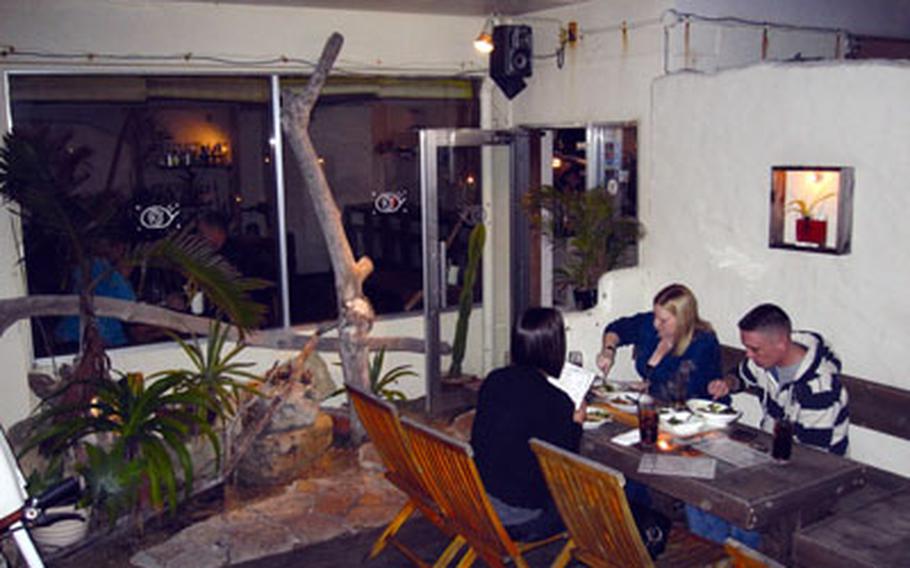 If I were permitted to live off base, I would surely pick living on the Sunabe Seawall, a stone's throw from Kadena Air Base.
Not only would I wake to the smell and sounds of the ocean, but I would also fall asleep to the delectable smells of the many restaurants cooking up their specialties for hungry customers.
My wife and I often eat at one of the many restaurants scattered throughout the Seawall area.
Afterward, we usually take a leisurely stroll along the wall to walk off our meal and take in the sunset or the moon and stars.
Recently we ate at a small restaurant that was highly recommended by some friends who eat there regularly.
The name, Me Kara Uroko, roughly translates to "the scales drop from one's eyes."
The quaint little place has indoor and outdoor eating areas. The outdoor area is decorated with driftwood and has tropical plants to really give you a sense of the tropics, with a cactus or two placed here and there to confuse you.
The food is delicious. But one thing I have noticed in some Japanese restaurants, and Me Kara Uroko is no exception, is their inclusion of pork in vegetable dishes, which many times is not mentioned on the menu.
This could pose a problem for the vegetarians among us.
The food is a mix of Japanese and international dishes.
We ordered an array of dishes and shared them, including fried rice, seared beef, an avocado salad, stir-fried vegetables, and chicken and vegetables.
There is also a selection of pizzas, which we said we would try next time.
We saved the best for last, though, with dessert.
If you ask me, their specialty is the deep-fried chocolate with vanilla ice cream for a bargain 500 yen.
It certainly is an indulgent dish, so make sure you save some room for it when ordering your entrees.
Plus, indulging in the desserts gives you a good excuse to walk it off at the sea wall.
Know a restaurant or entertainment spot you'd like to see reviewed in After Hours? E-mail Karen Willenbrecht, Pacific After Hours editor, at willenbrechtk@pstripes.osd.mil.
Me Kara Uroko
Location: Chatan-town, Okinawa
Hours: Seven days a week from 6 p.m. until 1 a.m.
Prices: Salads 480-580 yen; appetizers 380-980 yen; entrees 480 yen and up; desserts around 500 yen; cocktails and beers from 500 yen; awamori from 650 yen, bottles for 7,800 yen.
Specialties: Japanese and international cuisine
English menu: Yes
Dress: Casual
Clientele: A mixture of Okinawans and foreigners
Location: Me Kara Uroko is along the Sunabe Seawall. From Kadena Gate One take a left onto 58 and then your first quick right. Follow that road until you hit the seawall and make a right. Me Kara Uroko is on the right side next to the Transit Café.
Web site: None
Phone: (098) 936-4839