After Hours: Mathäser is like an old friend
---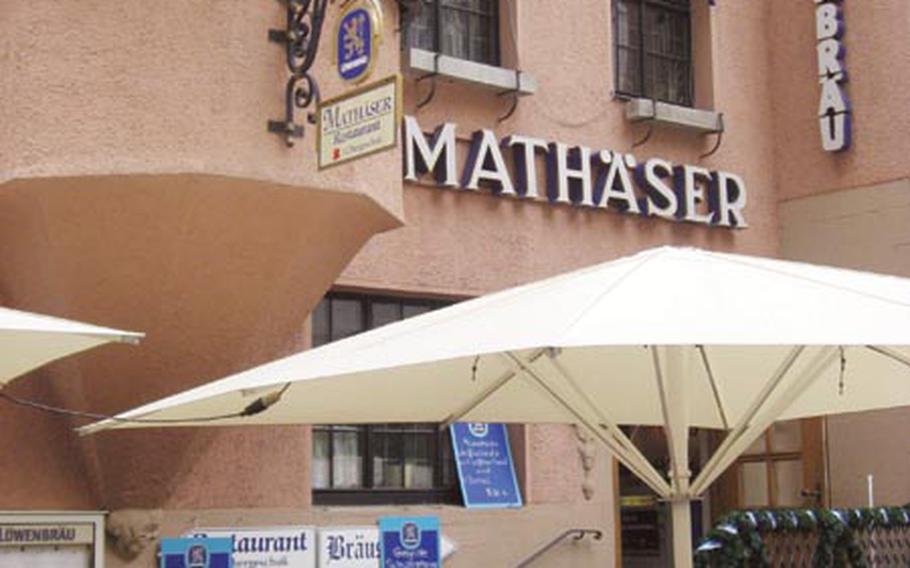 STUTTGART, Germany — I was surfing the Web the other day looking for a decent After Hours offering. Someone suggested La Margarita on the popular downtown dining strip — Calwer Strasse.
But who goes to Germany to eat enchiladas? That's like going to El Paso to eat schnitzel.
Instead, while searching for "best Stuttgart restaurants," the following Web entry appeared on someone's personal site: "There are times when I discover a pub so good that I'm tempted to keep it to myself."
The author was referring to Mathäser, one of dozens of indoor-outdoor eateries that line the twisting, turning nooks and crannies in the middle of bustling Stuttgart.
As I approached, I noticed there were old people who looked like locals (read: frugal) sitting at the tables outside. And, there were quite a few of them. These were good signs.
The chalkboards outside listed today's specials. There was würstsalat mit essiggurke und zwiebeln (sausage salad with pickles and onions, 6.80 euros), Schweizer würst salat mit emmentaler (swiss sausage salad with swiss cheese, 7.30 euros), and other offerings.
For some reason, I reflexively went for the schweinhaxe, which is part of the pig's leg. Nothing says "summer in Germany" like a club-like hunk of pork. And to wash it down, a "radler," which is half-strength lemonade beer.
Others dined on old Schwabian favorites such as lentils, spaetzle and hotdogs, while some simply sipped beer while people-watching in this pedestrian-zoned, dining and shopping part of downtown.
There is much more to Mathäser than pork and beer. Traditional fare such as rostbraten, maultaschen and knoedel fill out a well-rounded menu of Bavarian and Schwabisch favorites.
The Mathäser serves beer from Munich — Lowenbrau and Fransizkaner — which are a nice change of pace from the old Stuttgart standbys of Stuttgarter Hofbrau and Dinkel Acker.
As one walks up the narrow, circular stairs to the bathroom, there are two photos hanging on the wall. One is of a man with a huge moustache wearing lederhosen and a hat with a feather in it and carrying a keg on his shoulder. The other is of woman wearing a puffy, full-length dirndl dress and carrying four massive, 1-liter glasses of beer in each hand.
You don't see that in El Paso.
Mathäser, Stuttgart, Germany
Hours: 10:30 a.m. until midnight, 1 a.m. on Friday and Saturday, closed Sundays
Specials: Hearty Bavarian and Schwabisch food, beer from Munich breweries, good selection of German wines.
Price: Between 10 and 20 euros for dinner and a drink.
Clientele and dress: Casual, but don't dress like a bum.
Location: Geissstrasse 12, 70173, Stuttgart. Nearby parking at the Rathaus park garage and others. Nearest U-bahn stops include Rathaus and Charlottenplatz.
Telephone: 0711-242-397
Web site: None
Notable: There are a number of other restaurants and clubs within walking distance that have been profiled in Stars and Stripes, including Cortijo, Zum Paulaner, Schocken and L'Oasis.
---
---
---
---