After Hours: Lotus Palace, Akasaka, Tokyo
---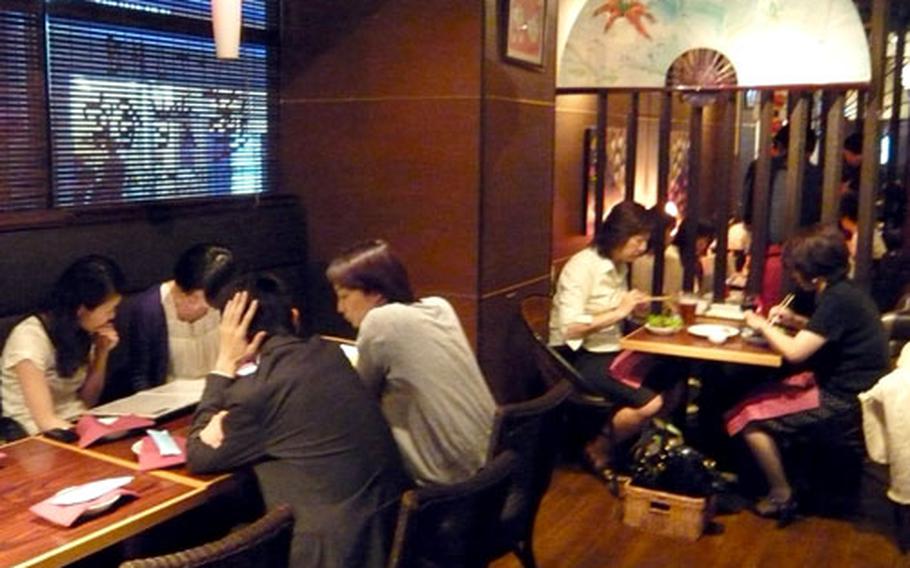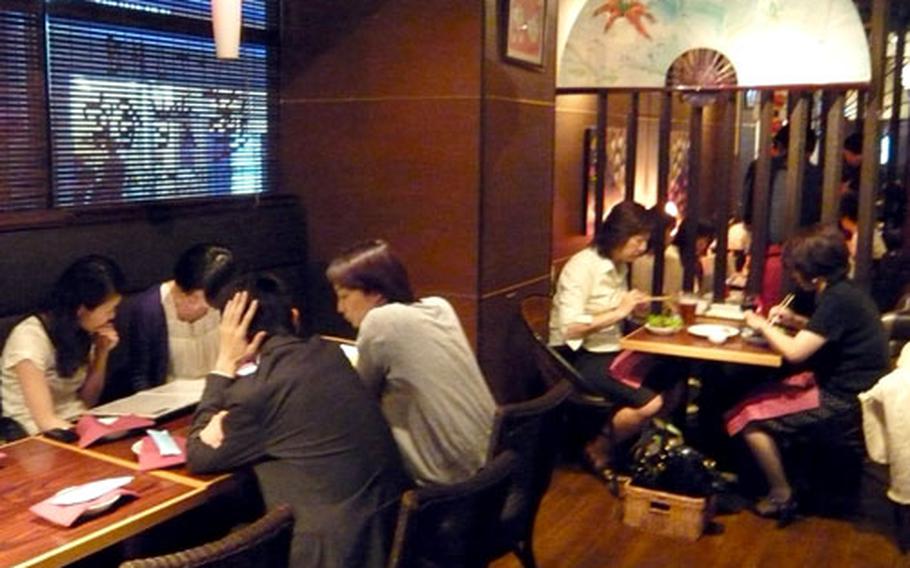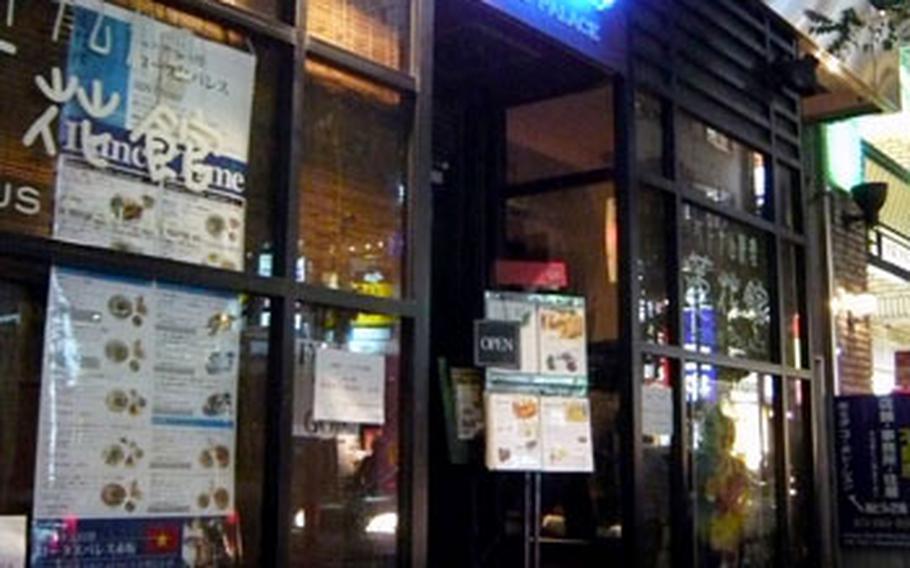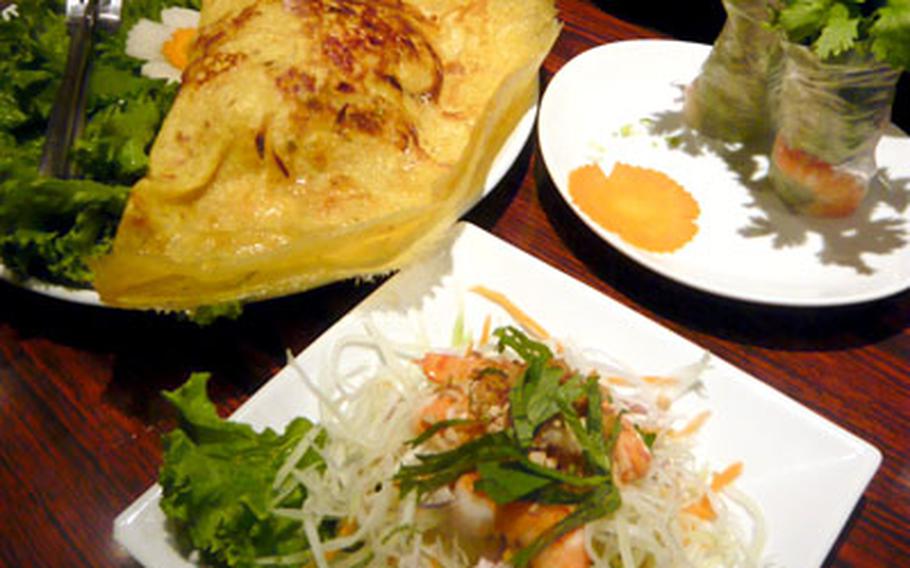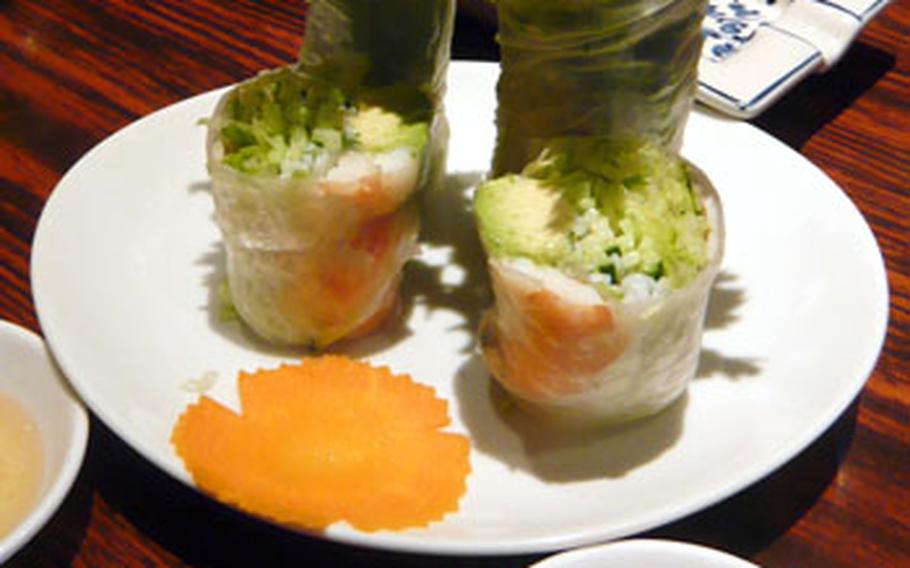 Lotus Palace was always packed when I walked by. But the snazzy exterior made me wonder whether it was popular for its food or for its atmosphere.
After my first bite, I found out it was definitely the food.
My friend and I visited the restaurant in Akasaka around 6 p.m. on a Friday. Although the neighborhood is clustered with restaurants and bars, Lotus Palace was already fully booked and we were taken to the counter seats.
The restaurant was much smaller than I thought, with only about 30 seats. It is decorated with dark wooden Asian furniture and slightly dim lighting. And it had a surprising number of staff for a small restaurant, which probably explains the good service.
We started off with beer and appetizers.
The restaurant had amazing variations of drinks and food. We ordered goi cuon, also known as Vietnamese fresh rolls or summer rolls. They are rice paper rolls that usually have shrimp, pork, lettuce and coriander inside and come with peanut sauce.
We also ordered another kind of goi cuon with avocados and goi du du, which is a shredded papaya salad that is slightly spicy.
Everything we ordered was fresh and light, which made me think I could have easily had 10 more goi cuon.
We then ordered shrimp and pork banh xeo, which is one of the restaurant's recommended dishes.
Banh xeo is a Vietnamese crepe with bean sprouts, shrimp and pork inside. It was so big that it was hanging off the plate. To eat it, you cut the crepe into pieces, wrap lettuce around it dip it in a sweet chili sauce.
Not knowing how to eat it, we first ate just the crepe part, which was OK, but it is much better when wrapped in lettuce. In case you don't know how, the menu explains it in a drawing.
That was plenty of food for two, but we ordered chicken pho to conclude our dinner. Pho comes with flat rice noodles in clear broth, topped with chicken, onions and coriander.
At the end of the night, we paid 6,800 yen for five dishes, three beers, two sodas and a pot of lotus tea.
Lotus Palace was not just satisfying for our stomachs, it was also satisfying for our wallets.
Lotus Palace AkasakaHours: Open daily from 11 a.m. to 11 p.m.
Prices: Dishes range from 330 yen to 2,000 yen. Goi cuon is 330 yen a roll; banh xeo 1,200 yen; chicken pho 700 yen; draft beer 580 yen; Vietnamese 333 beer 650 yen.
Specialties: Vietnamese dishes
English menu: Yes
Dress: Casual
Clientele: Mainly Japanese
Location: 2-14-1 Sannou-Kaikan Bldg., Akasaka, Minato-ku, Tokyo. About a minute walk from Exit 2 of Akasaka station on Tokyo Metro's Chiyoda line.
Web site:http://lotus-palace.com/ (Japanese with some English)
Phone: 03-5114-0747
---
---
---
---