After Hours: La Piazza Ristorante in Kaiserslautern, Germany.
by
Jennifer H. Svan
June 24, 2010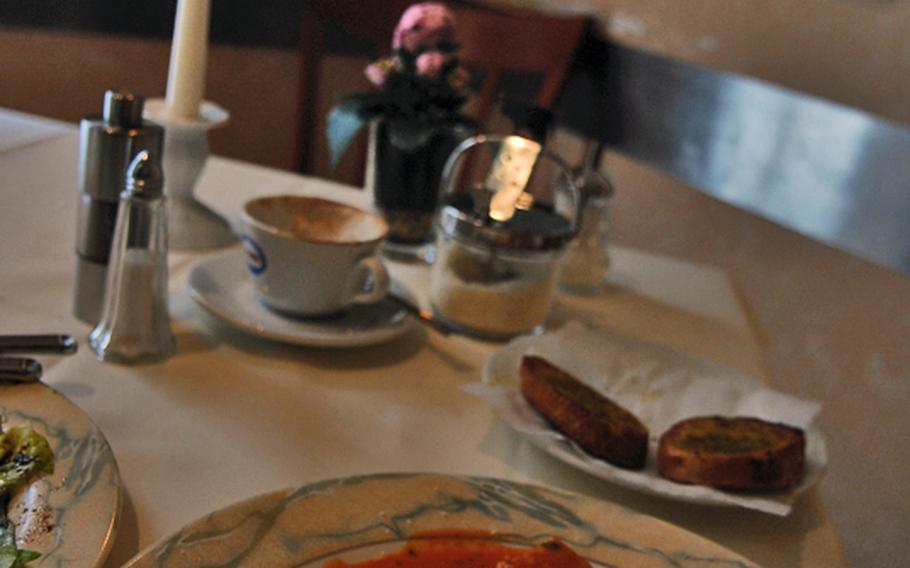 Eating alone at a restaurant can be awkward.
I've done it a few times and never was bothered too much by it until my recent visit to La Piazza Ristorante in downtown Kaiserslautern, Germany.
The problem: I waltzed in at the peak of the lunch hour on a weekday. This was a never an issue in Kaiserslautern — until now.
A small restaurant, with about 20 tables or so, the place was jammed. A polite server said to come back in 30 minutes. No reservation needed, he said. He would remember me.
When I came back, there were still no empty tables. Before I knew what was happening, a waitress asked an older German couple whether I could share their table of four.
Was this dining with strangers common practice in Germany? I had no idea, but crunched for time and really needing to get this review done, I slinked into my seat.
To my relief, the couple was warm and welcoming, and we navigated the language barrier as best we could while they finished an espresso and I checked out the menu.
They told me La Piazza was their second favorite restaurant in Kaiserslautern. (I'll reveal their No. 1 pick in a later review.) "It's good," they nodded, adding that this noontime crowd was typical.
From there, the dining experience was smooth. I ordered garlic bread, a "green salad with herbs," spinach ravioli and a cappuccino, all for 15 euros.
The garlic bread consisted of four thin slices of crusty Italian bread soaked with so much butter it was yellow. No complaints about that, but I've made better at home. It needed more garlic. My salad was a bit disappointing. It was a big plate of lettuce with a handful of cucumber slices. It needed something more, like tomatoes.
The main course more than made up for the lackluster beginning. The spinach ravioli, to quote Rachael Ray, was "yum-o." It was fresh, creamy and steaming hot. So good, I would go back again just to have some more of it. But I might be tempted to try something else. I counted 20 varieties of pizza, including "pizza Americana," described as thick dough with lots of tomato sauce and cheese, mushrooms and beef. The menu carried everything you would expect to find at an Italian restaurant, from gnocchi and risotto to tiramisu and zabaglione, a light custard called "an Italian delicacy."
Prices were reasonable. The most expensive was the monk fish and grilled sole, for 18 euros apiece.
Though the restaurant was busy, the service was excellent. My ravioli came out within 20 minutes after I sat down. I would recommend it for lunch or dinner, but I suggest making reservations if you're pressed for time.
Location: Am Schillerplatz 1, Kaiserslautern, Germany
Directions: Located inside the pedestrian walking area in the old town section of Kaiserslautern. If facing Burger King, walk straight ahead, past open market square area and La Piazza will be on your right.
Hours: Open daily for lunch, 11:30 a.m. to 2:30 p.m.; and dinner, 5:30-11:30 p.m.
Specialties: More than a dozen varieties of pizza, homemade pastas, and a variety of meat and fish dishes, plus desserts.
Prices: Reasonable; most menu items cost less than 10 euros. Look also for daily specials.
English menu: Yes, just ask for one.
Dress: Casual.
Clientele: German and American; families, couples and large groups.
Phone: 0631-66836; reservations accepted.
---
---
---
---