After Hours: Kuu Restaurant in Sasebo, Japan
by
Travis J. Tritten
May 21, 2010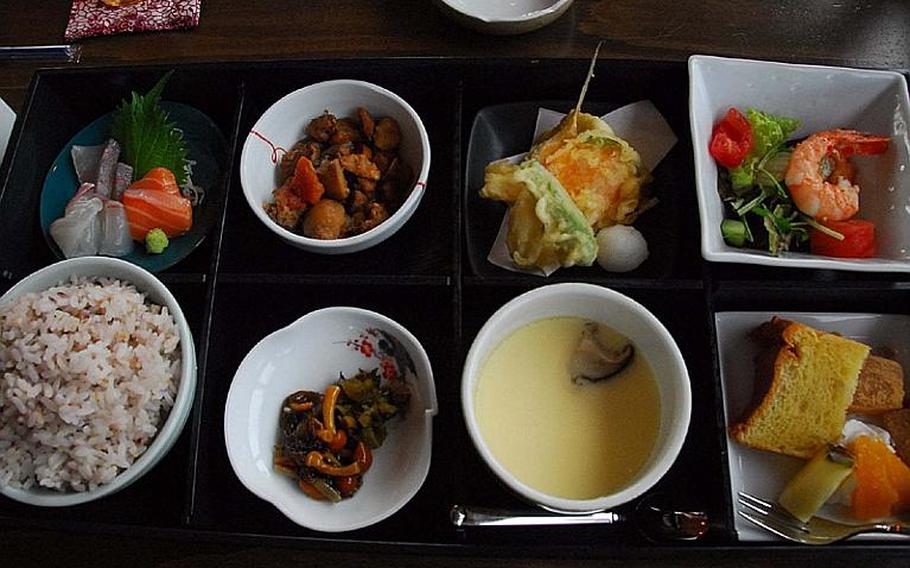 The attraction of the new Kuu Restaurant is partly about real estate.
The popular local franchise recently opened its third location on the point of the Saikai Pearl Sea Resort pier in Kashimae, about a 10-minute drive from Sasebo Naval Base.
The spot on the pier and the restaurant's many windows provide a panoramic view of the yacht basin, the boarding dock for the Pearl Sea Queen tour boat and a shorefront park.
It is only a short stroll from the city's new aquarium, which has renewed business at Pearl Sea since it opened last year.
Still, Kuu is more than just a location — it's also all about fine Japanese cuisine.
The franchise made a good name for itself by serving up quality fare well before moving onto the city pier and has continued that work at the new location.
All the Japanese basics are there — curry rice, tonkatsu and lemon steak. But unlike restaurants that depend on location over food quality, Kuu takes a real interest in injecting the usual dishes with care and presentation.
Grilled seafood curries are served in beautiful arrangements. The pickled side dishes, a Japanese staple, are tastefully paired and full of flavor. Desserts include baked cheesecake and classic chocolate cake.
The prices are high enough to expect more than Hotto Motto-caliber dining and still low enough to leave a diner pleasantly surprised by the quality of the dishes.
In mid-May, even as the staff was still working out the kinks in the newly opened restaurant, Kuu was quickly becoming the centerpiece of the Pearl Sea pier-side restaurant scene.
Kuu Restaurant
Location: Sasebo, Japan
Hours: Every day 11 a.m. to 10 p.m., last order at 9:30 p.m.
Prices: Dinner sets for 2,100 yen and weekend lunch specials for 1,680; ice cream and cake 750 yen; all cocktails are 630 and draft beer is 252 yen
Specialties: Japanese cuisine
English menu: No, but Japanese menu includes photos.
Dress: Casual
Clientele: All types
Directions: Saikai Pearl Sea Resort pier in Kashimae. From the front gate of Sasebo Naval Base, turn left on the SSK Bypass. Drive several miles and pass through a tunnel. At the next light, turn left. Pay parking lots are available around the marina and aquarium. The restaurant is located at the point of the pier beside the tour boat dock.
Website: www.kuu-sasebo.com
Phone: 0956-28-6822