After hours: Kim Neh Jeep (Kim's House) in Pyeongtaek, South Korea
by
Franklin Fisher
April 12, 2008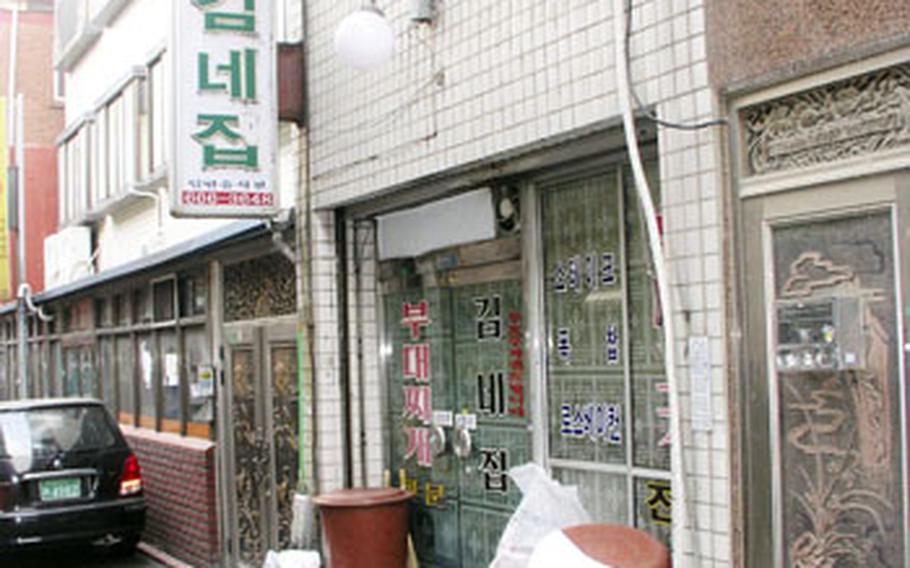 We'd often heard from Korean friends about a stew called "bu-teh chi-geh" (pronounced bu-tay chi-gay), which originated during the Korean War.
In the hard, destitute years during and after the 1950-53 war, friends said, Koreans would make a stew from foodstuffs from GI chow halls and military bases, with a few traditional Korean ingredients thrown in.
"Bu-teh" means military in Korean. "Chi-geh" means stew.
It typically includes sausage, Spam, cabbage, cheese, onions and ramen noodles, among other ingredients.
Near Osan Air Base in Songtan, local people told us that a really good place to have "bu-teh chi-geh" was Kim Neh Jeep, which in English means simply "Kim's House." Kim Myong-ja is the owner.
The place looked extremely ordinary; nothing about it suggested it had a reputation that sometimes drew Korean customers from outside the area.
There were a few tables on either side, and, at one end, several middle-aged women chopping vegetables and working with other ingredients, including what looked like big blocks of Spam.
A staircase to the second floor led to the other dining room, one where people sit on the floor and eat from low tables.
We chose a table on the first floor and ordered "bu-teh chi-geh."
The restaurant only serves it for two, and the bill, including rice, was 15,000 won (about $11).
We found it equal to its reputation. The ingredients were fresh and the taste as rich and varied as the many ingredients.
It was decidedly spicy, but hardly more spicy than some other varieties of Korean chi-gehs.
The restaurant's other specialties are pork chops, and a dish they call "roast bacon."
There's no bar, but alcoholic drinks are sold, including the potent soju and several types of beer.
The service was friendly. And although there's no English menu and the waitresses spoke only Korean, going there with a Korean-speaking friend can make for a very pleasant meal.
We decided that the local people were right. "Bu-teh chi-geh" at Kim Neh Jeep was so good we'd like to do it again.
And having heard good things about the pork chops, we'll probably try that one day too.
Kim Neh Jeep (Kim's House)Location: Pyeongtaek, South Korea. Across the street from the Osan Air Base main gate, enter the Shinjang Shopping Mall and walk straight until you come to the corner Oto shoe store on your right; turn right at the shoe store and take the first right after that. On the right side of the street, several yards down, see the green-and-white vertical sign with Korean characters over the entrance to Kim Neh Jeep.
Hours: 11:30 a.m.-10 p.m. daily
Prices: Main dishes are 7,000 and 8,000 won. A bowl of rice, 1,000 won. A serving of ramyen noodles, 1,000 won. Alcoholic drinks range from 3,000 to 10,000 won.
Specialties: Bu-teh chi-geh ("military stew"); pork chops
English menu: No
Dress: Very casual
Clientele: Mainly Korean
Phone: (031) 666-3648