After hours: Judes Ferry, Ferry Lane, West Row, Suffolk, England IP28 8PT.
by
Geoff Ziezulewicz
March 7, 2010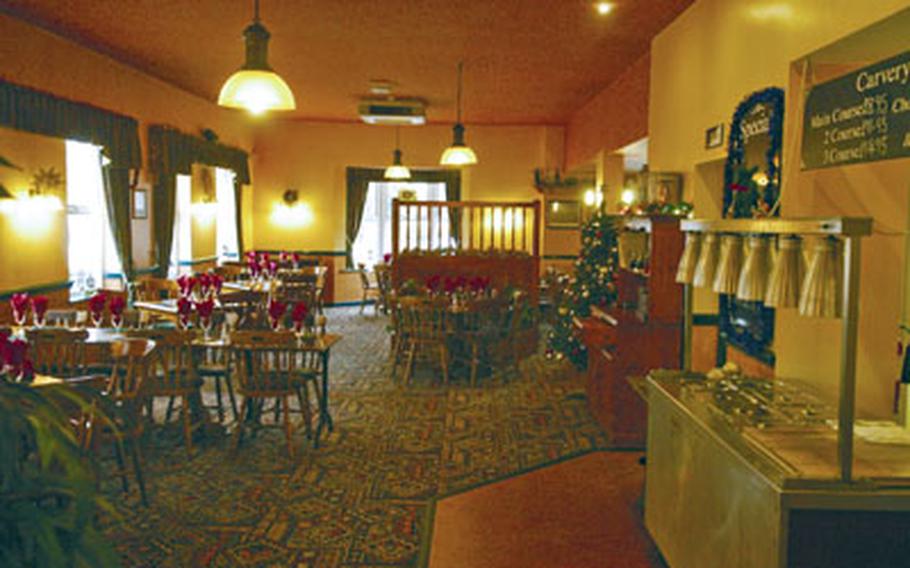 Just a short drive from RAF Mildenhall in England, Judes Ferry pub in the village of West Row is a restaurant that offers quality pub grub made from local Suffolk ingredients.
It's spacious, airy and a good destination for a weekday lunch or a squadron-size party.
Pubs in England tend to run the gamut from high-quality affairs to places that can barely get the fish and chips right. Judes Ferry offers food that appears to be prepared with care.
The pub does a very nice shepherd's pie, ground lamb in a soul-soothing brown sauce all topped with fluffy mashed potatoes. Quite British, and quite delicious.
It also offers a variety of specials in addition to its wide and varied main menu. Highlights include a char-grilled venison steak in a rich blackcurrant juice and served with innovatively prepared vegetables.
The pan-fried sea bass, served with chorizo sausage, features a novel, delicious pea puree crust. Sea bass and sausage might not seem like an obvious pairing, but they end up going together nicely with the white wine sauce.
And can anyone ever reallyhave anything bad to say about garlic mashed potatoes? At Judes Ferry, a delicious, slow-roasted lamb shank is paired with these formidable spuds.
Entrees run between 12 and 15 pounds, but there's a less-expensive menu featuring sandwiches, starters and other quality vittles. There's also a children's menu.
In short, Judes Ferry offers good, locally sourced food in a clean and spacious atmosphere with a view of some picturesque Suffolk fenland. There's also ample outdoor seating, should you be lucky enough to catch some sunshine this summer.
The decor is nondescript, like many pubs that aim to serve first and impress second, but the collection of wide, open windows allows a comfortable breeze to waft through the sun-drenched lobby in warmer months.
In case you're wondering where the name came from, the area around Judes Ferry was surrounded by a sort of inland fen sea in pre-Roman times, and the area was used by the Romans when it was a lot more watery.
Know a restaurant or entertainment spot you'd like to see reviewed in After Hours? E-mail John Taylor at taylorj@estripes.osd.mil.
Judes Ferry
Location: Ferry Lane, West Row, Suffolk IP28 8PT.
Directions: Just a five-to-10-minute drive from RAF Mildenhall's back gate in West Row. Follow A1101 toward West Suffolk Golf Centre and turn left toward Hurdle Drove. Follow the road as it changes names and winds into West Row. Take a left and then right onto Eldo Road. Ferry Lane is the third right.
Menu: Pub grub with a few tweaks thrown in.
Food: Tasty, diverse and well-prepared. This isn't some shabby pub by any means, with main courses costing about 12 pounds to 16 pounds. There is also a menu featuring traditional pub offerings and sandwiches in the 8- to 10-pound range, starters, as well as a children's menu.
Hours: Pub is open daily — 11 a.m. to 11 p.m. Monday through Thursday and Sunday, and until midnight on Friday and Saturday; lunch is served 11 a.m. to 2 p.m. (until 2:30 p.m. Saturday and Sunday), and dinner 6-9 p.m.
Clientele: Locals and uniformed airmen during the week.
Dress: Pub casual.
Capacity: Quite spacious and it often hosts squadron events.
Phone: 01638-712277
Web site:www.judesferry.co.uk
---
---
---