After Hours:Japan, Ma Maison
by
Grant Okubo
March 14, 2010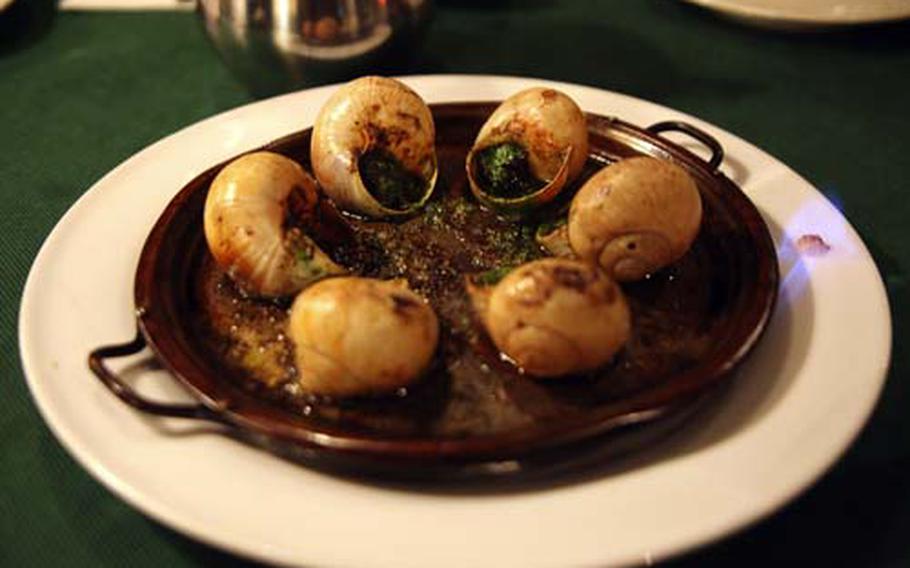 "I'm eating a snail and loving it."
"It isn't the strangest thing I've eaten here in Japan."
Those were among the many thoughts I had as I enjoyed some rather tasty escargot with garlic butter at Ma Maison.
Ma Maison, meaning "my house" in French, has a homey feel that you'll notice immediately. With its cottage setting and dimly lit rooms, it certainly wouldn't be a bad place to take a date. Likewise, it can be a great place to go with friends for a nice laid-back dinner. It is a fairly large establishment, and my party got seating and parking with ease.
The menu offers a decent variety of foods, including the standard appetizers of breads, soups, salads and the aforementioned escargot. The main course menu includes pizza, pasta, stew, homemade curry, homemade paella, steak, grilled mussels, sautéed fish, hamburg steak, chicken and a variety of seafood dishes. There are also some delectable desserts.
You can either choose the course meals or order a la carte. The course meals can feed two or three people and can run up to 7,000 yen.
My friends and I decided to each order a main dish a la carte so we could sample a little of each. I chose the beef stew. The meat was very tender and melted in my mouth, and the rich sauce added a lot of flavor. A friend picked the hamburg steak with a simple gravy glaze and served with potatoes, carrots and broccoli. The spaghetti sautéed with mushrooms and bacon in olive oil was a tasty contrast to the meat dishes.
We ended the meal sharing a strawberry shortcake and a banana chiffon cake. The sweet, fresh strawberries were my favorite part of dessert.
I've slowly adjusted to Japanese portions and although I didn't leave excessively stuffed, I felt content and satisfied with the meal.
At the end of our meal, a large gold key was placed on our table, which we could take up to the register to pay our bill.
I definitely want to go back and try some of the other dishes. So next time you find yourself driving down Route 16 and wonder if you should stop at Ma Maison — your answer should be "yes."