After Hours: Jai Thai offers tasty food, relaxing setting
by
Cindy Fisher
December 28, 2006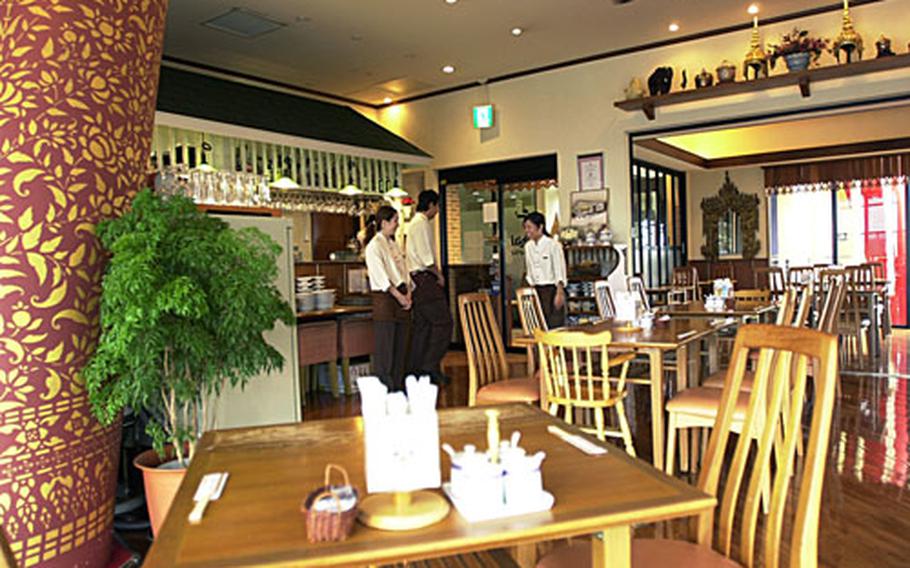 CHATAN, Okinawa — Jai Thai, in Mihama American Village, marks my first experience with Thai cuisine.
The name means "heart of Thailand." Having never been to the country I can't vouch for the claim, but I can say with confidence that the restaurant is a relaxing and enjoyable experience.
Jai Thai is on the second floor of Carnival Park Mihama — the building with the Ferris wheel. Finding Carnival Park is easy, but the restaurant is almost hidden in a back corner — so follow the signs to stay on course.
Once you find it, the soft, faintly foreign music and exotic scents that waft throughout the airy room set the stage for a relaxing meal. A wall of windows and plenty of cozy tables for two give the restaurant an intimate flair.
It's the perfect place to settle in for good conversation while eating.
The staff is attentive but doesn't hover. On my visit, I took my time going through the menu to make heads and tails of dishes with names like phat phet, phat khimao and kaeng par — all without someone constantly asking if I was ready to order.
I finally settled on the kao pat set. That's not as adventurous as it sounds — it's Thai-style fried rice. The set came with soup, salad and a drink.
Within minutes of ordering, the soup — complete with carrot slices carved into stars and hearts — arrived at the table.
Then came the salad, and that is where I ran into cultural differences. I kind of expect salad to have lettuce in it somewhere. Not here. The mixture of sliced and diced things — I know there was onion and carrot in there but I couldn't identify anything else — was very spicy. And tasty, too, once I let go of my yearning for something green.
Since coming to Japan, I've eaten a lot of rice dishes — a lot of rice dishes. Kao pat, which had crab meat instead of chicken, shrimp or pork, ranks right up there as one of the best I've tasted here.
Maybe next time I'll get really adventurous and try that kaeng par.
See previous After Hours reviews here.
Jai Thai
Prices: Lunch is about 1,200 yen. Dinner ranges between 2,200 and 4,700 yen.
Specialties: Thai cuisine.
Drinks: The beer selection is mostly Japanese brews, including Okinawan favorite Orion. Prices are from 450 to 630 yen. The cocktail list is varied. Most are priced at 630 yen. There's a wine list, too.
Menu: Some English, but mostly Japanese with photos.
Dress: Casual dress is fine for lunch, but dinner is slightly dressier.
Clientele: Even mix of Japanese and American.
Directions: In American Village. When traveling from the Camp Foster commissary gate, turn right onto Highway 58. Continue down Highway 58 and look to the left. When you see the big Ferris wheel, turn left down any of the streets in the vicinity, heading toward the Ferris wheel. The restaurant is on the second floor of Carnival Park Mihama.
Web site: None.