After Hours: Italy, Di Francia Castello
by
Lisa M. Novak
March 28, 2010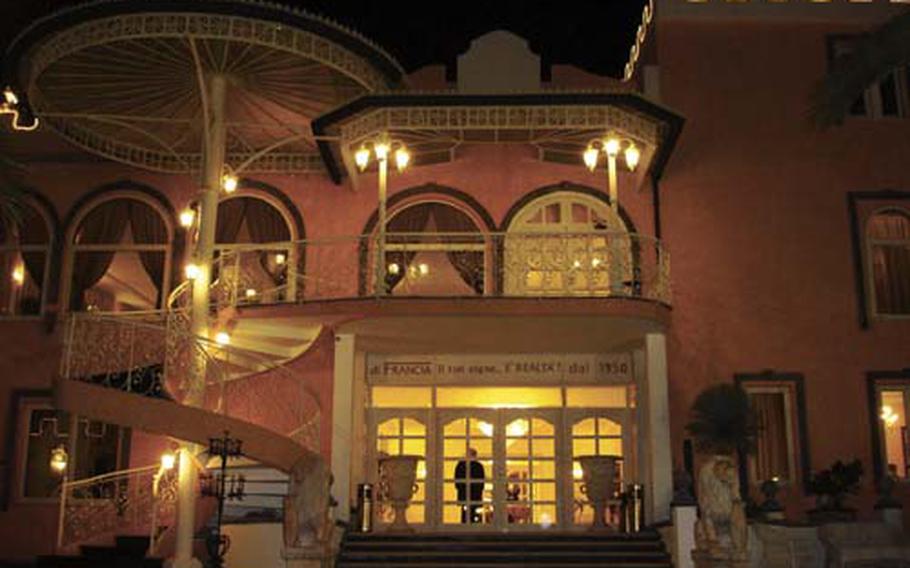 If opulence, elegance and deep pockets are your thing, head to the Di Francia Castello reception and restaurant complex set high atop the volcanic hills of Pozzuoli, part of the Italian city of Naples.
It's hard to miss the crenelated castle walls and the huge yellow illuminated sign easily visible from the toll road running through downtown Naples.
The grounds are tiled in mosaic and include several large outdoor areas where drinks are served, and on special occasions an outdoor buffet of appetizers, fruits and pastries is available. There is also a small playground to keep the little ones occupied.
The main feature is the huge reception hall for weddings or other special occasions. Next to it is the complex's restaurant, La Locanda (which means "The Inn"), where a rotating staff of six chefs prepare a mix of local and international cuisine with fresh but expensive ingredients.
The appetizers start at 15 euros, and head north to 250 euros — though, to be fair, that last price was for an ounce of Beluga caviar. A bowl of soup runs about 18 euros, and the main courses are in the 20-40 euro range. Of course, if you pick one of the fresh lobsters out of a tank, you can pay upward of 100 euros per kilogram.
Obviously Castello, which opened in 1950, is not for the faint of wallet. And it's not a place for casual attire either. This is where the elite of Naples gather. You might catch a glimpse of leading politicians, professional athletes, actors, musicians and other prominent citizens, according to Antonio Palmese, who has been the establishment's director for the past few decades.
A model of discretion, Palmese wouldn't drop names, but did say that he's hosted grand wedding receptions for up to 300 people.
Just inside the restaurant is what looks like a living room, with assorted leather couches, a coffee bar and breathtaking views of the islands of Capri, Procida and Ischia. Live piano music entertains guests Friday and Saturday nights.
The menu is well represented with rice and seafood dishes, and the drink selection is quite impressive. There are hundreds of different wines to choose from, including the restaurant's own house label. It also has a generous spread of spirits from all over, including aged whiskies and bourbons from the States.
The staff makes its own pastries and wedding cakes. Speaking of weddings, if you want to book Castello, you need to do so a year or two in advance, Palmese said. You might want to call now — even if you're not engaged.
Dining at Castello is obviously for special occasions. The quality is well worth it — if you can afford it.
Know a restaurant or entertainment spot you'd like to see reviewed in After Hours? E-mail John Taylor at taylorj@estripes.osd.mil.
Know and go
Di Francia Castello
Location: Via Fascione 4, Pozzuoli, Naples. The complex is easy to find: Take Exit 12 from the tangenziale (toll road) and follow the signs.Hours: Daily for lunch and dinner. Lunch starts at 1 p.m., and finishes when the patrons leave; dinner starts at 8 p.m. and also finishes when the last patron is out the door.Food: A mix of Italian and international cuisine featuring seafood and other fresh ingredients.Prices: This place ain't cheap — 'nuff said.English menu: No, but some of the wait staff speaks English. Either way, it's not that hard to figure out.Clientele: Those with money and those who want to be seen by those with money. Upscale attire advised.Reservations: You can eat space-A, but reservations are recommended, especially on the weekend.Web site:www.difranciacastello.comPhone: 081-526-7916