After Hours: Italy
by
Geoff Ziezulewicz
November 21, 2011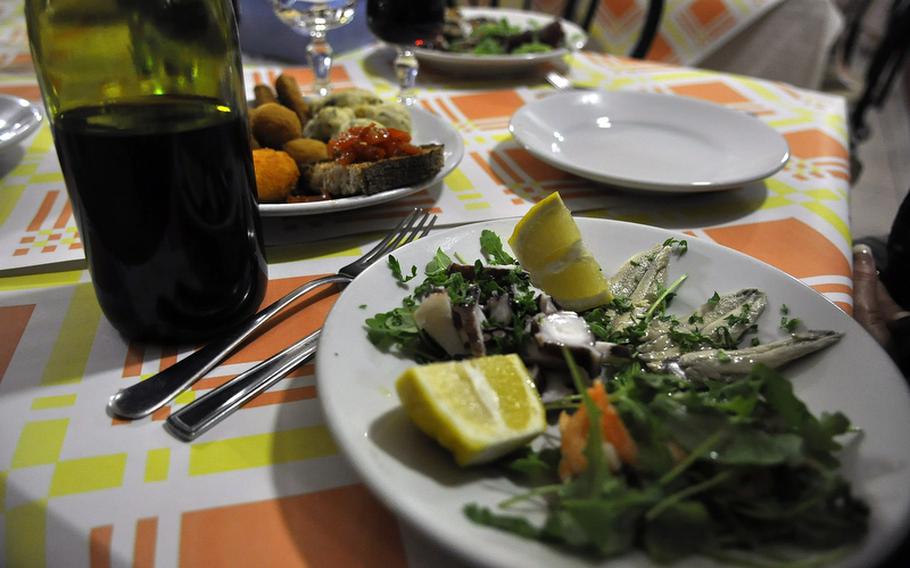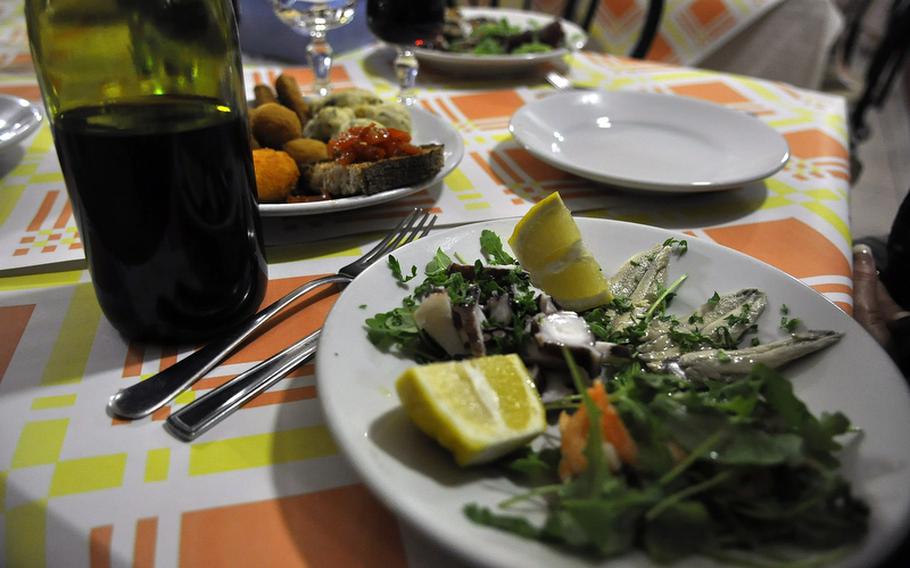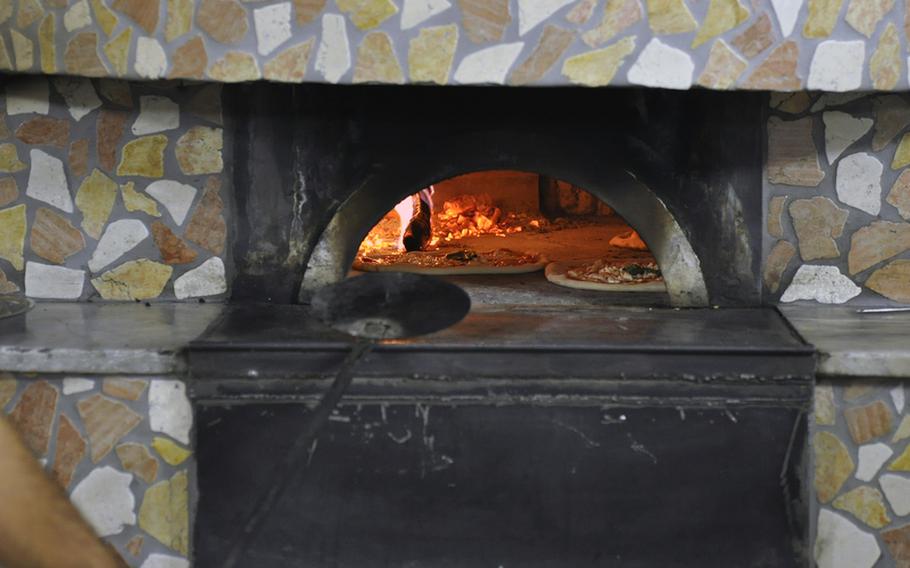 Yes, it permeates every restaurant in the region and is the go-to food staple for Italians. Yes, it is often indistinguishable from one eatery to the next.
But, ladies and gentlemen, I implore you; give it up one more time for the humble Naples pizza pie.
So fresh. So economical. So fast. So consistent. I've lived in Naples for about six months and have yet to have a bad pie. It's so simple that it is virtually error-proof.
The only requirements seem to be quality ingredients and a way-hot, wood-burning oven. This signature style resulted in the European Union's quality food board granting Italy's pizza Neopolitana its Traditional Specialty Guaranteed designation in May 2010. Accept no imitations.
I never get tired of watching Enzo and Giuseppe Troise make pizzas at Pizzeria Il Panda, or Panda Pizza, a family-run eatery in the Naples suburb of Licola.
Part of the awesomeness is how automatic the brothers are about it. Without blinking an eye, one of them smacks a ball of dough on his board, tosses it and flattens it into a crust. On goes tomato sauce, olive oil, cheese and whatever ingredients are called for.
Then, the other brother, with equally awesome automation, slides that pie into the wood oven. It sits for roughly 90 seconds. He moves it, maybe gives it another few seconds, then holds it up to let the top turn golden.
Out comes a bubbling, steamy creation that is impossible not to love.
Panda has been open for about 15 years, and serving delicious pizza is a Troise family affair. While Enzo and Giuseppe hold down the pizza oven, mama Carmella mans the cash register and other bro Antonio takes your order if you're dining in.
Getting pizza to go in Naples takes a bit of practice. You go up to the register, say what you want, pay for it, then take the receipt over to the pizza station. There, you tell the guy your pizza, and two minutes later you're good to go.
While much of its fare mimics other establishments, I like Panda because of the little touches. Their antipasti misti, or mixed appetizers, are varied and delicious, featuring fried bits of goodness alongside fresh octopus and cured meats.
The pizza brothers often give children little bits of dough with which to form their own mock-pizza crust. There are bottles of homemade wine for five euros and Carmella makes a delicious limonciello, a homemade after-dinner liqueur.
Panda also offers a revelation known as the "Bomba Atomica," or Atomic Bomb pizza. This monster features two crusts sandwiching a slurry of meat, veggies and cheeses. The top is then slathered with more sauce, cheese and a signature basil garnish.
Like other Napoli pizzerias, Panda Pizza offers the pizza fare made famous here in Napoli, but they offer their own personalized, affordable spin. That'll keep me coming back.
Pizzeria II PandaLocation: Via Montenuovo Licola Patria, 139, 80078 Pozzuoli, Italy
Directions: From the Navy's Capodichino base, head northbound on the Tangenziale. After going through the toll, take the Cuma exit, number 13, and merge onto Via Montenuovo Licola Patria. Continue until you come to a roundabout. Take the third exit and continue on Via Montenuovo Licola Patria. When the road forks, veer left. Panda will be on your left, about one kilometer down.
Hours: 1-3 p.m. and 7 p.m. until closing; closed Tuesdays
Food: A variety of Naples pizzas, sandwiches and appetizers.
Prices: Pizzas are around six euros; house wine is five euros a bottle.
Phone: 081-804-3617
Menu: Italian, but staff speaks some English
Dress: Casual