After hours: Hard Rock Cafe, Venice, Italy
by
Mark Abramson
September 20, 2009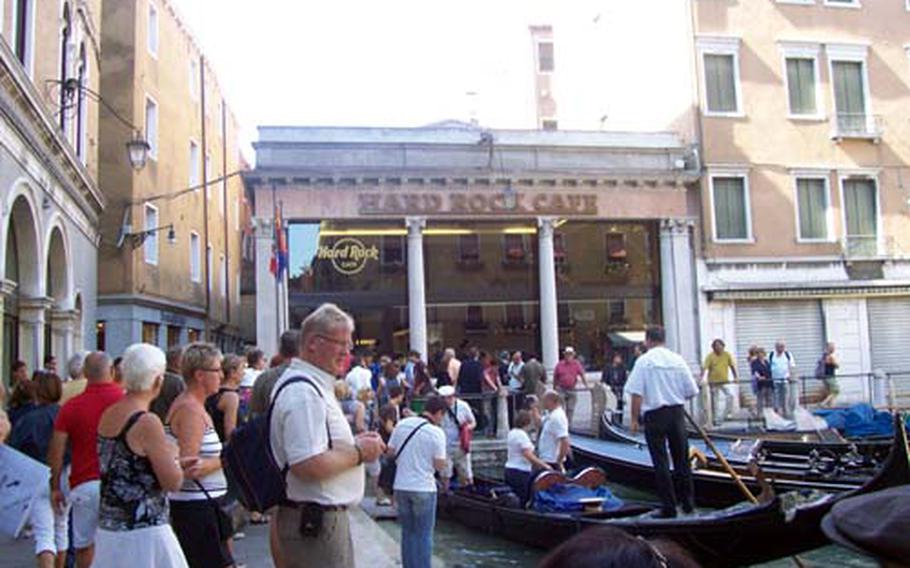 A taste of Americana can be found in a rather unlikely place: a prime location behind St. Mark's Square in Venice.
Hard Rock Cafe, known for its rock 'n' roll music, memorabilia from famous musicians and American food — think 10-ounce burger and other stateside grub — occupies an attractive old building overlooking a docking spot for the city's gondolas.
Venice, about 45 minutes from Vicenza, Italy, and a little more than an hour from Aviano Air Base, is considered one of Europe's most beautiful cities. The Hard Rock Cafe is a big draw for tourists who come to see the city and are looking for a reprieve from the pizza, pastries, pastas and other Italian eats found there. As a result, the restaurant is packed during later parts of the day.
According to its Web site, the Hard Rock Cafe Venice opened in April and is the smallest of the chain's restaurants in Europe. It is one of several Hard Rocks that have opened recently or are scheduled to open in the coming months around the world.
The restaurant's decor includes glass made at Venice's famous Murano glass factory, and the walls and display cases of the downstairs bar feature items from the world of rock. Among them is a handwritten contract signed by members of Metallica, a Rolling Stones guitar, a jacket worn by Johnny Rotten and drafts of song lyrics. Several flat-panel televisions playing music videos dot the walls as well.
The restaurant's exterior, a two-story glass façade framed by Roman columns, is a far cry from the bright-colored or crumbling buildings in other areas of Venice. Its color makes it look like an extension of the buildings surrounding it.
Hard Rock Cafe Venice overlooks a gondola pick-up and drop-off area where diners can watch the boats cruise along one of the city's canals from its second-floor, balcony-style seating. When I was there, the place was in a bit of a tizzy with people scampering around to see Paris Hilton prance by with a bodyguard in tow.
Although the food and drinks can be pricey — 6.95 euros for a Corona beer and about 14 euros for a burger — it is cheaper than places in St. Mark's Square, which can set you back at least 20 euros for an entrée.
The food is not too shabby and the portions are enough to fill you up. The hickory-smoked chicken wings are as tasty as they are messy — the one napkin the servers give you just won't do. Add in some tangy barbecue sauce — a bit on the watery side — and you have one delicious meal for just 9.95 euros. Onion rings for about 4 euros with the same barbecue sauce make for a nice side.
Some of the souvenirs offered up in the Hard Rock's signature shops in its restaurants are pricey as well. A Hard Rock Cafe T-shirt will cost about 26 euros.
Location: On Calle Frezzaria in Bacino Orseolo San Marco. The cafe is to the left of the basilica and the campanile, the 325-foot bell tower (can't miss it).
Hours: The restaurant is open 11 a.m. to 11:30 p.m. daily, the bar from 11 a.m. to 12:30 a.m.
Food: A wide variety of burgers and other sandwiches, chicken, fajitas, nachos and fries, as well as steaks, ribs and grilled salmon.
Prices: Pricey, but not as expensive as many of the nearby restaurants.
English-language menu: Yes
Clientele: Mostly tourists
Web site:www.hardrock.com/locations/cafes3/cafe.aspx?LocationID=533&MIBEnumID=3
Telephone: 0415-229-665
---
---
---
---