After hours: Germany, Mulligan's Irish Pub
by
Dan Blottenberger
March 21, 2010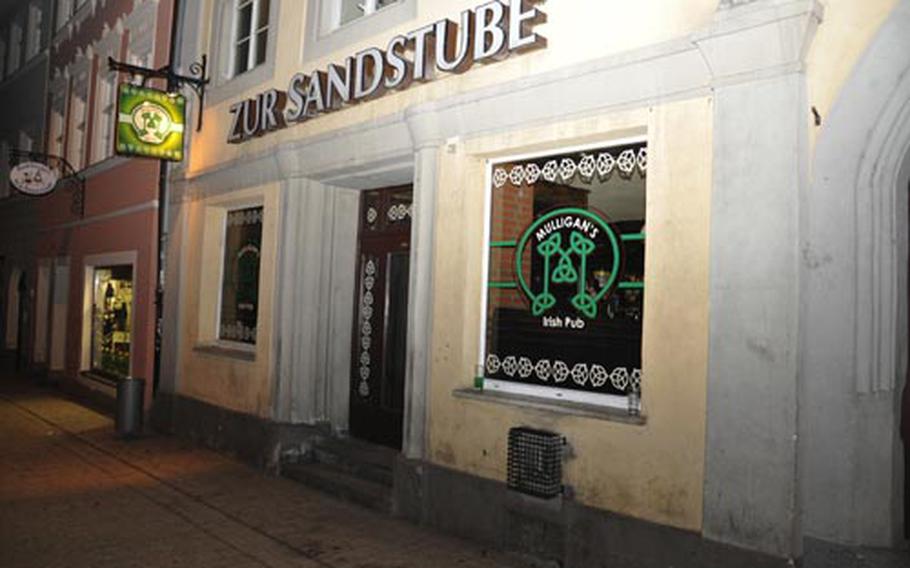 Take a walk or stumble down the oldest part of Bamberg, Germany, until you reach the Sandstrasse entertainment district and see a sign with a green Irish glow beckoning you into Mulligan's Irish Pub.
Walk in the door. Pull open the curtain. Pause and look both ways before crossing to avoid the dart games in which competitors might be testing their long-range skills. You wouldn't want to have one of those stuck in your forehead before the night even begins.
If you are able to avoid being enticed into a game of darts, you will then come under an archway that has a traditional greeting in Celtic writing inscribed on it. Not so traditional is the full-size bicycle clamped to the wall just above the writing.
"It means a hundred thousand welcomes, or we welcome you a hundred thousand times," bar owner Ki Dorak says of the writing.
As for the bike, he says, "Every Irish pub needs a bike on the wall!"
While there weren't a hundred thousand people to welcome me, for a weeknight the little bar was fairly crowded. And it wasn't even live music night, which takes place every other Thursday.
What is it that attracts patrons to Mulligan's?
"Well, it is definitely not the service," joked John Chung, a regular customer. "It is not your average soldier bar. There is a real homey atmosphere here, and it is different than any other bar in Bamberg."
Unlike with other "soldier bars" in Bamberg — places where U.S. personnel like to gather, drink beer, relax and speak English — Dorak believes that because he is a former soldier, customers who come into the pub have a sense of respect for the place. And it is mutual.
"You can dance on tables and have a good time," Dorak said of his pub rules. "Just don't steal or break my [stuff] and don't get in a fight."
There are no TVs in the pub by design, to force patrons into conversations with unknown people. Some of the tales you will hear, especially from the more-inebriated customers, are as interesting as the story behind the bar itself.
The pub originated in 1990 and was owned by Irish singer and songwriter Barney Rushe. Back then, the bar attracted customers from well beyond Bamberg — Ireland, Australia, New Zealand, for example — as well as soldiers from the local base who would come to unwind.
Dorak was one of those soldiers serving with the Bamberg-based 54th Engineer Battalion from 1998 until 2003. In 1998, Rushe sold the place, and according to Dorak, it became a black hole. In 2006, Dorak returned to Bamberg and was able to buy the bar, knowing its potential.
"I wanted to return it to the days when Rushe was the owner," he said.
Now, business is booming. It is classified as a smokers club, so while it does not sell food, customers can smoke inside.
With all the merriment going on around me, I couldn't help but be drawn into the atmosphere. I quickly had to restrain my urge to test the pub's rules and dance on a few tables — well, not really, but I did almost find myself nodding off on one of the comfortable benches, where a piece of wood overhead reads "sweet dreams" in Celtic.
Mulligan's Irish Pub
Location: Obere Sandstrasse 7 in downtown BambergDirections: In the city's old town entertainment area, a short walk from the riverHours: 7 p.m. until last customer leaves (usually midnight to 1 a.m.) Tuesday through SundayDrink prices: A pint of Guinness, Kilkenny, Kaiser Pilsner, and Radler, Cola-Weizen and Newcastle Brown Ale (on tap) all cost 3.50 euros. For shots, there is just about everything you can imagine as well as some hot shots, such as Irish Kiss and Nutty Irish Morning, for 4 euros. You can also get a 30-year-old whiskey that tastes like caramel apples for 20 euros. They also serve long drinks and some house specials.Food: Food is not served at Mulligan's, although there is a snack machine that sells items such as sunflower seeds, olives and a variety of peanuts for 1 euro. Also. there is a pizza place next door if you're in need of a quick meal.Entertainment: Crowded dart board and live music every other Thursday night. Bands play all different kinds of music at a pleasant volume through several speakers located throughout the pub.Clientele: Young, laid-back Americans and Germans.Dress: CasualWeb site:www.mulligans-bamberg.dePhone: 0951-297-8786