After hours Fogo Grill, Pyeongtaek, South Korea
by
Franklin Fisher
November 22, 2008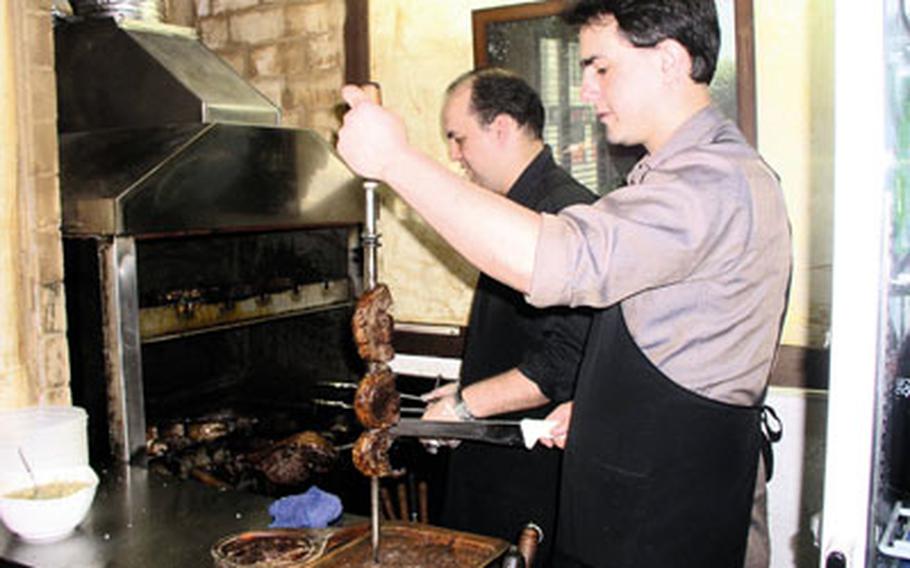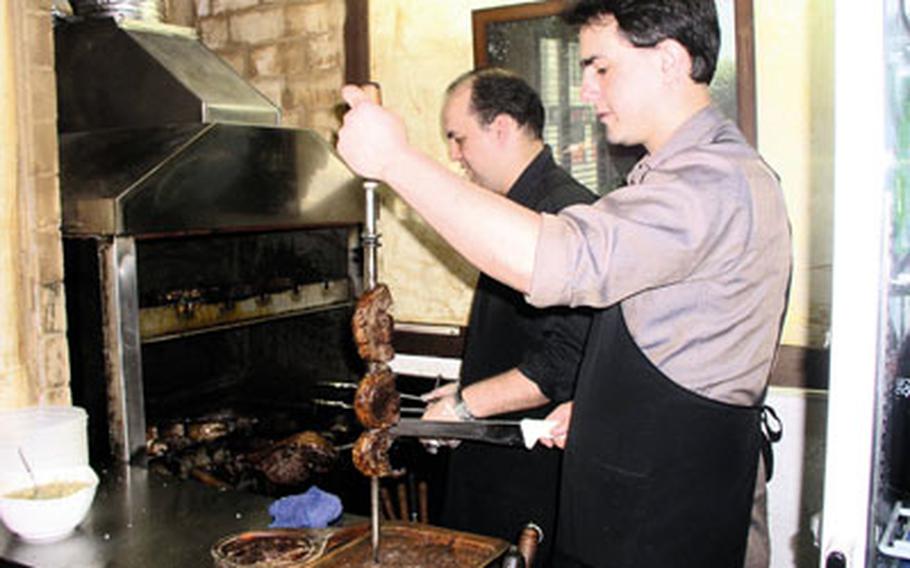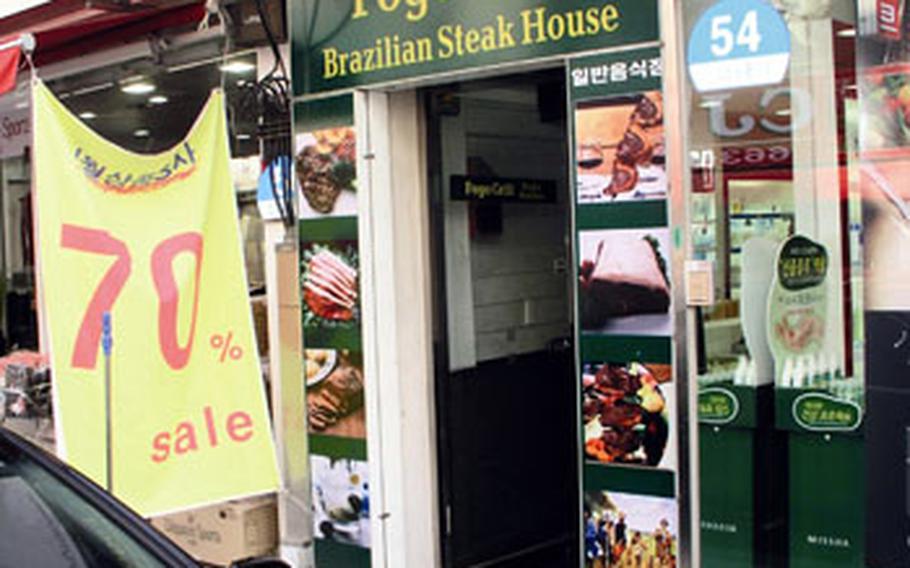 The Brazilian bossa nova influence in jazz — "The Girl from Ipanema," for example — so we were all the more intrigued on hearing there was a new Brazilian steakhouse in town, near Osan Air Base.
Although we enjoy a good steak or chop, we usually make a point of eating red meat only once in a while, the better to fend off calories and cholesterol.
But this sounded well worth looking into.
So on a recent sunny day, we went for lunch at the Fogo Grill to see why an airman we know was said to have gained three pounds from a single encounter with the all-you-can-eat barbecue.
Inside were dark brown wooden chairs, and tables covered with white plastic tablecloths. The Brazilian flag hung on one wall, and the American flag near the cash register. Nothing fancy about the appearance. It seemed to be about the barbecue much more than the decor.
The meal was a steady march of nine different meats, arriving several minutes apart: steak, rump steak, baby beef, top sirloin, bacon beef (a chunk of beef wrapped in a soft strip of bacon), garlic beef, pork loin, sausage and chicken. The meat was served with three side dishes: white rice, potato salad, and a vinaigrette salad.
When you've gone through the first round of nine, the next go-round starts, and will continue, all you can eat.
"If they can eat, I bring nine again. [When they] say 'Stop! Stop!', I don't anymore," said owner Adriano Dos Santos De Lara, 26, from Santa Catarina in Brazil. He was our waiter.
We liked the meats, although some cuts more than others. Anything that was thinly sliced, moist and tender, we liked, although it tended to be salty. Thicker cuts of beef we found less flavorful, and lacking distinction. One slab of thick meat steak seemed to taste pretty much like another.
We especially liked the chicken, though it also had too much salt.
But we enjoyed the barbecue nonetheless. And there was certainly plenty of it. More than we wanted to try to put away in one sitting.
Nevertheless, De Lana suggested we try banana flambé for dessert.
An employee drew up to a nearby table, put vodka, orange juice, cinnamon, kiwi and banana in a frying pan, ignited the contents in a sudden whoosh of flame, then poured the fragrant concoction over a block of vanilla ice cream.
It made our day.
We might well try the meat again sometime at the Fogo Grill, but the banana flambé was so satisfying, we may go back just for that.
Know a restaurant or entertainment spot you'd like to see reviewed in After Hours? E-mail Karen Willenbrecht, Pacific After Hours editor, at: willenbrechtk@pstripes.osd.mil
Fogo Grill
Hours: 11 a.m.-11 p.m.
Prices: Lunch per adult on weekdays: 19,000 won; lunch per adult Saturday and Sunday: 25,000 won; dinner per adult: 25,000 won. Drinks: 1,000-6,000 won. Desserts: 7,000 won.
Specialties: Brazilian barbecue
English menu: Yes
Dress: Casual
Clientele: Predominantly U.S. military
Directions: From the Osan Air Base main gate, cross the street into the Shinjang mall and walk straight about two to three minutes to the railroad tracks. Continue past the tracks for 20 or 30 yards. On the right, you'll see the entrance to the Fogo Grill, which is on the second floor.
Phone: 031-668-6005
Web site: None