After hours: Do-it-yourself dining
by
Lisa Novak
December 31, 2008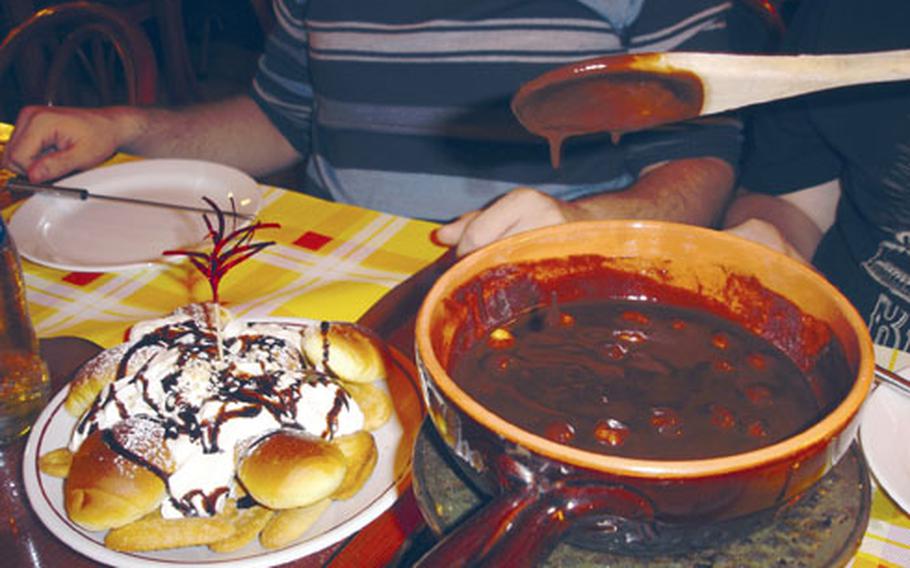 NAPLES, Italy — Most restaurants serve cooked food. But if you're one of those do-it-yourself types, check out the Happy Rock in downtown Naples. They specialize in fondue, and feature combinations of beef, pork and chicken plates — all served raw with a pot of boiling oil for cooking, pieces of toasted bread and a variety of dipping sauces.
The sauces are pretty much mayonnaise-based, which can make the meal somewhat heavy. Vegetarians can go with a wide selection of cheeses and toasted bread.
And of course, there are dessert fondues. You can get chocolate or cream-based dipping sauces with fruits or a plate of Italian cookies in need of a chocolate dip. Some of the sauces come with a healthy amount of hazelnuts, adding an incredibly rich flavor to the mix.
Although fondue is typically associated with the Swiss, the concept of communal dining (and cooking) works well in Naples, where dinner is always an event.
The restaurant is small, with an upstairs section. If you go after 9 p.m, you will get cozy with the other patrons, as tables and chairs are quite close.
The decor of the restaurant is neither Swiss nor Italian. Warm earthen colors and pictures of Hindu gods decorate the walls and modern music plays on the stereo.
The staff is very friendly, and most speak English. Many locals frequent the Happy Rock, but it is also a favorite spot among students. That might have something to do with the reasonable prices.
Entrees go for around 10 euros, and there are a wide variety of menu items aside from fondue. You can choose from burgers, sandwiches, steaks, a somewhat eastern version of Mexican food which is very spicy (verging on vindaloo), and a wide selection of salads.
The restaurant doesn't serve fish for a main course. It does serve chilled appetizers and salads, and the mixed seafood salad is a great bargain at 9 euros. It includes a generous portion of marinated white fish, shrimp, chopped crab and a few other types of shellfish. It really is a meal in itself — especially for those on a protein kick.
The Happy Rock opens at 9 p.m., but we stopped by a few times just after 8, and were welcomed in. Showing up early (by Naples standards) is wise, as the restaurant is packed by 10, especially on weekends.
The Happy Rock is very laid back. A night here is best described as active dining, meant to be a shared and leisurely experience.
To see previous After Hours reviews, go to: stripes.com/afterhours
Happy Rock, Naples, ItalyHours: 9 p.m. until 2 a.m. Tuesday through Sunday
Prices: Very reasonable — a full meal with appetizers and dessert comes in at about 25 euros.
Specials: Fondue
English menu: Yes.
Dress: Casual
Clientele: Mostly locals, lots of students.
Location: Via Giovanni Bausan, 51, Naples. If you're in downtown Naples, the street is located just off Riviera Di Chiaia, opposite side of Villa Comunale gardens. The best landmark is the gazebo in the gardens. Walk with your back to the gazebo and you'll see the street. It's small, but does have a marble sign on the corner wall. The nearest Metro is Piazza Amadeo.
Phone: 081-411-712