After Hours: Delizioso may satisfy your pasta craving
by
Franklin Fisher
April 10, 2008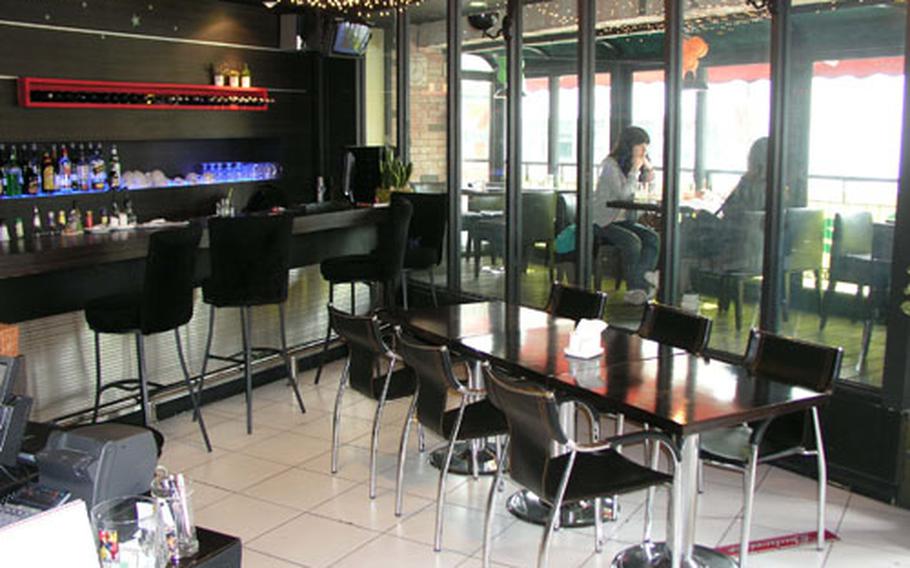 OSAN AIR BASE, South Korea — If you're in the mood for spaghetti dishes and aren't looking for a decorous atmosphere or the last word in culinary excellence, 4-month-old Delizioso might be right up your alley.
Delizioso has a bar, a small main dining area near the bar, and, in a separate enclosure, a row of tables that look out on the ever-bustling junction of the base main gate and Songtan's Shinjang shopping mall.
Owner Kim Hae-sook, 30, a former bartender, runs the pasta house with her husband Lee Jong-ho, 30, who serves as chef. When we dropped in for lunch recently, he was doing double-duty as a waiter. They have waiters working at night.
The menu offers a range of pasta dishes — spaghetti mostly — listed by the sauce they're served with — tomato, cream, tomato-and-cream, or olive oil.
The dishes, served with garlic bread, run from such basics as spaghetti with meat sauce to chicken alfredo linguine and spaghetti with seafood.
Also on the menu are salads, soups and appetizers, including yakimandu (fried Korean dumplings).
Our dish of spaghetti with sausage in tomato sauce was served with two slices of garlic bread. The meal was filling and not unsatisfactory. But the tomato sauce struck us as a bit thin and the sausages bordering on bland. Sausages with stronger ingredients would have gone a long way to give the dish a character and authority it lacked.
Owner Kim said they're hoping to find a more appealing variety of sausage.
But ravioli with grilled chicken, and spaghetti with mushrooms and bacon in olive oil have been gaining popularity among the U.S. servicemembers who make up about 80 percent of her customers, Kim said.
Kim speaks a serviceable English and was able to easily field our questions about what was on the menu.
See previous After Hours reviews here.
Delizioso, Pyeongtaek (Songtan district), South Korea
Hours: 11 a.m.–midnight daily
Prices: Main dishes range from 7,000-13,900 won. Alcoholic drinks are from 5,000-8,000 won. Coffees and teas are 4,000-4,500 won. Soft drinks are 4,000 won. Juices 3,500-5,000 won.
Specialties: Spaghetti dishes dominate the menu.
English menu: Yes, English and Korean
Dress: Casual
Clientele: Mostly U.S. servicemembers, but also some foreign workers and South Koreans
Location: Directly opposite the Osan Air Base main gate above the 7-Eleven convenience store.
Phone: (031) 667-4620
Web site: None