After Hours: Alle Nazioni and La Primula, San Quirino, Italy
---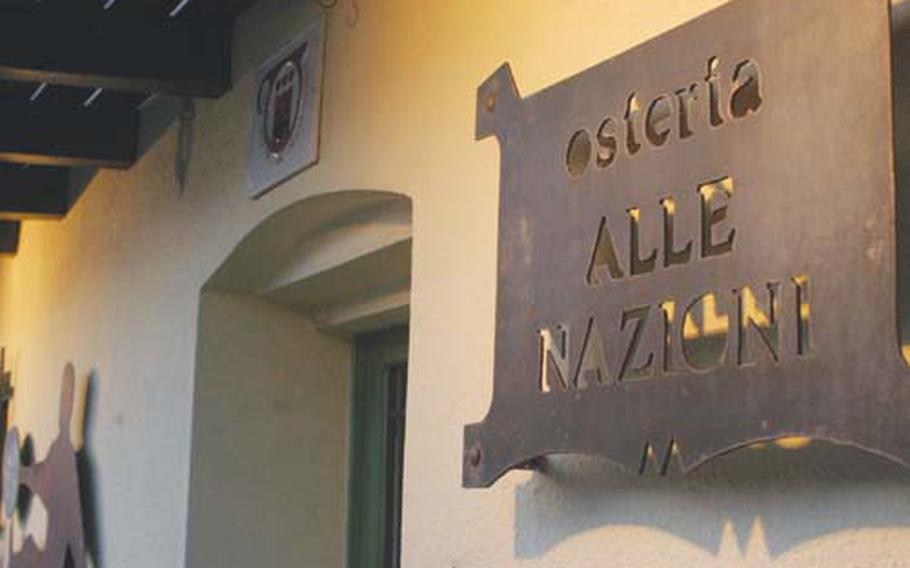 Following tradition is important in the Italian culture.
But the Canton family has taken it to a whole new level. Family members have operated a restaurant in the town of San Quirino, near Aviano Air Base, since the 1870s. To put that in perspective: The family was serving meals to customers in San Quirino not only well before the U.S. Air Force existed, but also before airplanes existed.
The history continues today at two adjacent restaurants in the town about 10 minutes east of Aviano. Andrea Canton, who has received recognition in a variety of Italian and European cuisine publications, is the chef at both restaurants. He's helped by other members of the family, including his aunt, Daniela De Ros, who has worked at the older, traditional restaurant, Alle Nazioni, for 40 years — after marrying into the family.
During a recent visit, she pulled up a chair to carefully explain the night's menu options for a couple of sometimes Italian-challenged Americans. She speaks just enough English to help them make selections.
There's no menu — in Italian or English — in the restaurant, and many of the dishes can change nightly. But they almost all have something in common: They've been served in the restaurant for years.
That's not to say there haven't been some changes. Andrea Canton is described in the regional Friuli Venezi Giulia's "Via Dei Sapori" ("Road of Taste") Web site as "inventive, perfectionist, full of ideas and gifted with a strong sense of sensibility. …"
Canton is listed as chef for the newer La Primula restaurant. His sister, Emanuela, who runs the Alle Nazioni along with her aunt, says La Primula is a bit more formal and that her brother might be a bit more adventurous with the menu. But the two restaurants share the kitchen and he's the chief chef for both.
Other members of the family work in the kitchen. And on the tables. And on the cash register. So it's probably not a great idea to complain about the chef's cooking to the waiter. Not that there are a lot of complaints. The restaurant wouldn't survive 130-odd years if it wasn't serving up good food.
That food consists of simple, quality ingredients prepared well. Favorites include tagliatelle with mushrooms, salted fish and a number of other dishes typically found in the region. Most dishes will be familiar to Americans who have spent some time in Italy. There are a few, however, such as trippa (cow stomach) that some might want to avoid.
The restaurant's traditional food and preparation have earned it a spot in a national publication on establishments who meet the criteria of the "slow food" movement. So don't expect to get your food immediately after you order it. And, in general, the dishes won't be complex. Those involved in the movement tout high-quality ingredients served in a relaxed atmosphere.
The atmosphere of the Alle Nazioni mirrors the food. The restaurant features a series of small tables that can serve up to 50 customers at a time. Modern decor mixes with older fixtures that have been around for decades. Outside, the exterior is so plain that the place is easy to miss, even though it's on the town's main road.
Those who can't find it shouldn't have any trouble getting help from a local resident. After all, the restaurant has been around longer than they have.
Location: Via San Rocco 47, San Quirino.
Directions: San Quirino is about eight kilometers southeast of Aviano. From the base, head toward Pordenone and take a left at the traffic light in Roveredo. It's just a few kilometers down the road. Via San Rocco is the main road through town. Parking can be an issue; there are a few small lots in the town that are probably the best options, so be prepared to walk a few blocks.
Hours: Open for lunch (11 a.m. to 2 p.m.) and dinner (6 p.m. to midnight) six days a week. Closed Mondays.
English menu: No. Waiters provide the daily options. Some English spoken.
Clientele: Local Italians.
Prices: Expect to pay 20 to 25 euros per adult for several courses.
Telephone: 0434-91005. Reservations advisable on weekends or for large parties.
---
---
---
---