After hours: Addis in Tokyo
by
Karen Willenbrecht
May 16, 2010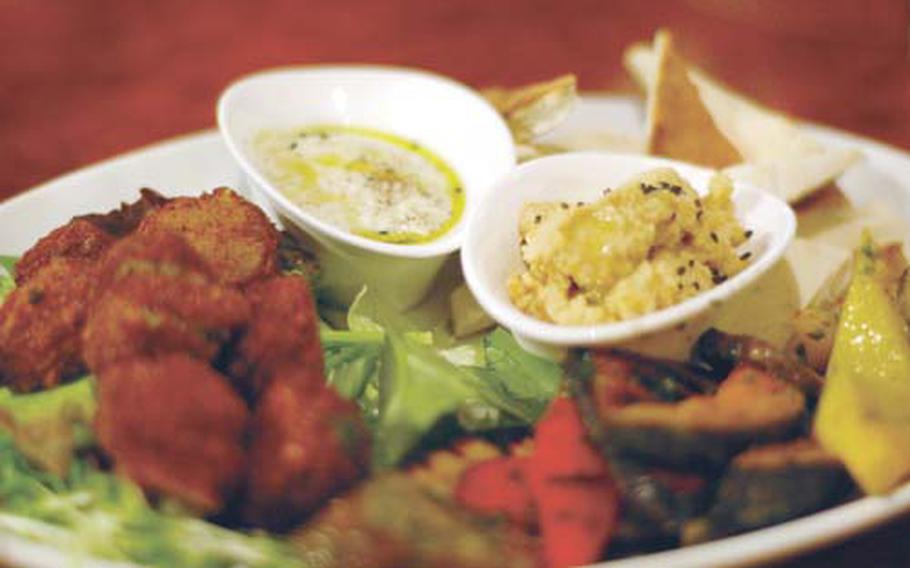 The appearance of certain food words on a menu pretty much guarantees I'm going to try the restaurant. Goat cheese. Salmon. Cornish hen. Brunch.
Addis Restaurant and Cafe's menu had all of them, so it's been on my must-try list for a while.
The year-old restaurant in Tokyo's Meguro ward is named for the capital of owner Tilksew Seife's native Ethiopia, but don't come here expecting injera or wat. The cuisine is best described as eclectic, influenced by Seife's stints cooking in French, Italian and Japanese restaurants around Tokyo, as well as at the U.S. Embassy.
That last job has steered him toward American-sized portions. A divine risotto with apples and sweet peppers in a Gorgonzola cream sauce — one of the daily specials — was served on a platter the size of this newspaper. The entree portions were so generous we were glad we'd shared them, Japanese-style, or they'd have gone half-eaten.
We started with the vegetable platter, a smorgasbord of grilled zucchini, eggplant, mushrooms and peppers served with falafel, hummus, baba ghanoush and warm, crispy pita triangles. This could easily have served as a light dinner for three, but the rest of the menu was so intriguing we weren't about to stop there.
After reluctantly abandoning the risotto, we moved on to a citrus-glazed Cornish hen and lamb kebabs marinated in yogurt and spices, each served on a bed of mashed potatoes that made a perfect sponge for the delicious sauces.
The "roast and grill" section of the menu offers several other mouth-watering selections for carnivores — including oven-roasted salmon, grilled beef filet and glazed chicken — but the rest of the menu serves up a huge selection of vegetarian options that would be a rare find in the States, let alone in meat-loving Japan. In addition to salads and pasta, there's a sandwich with grilled eggplant, feta cheese and fresh herbs, barbecued tofu on a sesame bun, and a vegetable saffron rice paella, just to name a few.
Americans craving a taste of home on weekends will find buttermilk pancakes, eggs Benedict and omelettes alongside more exotic fare such as croque monsieur and a chicken, avocado and sour cream quesadilla, served until the civilized hour of 4 p.m.
Addis is outside the usual expat zone of Roppongi and Hiroo, but the friendly, personal service (Seife enjoys chatting with customers), inviting bar and outstanding food make it well worth the short trip.
Addis Restaurant and Cafe
Location: TokyoHours: Monday through Friday 11:30 a.m. to 11 p.m.; weekends and holidays, brunch 10:30 a.m. to 4 p.m., dinner 5 to 11 p.m.Prices: Appetizers 400-1,400 yen; pasta and paella 900-1,600 yen; sandwiches 900-1,100 yen; entrees 1,500-2,000 yen; brunch items 800-1,600 yenEnglish menu: YesDress: CasualClientele: Mix of Japanese and expatsDirections: 2-3-15 Nakane, KI Building 2F, Meguro-ku. From Roppongi, take the Hibiya line to Naka-Meguro and transfer to the Toyoko line, then go three stops to Toritsu-Daigaku station. About a five-minute walk from the station; see website for directions. Also easily accessible from Yokohama on the Tokoyo line.Website:http://addiscafetokyo.comPhone: 03-6421-4302