After Hours: Á Pollo in Kaiserslautern specializes in delicious chicken
---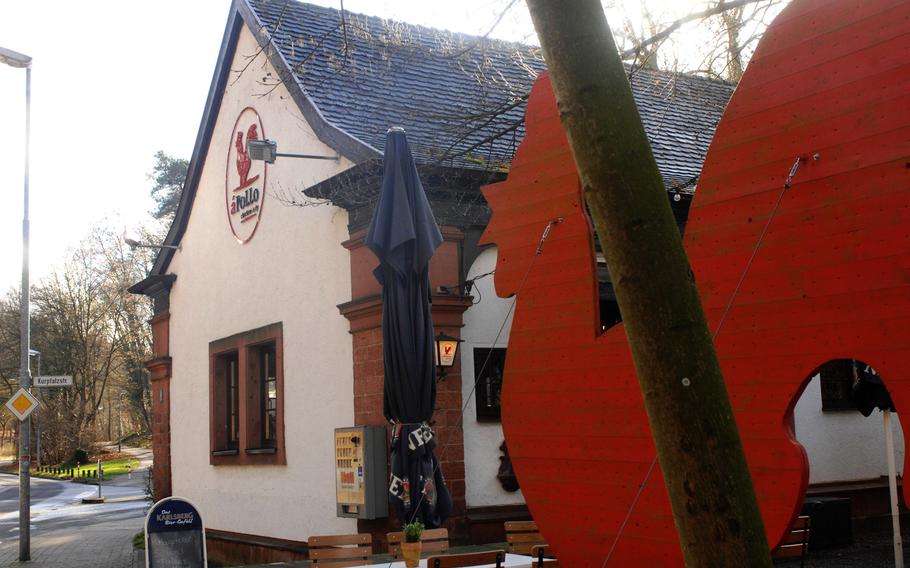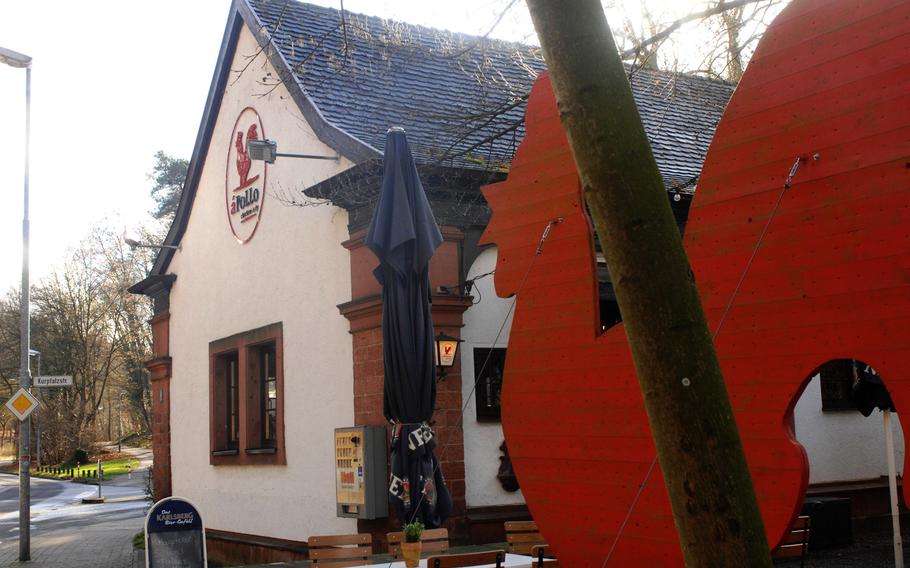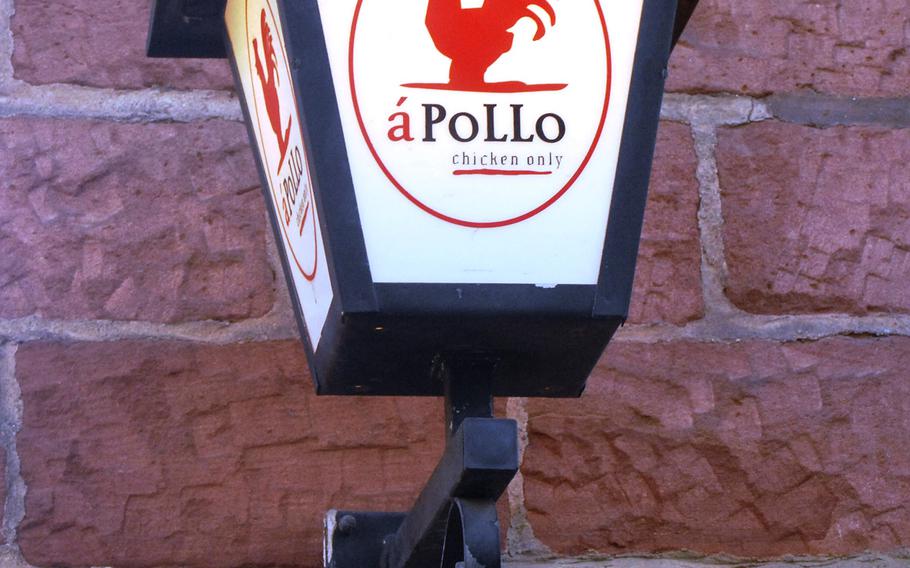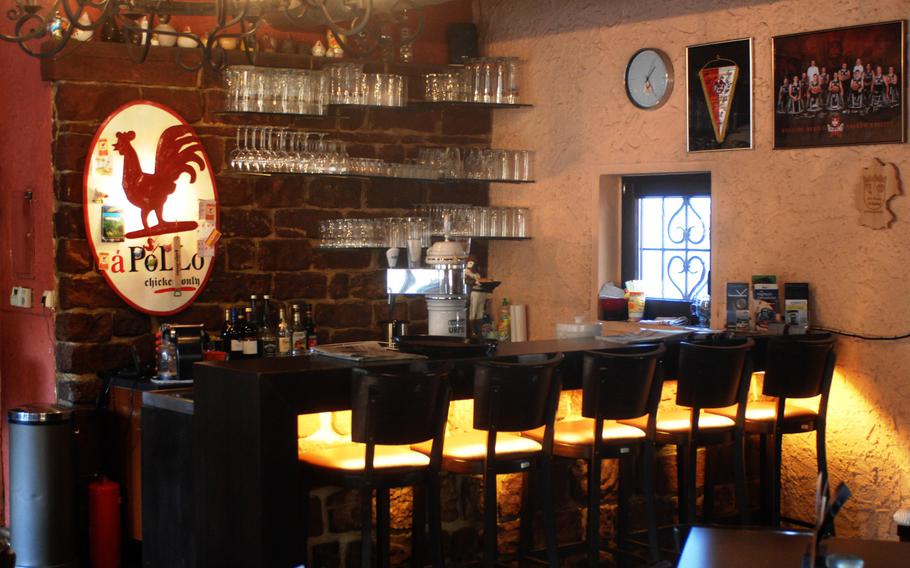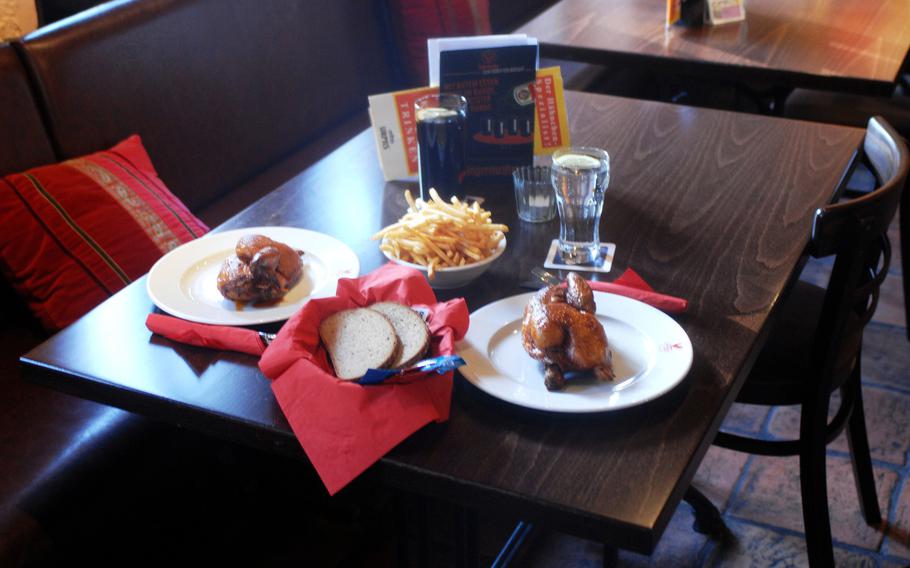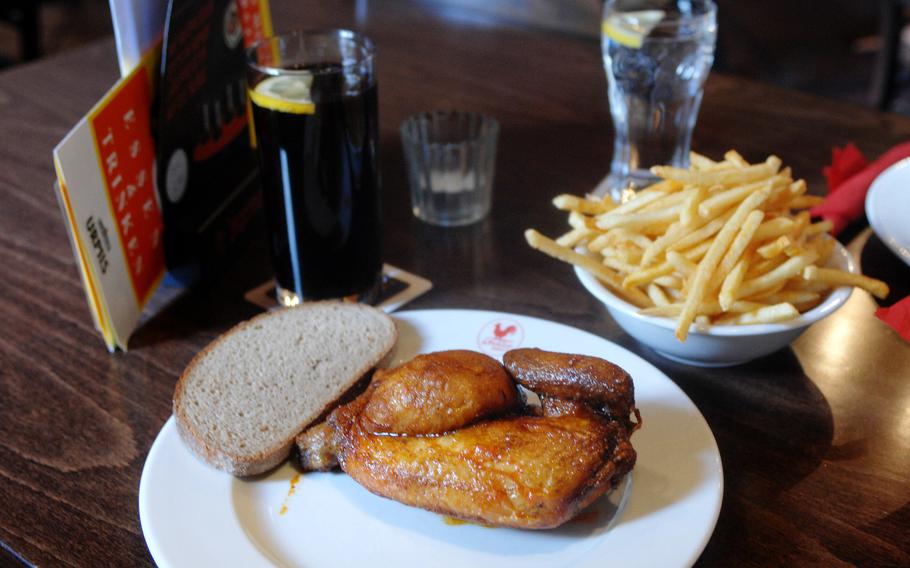 I  hate receiving mail at my house. It always makes me feel bad. I get speeding tickets I didn't know I incurred, bills for accounts I don't remember signing up for, and advertisements for hardware stores I'm afraid to go into. And I can't read a word of any of it. I always spend the next 20 minutes typing terrifying words into Google Translate and peeking through my fingers at the results.
Rechnung. Verfahrenskosten. Nebenforderungen.
But the other day, something wonderful arrived in my mailbox. It was a simple flier for á Pollo chicken-only restaurant in Kaiserslautern. This flier had happy words on it, many of which I translated without Google's help.
Hahnchen. Trinken. Pommes frites.
Have you ever seen or heard of something for the first time and immediately known it would be an awesome addition to your life? I felt that way when I met my wife 14 years ago, and both of the times we learned that we were expecting a child. I felt that way the first time I watched professional wrestling, and when I first logged onto the Internet to look up Wu-Tang Clan lyrics.
I felt that way again when the á Pollo flier arrived.
It was my wife who first discovered it. She showed me the flier and we shared a knowing look.
"This is a good thing," our eyes silently communicated.
A couple of days later, we went to á Pollo for a lunch date. A co-worker heard of our plans and offered his endorsement, but it didn't matter. We were certain it was going to be excellent.
We parked and approached the restaurant. It was absolutely adorable. I'm a little hesitant to use the word "adorable," but it's the best descriptor for the place and, at some point my wife said, "This place is adorable."
The restaurant was equally adorable inside. A small corner bar was surrounded by benches with throw pillows, beautiful brick walls and endless chicken-themed art and decorations. It felt comfortable and inviting like a family dinner, only without your whole family around to make it awkward.
We were greeted by a young woman with that air of pleasant ambivalence that I have come to love from European restaurants.
"It's cool that you're here," this welcome makes clear to the visitor. "Want to eat some chicken?"
As a matter of fact, my wife and I did want to eat some chicken. So we did, our confidence still solidly intact.
If you were waiting for the twist ending to this story, when our food turned out awful and our preconceived notions were dashed and some kind of lesson was imparted, that would theoretically go here. But it didn't happen that way. The food was excellent.
The beauty of á Pollo is in its simplicity. They serve only chicken and the usual sides, or chicken in salad or soups. There's no agonizing over the menu. My wife and I each ordered a half roasted chicken with bread and an order of fries to share and never considered anything else. You can get the chicken seasoned to your preferred level of spiciness, so that's a choice you'll be forced to make.
Everything was fresh and delicious, and the bill for the two of us amounted to just about 15 euros ($21). We're planning to go back often with the kids and friends. We might even become the kind of regulars the staff recognizes and waves at. I've always wanted to have a place like that.
Á Pollo has brought more than succulent chicken into my life. It's cured my fear of the German mail. Next time that once-intimidating Deutsche Post lady approaches on her bike, I'll greet her with a smile.
broome.gregory@stripes.comTwitter: @broomestripes
Á POLLOAddress: Bremerstrasse 12 Kaiserslautern.
Hours: Opens for lunch at noon seven days a week; closing time varies.
Food: Chicken and sides.
Dress: Casual.
Costs: Meals start at about 4 or 5 euros for chicken and bread. Salads with chicken cost about 8 euros. Larger meals with soup, chicken, fries, cole slaw and dessert ring up at about 16 euros. The bar stocks a variety of wine, beer and soft drinks.
Information: Call (+49) (0) 631-320-4244. Menus are in German but the staff speaks English.
---
---
---
---