After hours: A bar with history
by
Matt Millham
March 8, 2007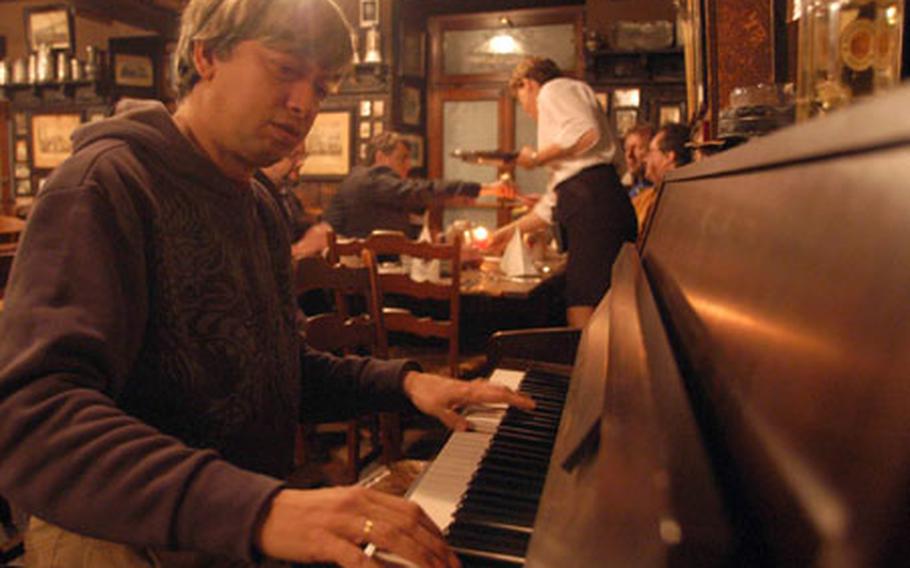 Piano? Check. Ox horns? Check. Urns containing the remains of five generations of dead relations? Check.
Sure, these are all great, but if I had to pick my favorite thing about the Zum Roten Ochsen, it'd probably be the autographed photograph of Mark Twain hanging on the wall. I've been told by my waitress, whose credibility I've been given no reason to impugn, that the photo and its ancient blue ink script are the real deal. She didn't use those words, but that's what she meant.
The Zum Roten Ochsen — that's Red Ox Inn to you English-only speakers — is best known as a student pub, though there are few, if any, students in the joint on weekdays. It's on the weekend they crowd the place. When I show up on a Wednesday evening it's just me, the piano man, a table of Japanese businessmen and a German couple for the first hour or so.
This was a perfect situation in which to study the Red Ox. The walls, ceilings, tables and chairs are covered in more than a century's worth of graffiti in more than a dozen languages.
The Red Ox's piano man is a zany fellow with an early Beatles haircut and a penchant for oldies. He's also, dare I say, awesome. In between heartfelt renditions, the piano man, Rudi Scheffler, takes time out to talk to himself and his audience.
Soon after I show up, he gives the keys a rest and starts talking — in German — to the Japanese men and me, saying something about how it's always slow on Wednesdays. At least I think that's what he's saying.
Then my food shows up. I ordered the roasted pork with red cabbage and mashed potatoes. This place makes a really just-out-of-this-world roast pork. It's like it's not even pork. It's like meat candy.
This isn't even the Ox's specialty. The Wednesday special, denoted on the menu with bold letters translates to "'Red Ox Inn' Battle Plate with blood pudding, liver sausage, mashed potatoes and sauerkraut to help with digestion!" That, sir, is a man's meal.
But I'm upset with myself that I waited until now to try the Ox. If I'd shown up a month or so earlier, I could have taken part in the meat extravaganza known around here as "Slaughterfest Week," during which they feature a plethora of regional and German sausages and meats. I prefer to think of it as Sin City with a side of beef.
To see previous After Hours reviews, go to: legacy.stripes.com/afterhours