AFN odd couple's differences may make winning mix
---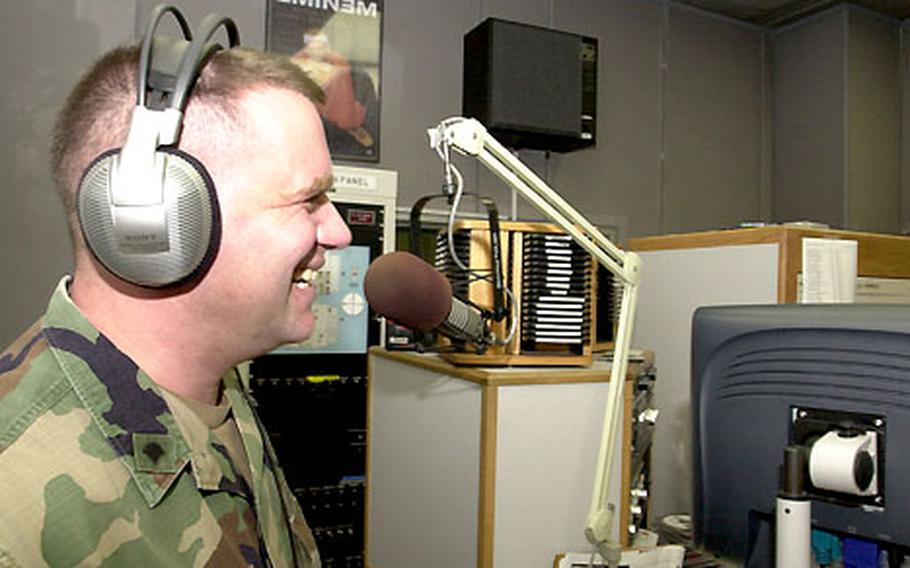 One has a zany laugh; the other, a calm voice that could lull a child to sleep.
Army Spc. Jim Hart and Air Force Staff Sgt. Norris Agnew are American Forces Network's odd couple, the latest hosts of Eagle 810's morning show broadcast from Yokota Air Base, Japan.
"I'm very reserved on the air, very straight," Agnew said.
"And I'm on medication," cracked Hart.
In October, Agnew teamed with Hart, who had been piloting the 6 to 10 a.m. time slot solo for almost a year.
Salt and pepper? Ying and yang? Hart and Agnew? Why not?
"You couldn't ask for two more different individuals," said Master Sgt. John Tway, Eagle 810's program director.
The dissimilarities run deep: One's a night owl, the other walks to work before the sun rises.
Agnew typically does evening radio shows, but with this gig, he's up at 4 a.m. to get to the studio on time. He drinks coffee to cope, though not as much as Hart, who loves the early mornings and often strolls to Yokota's AFN building.
"Jim is like a two-pot-a-day coffee drinker," Agnew said.
That may explain a few things: Hart seems never to experience mood swings: He's always upbeat, almost hyper when on the radio.
Agnew's role is to keep the program on-task, making sure he and Hart stick to the schedule of songs, news and humor slated for the show. Seconds before returning to the air, he stops talking and concentrates on what he's going to say next.
Hart, meanwhile, stands relaxed as the jokes roll off his tongue.
"I'm not quick on the draw like Jim is, because that's his gig," Agnew said. "I make sure we don't go over time, and Jim comes up with the jokes. That's his schtick, cheese and corn, and from Jim, it works."
Agnew joined Hart after Eagle 810 went off the air for several weeks to replace transmitting equipment. During the break, the disc jockeys learned how to better impart information to listeners for a show broadcast throughout the Kanto Plain.
Now, to make events such as youth sports sign-ups or flu shot dates more interesting, the jockeys script jokes, usually the day before, to fit the announcements from Tokyo-area military installations.
Hart said, "That's why it sounds …"
"So campy," Agnew said.
While they can finish each other's sentences, the new partners still are getting to know each other. They say they're friends but didn't specify whether they hang out together outside AFN.
Hart shows a more serious side when he's not behind the mike. He thinks about the listeners, he said.
"I want them to feel good while they're listening, maybe get in a little bit better mood before they go into work," he said.
He never dreamed his military career would lead to radio.
"When I was a mechanic, the only thing I saw myself as was a broken 60-year-old man with a busted-up back and arthritis," he said.
Hart, 32, a native of Virginia Beach, Va., worked on cars and UH-1 helicopters as a reservist before joining the active-duty Army. The father of two enjoys computer games, gardening, riding his bicycle, woodworking and, in his spare time, sleeping.
Agnew, 30, whose hometown is Corinth, Miss., has spent his seven-year Air Force career in military radio. He and his wife enjoy traveling around Japan with their newborn.
Agnew says the morning show has been quite a ride so far.
"If you're partners with Jim, you just show up and see what happens," he said. "You never know."
Does the odd-couple formula work?
"Our ying and yang is still coming together," Agnew said, "but I think it will gel — once I learn how to wake up at 4 and not have any adverse effects."
---
---
---
---