AFN broadcasts carry U.S. culture beyond the bases
By
Stars StripesStripes Sunday magazine December 15 2002
December 15, 2002
---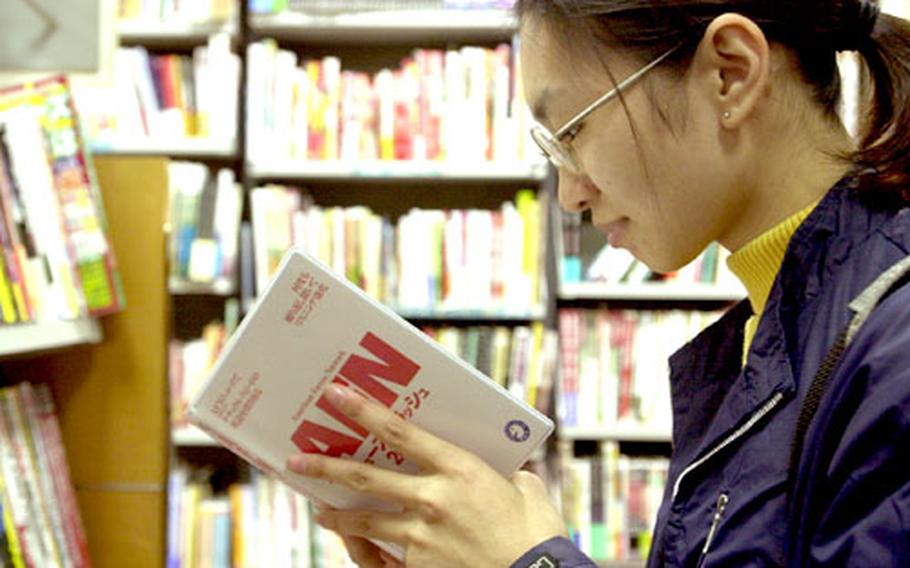 Whenever Paul Grundy drove to work on Okinawa, he jumped at the chance to crank up his car stereo's volume.
The Harlow, England, native didn't care for Okinawa radio much, so that left him with one option: the American Forces Network's WAVE-FM or AM.
Until he moved to Shanghai, China, recently after a three-year stint teaching in Japanese schools on Okinawa, Grundy was part of AFN's "shadow audience" - listeners who are not Defense Department employees, governed by the Status of Forces Agreement or granted base access.
They're just listeners.
Base AFNs have shadow audiences because radio frequencies float beyond base gates. Listeners such as Grundy tune in for the music, but Kim Chong-ho in Seoul listens for a different reason.
"It's very helpful for me," said the 25-year-old university student, who's studying computer science, adding that AFN helps her English. "Korea doesn't have any radio stations for English."
Kazuaki Yokota, a 33-year-old computer engineer from Ome, Japan, said he also listens to AFN radio to improve his English.
"When I drive my car, I always listen to the radio," Yokota said, speaking of AFN Yokota Air Base's Eagle 810 radio.
Yokota said he usually just listens to news, especially National Public Radio, and understands about 30 percent of the programming. He's learned the phrases "northern alliance" from news reports about Afghanistan, "mad cow disease" and "global warming."
But it's difficult to measure the listening audience.
Doug Smith, a former AFN Tokyo station manager, said he was unsure how far the station's signal reached but knew it blanketed "the entire Kanto Plain." That includes Tokyo, the world's largest city with about 12 million residents.
Okinawa's 1.3 million people can pick up WAVE-FM and AM all over the island. The AM signal is heard throughout the island prefecture - and beyond.
"We know our shadow audience is large because we get a lot of calls from Okinawans whenever we have a maintenance problem and go off the air," said Alan Armitage, the station's volunteer operations manager.
"I've gotten postcards from people in Sweden and China who have tuned us in," Marine 1st Sgt. Alan Moore, station manager, said of the AM signal. Since AM signals bounce off the atmosphere, they can be picked up virtually anywhere in the northern hemisphere, under the right conditions.
Grundy's former girlfriend, Japanese actress Kumico Akiyoshi, 48, said she listens to AFN whenever she's in Tokyo or Okinawa.
"On the Japanese stations, there's always too much chatter, especially on Okinawa," she said. "The American stations play a lot more music ... I daydream that I am driving somewhere in the middle of Texas."
"We occasionally hear from a Japanese listener asking for a certain song, and we hear from many Air Self-Defense Forces people here on base, too," said Navy Seaman Red Scofield, a former host of AFN Misawa's afternoon radio show.
But knowing his voice carries well over the fence into the Misawa community gives Scofield cause to pause and think about the impact of his words.
"I hope they aren't listening to learn English from me," he said.
Korean stations usually don't offer hip-hop or rock until around 9 p.m., so almost every young person knows about AFN Korea radio, Kim said.
"A lot of the young generation, like college students or young men working in companies, they are listening to AFN radio," said Yi Hui-cha, television scheduling coordinator for AFN Korea.
One reason not cited for listening by any "shadow" member interviewed was AFN's primary mission: command information.
"The talk doesn't really interest me at all," Grundy said. "It's mostly military rubbish."
The shadow audience listens to AFN to keep in touch with the music scene back in the United States - or to be as close as they can get.
"The music's fair enough," Grundy concluded. "It's more middle of the road than I'd like, but at least I haven't heard any Michael Bolton."
David Allen, Chiyomi Sumida, Jeremy Kirk, Wayne Specht and Jennifer Svan contributed to this report.
---
---
---
---