Afghan patients present unique problems, joys
By
Janet D'Agostino Boivin
December 8, 2002
---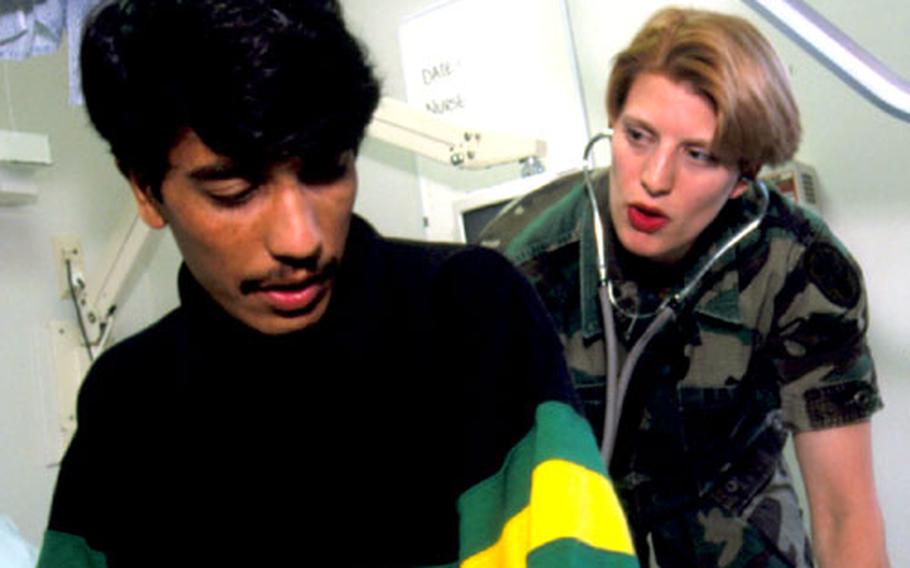 The nurses knew him only as Ali. He was a compliant patient, walking up and down the halls as he and other patients had been told to do. The wounds to his head, lower back area and heel healed nicely.
Ali was thin, about 5 feet 7 inches tall, with thick black hair. He looked as if he was in his 20s, and he smiled widely when the nurses came to check on him in his room. He had few belongings. He kept a collection of oranges piled on his bedside table. It was difficult to learn more about Ali because he spoke only Pashto, and there were no translators available who could speak the Afghan language fluently.
Ali was the last of 24 Afghan soldiers allied with the United States to be treated at Landstuhl Regional Medical Center. He left Germany in June to find his family in Pakistan.
Afghan nationals are taken to the hospital with the same injuries as American soldiers — amputations, fractured limbs, or shrapnel wounds — from bombs, land mines or motor vehicle accidents. However, there haven't been any patients admitted to Landstuhl since Ali left because the Afghan government is beginning to rebuild its own health-care system to take care of its soldiers and citizens, said Landstuhl commander Col. David Rubenstein.
"Their own structure is starting to take shape," he said.
Ali was brought to Landstuhl with another Afghan soldier after the two were severely injured in a motor vehicle accident in May. Although the details were unclear, Ali and the other soldier were riding motorcycles and chasing al-Qaida fighters, said Dr. (Lt. Col.) David Gillespie, former chief of Operation Enduring Freedom triage at Landstuhl.
While still in the field, tubes were inserted into the trachea of Ali and his fellow soldier to keep their airways open. They were then flown to Landstuhl by an Air Force critical care air transport team, Gillespie said. Within the day, Ali's tube was removed and he was doing well. The other soldier required neurosurgery at nearby University Hospital of Saarland in Homburg, Germany.
The Afghans were taken to the medical center without medical records, medical histories, or even proof of their names and ages.
"We have no written records for them," said Army nurse Capt. Caroline Force, who worked with patients injured in OEF. The medical staff initially identified the patients by assigning them different colors. For example, one patient might be referred to as "orange," another "blue."
The Afghans who came to the Army hospital went through a medical and sociological culture shock. But the adjustment was lessened by the American nurses, who took special interest in their Afghan patients. Col. Roy Harris, the hospital's deputy commander for nursing, said he found his nurses passing out Skittles candy to the Afghan patients one day.
In the absence of translators, the nurses found other methods to communicate with their patients.
"We've developed a list of common terms and gestures," said Air Force 2nd Lt. Tina Hall, a staff nurse at Landstuhl. "I had one patient who had learned English from television, and he would help me assess the other patients."
The first and most important Afghan word the nurses learned was "dahrt," which means pain. The nurses were diligent about controlling pain because of the nature of the wounds their Afghan patients were suffering.
The nurses describe the Afghans as gentle, affectionate people who liked to touch and who quickly adapted to American ways, such as wearing Western-style clothing and shaving their beards. The Afghan patients ranged in age from 14 to 40, most looking much older than their chronological age. Usually they could not read or write.
The 14-year-old patient, who had fractured his left humerus, claimed to be older. But military physicians assessed him as a young adolescent. The boy was eventually transferred to Walter Reed Army Medical Center in Washington, D.C., for further treatment.
In the Afghan culture, women do not touch men in public. Upon arriving at the hospital, the Afghan patients were typically private and hesitant to expose their bodies to the female nurses. But soon they understood the nurses were there to help, and they become less self-conscious, said Ellen Larkin, a civilian nurse at Landstuhl who works with OEF patients. Indeed, Ali didn't hesitate to unbuckle his pants so a visitor could see the wounds around his tailbone.
Larkin developed a special rapport with the Afghan patients. She was sought out by another nurse to help calm Ali's comrade when he returned from the Homburg hospital, where he underwent surgery. "They can tell if you care about them," Larkin said.
Most of the Afghan patients have required further treatment at Walter Reed, Gillespie said. Ali was one of the few Afghans to return to Afghanistan.
"He was very excited," Gillespie said. His future, though, was uncertain because his family had fled to Pakistan and he did not know where they had relocated.
---
---
---
---