Actor, martial arts expert and former airman is now Author Chuck Norris
by
Jeff Schogol
November 2, 2008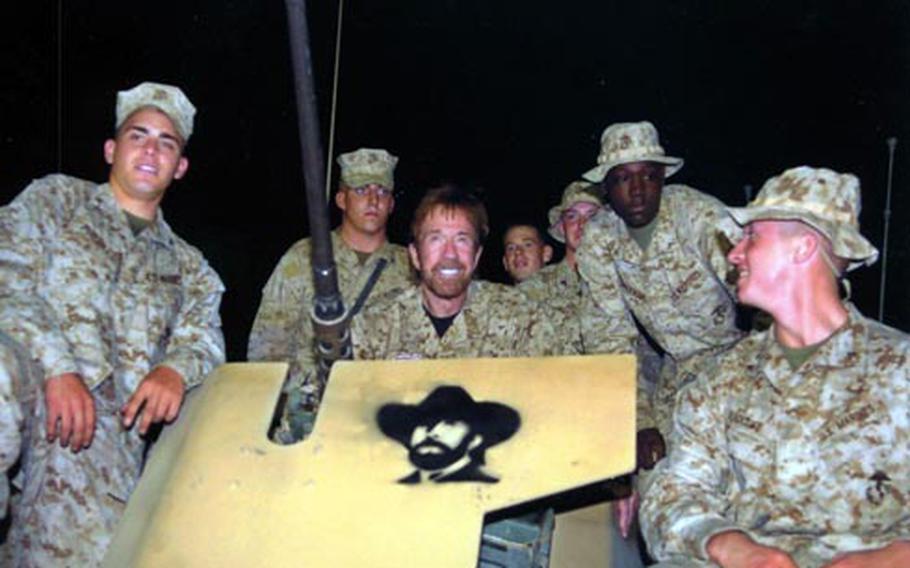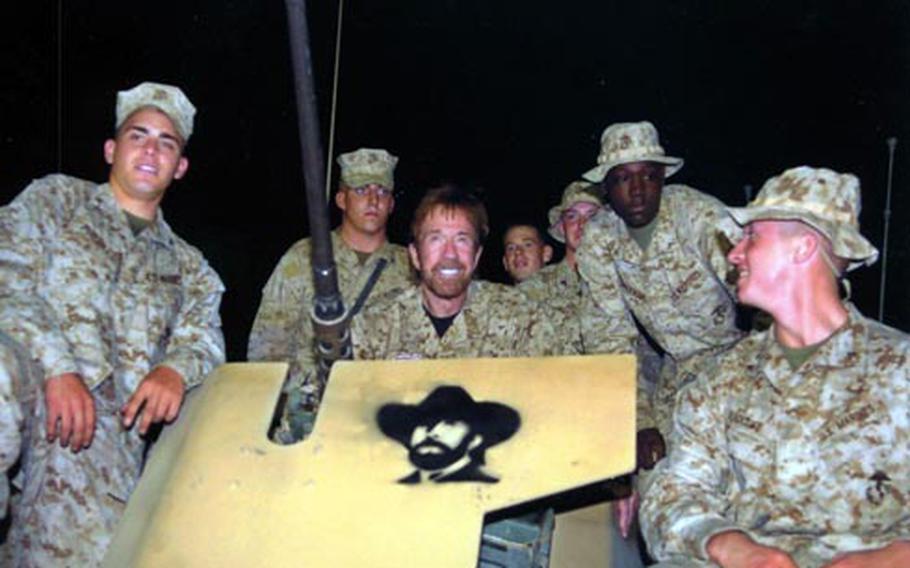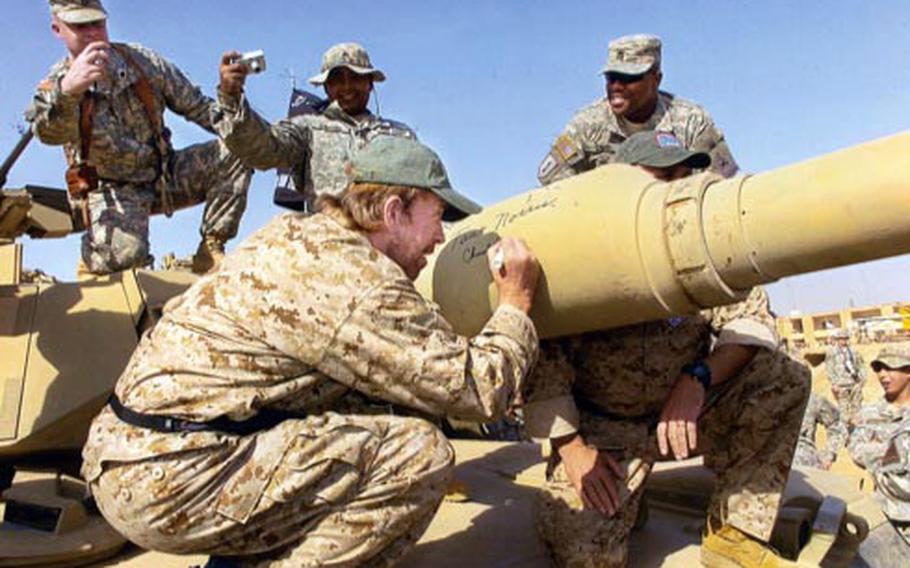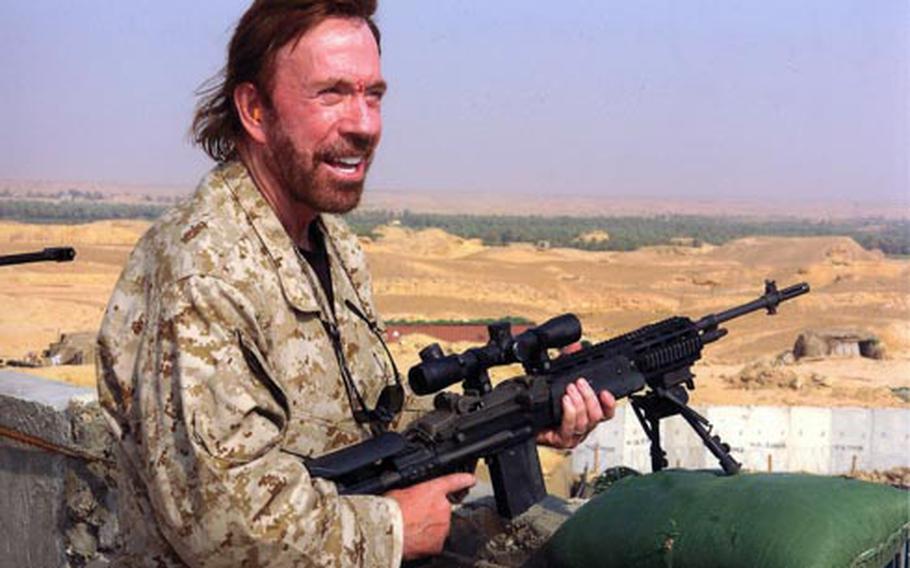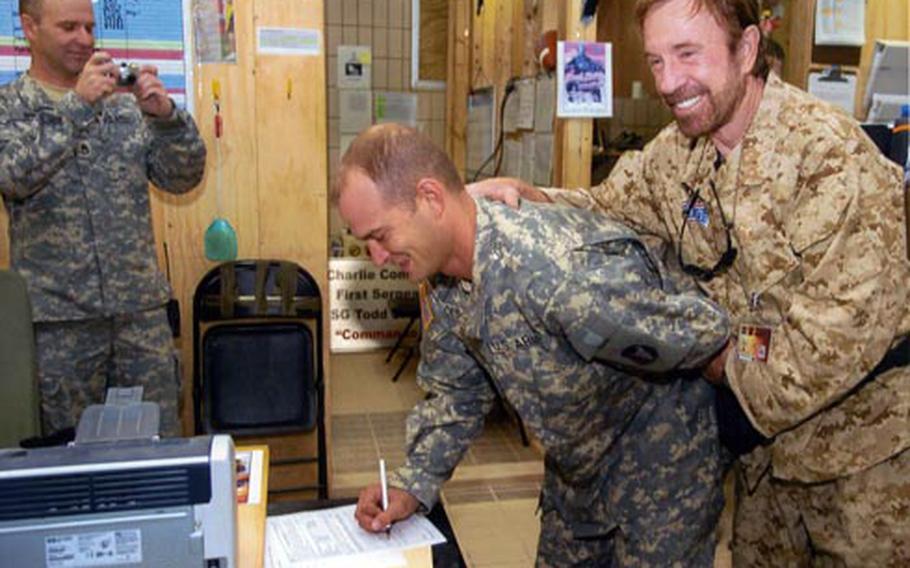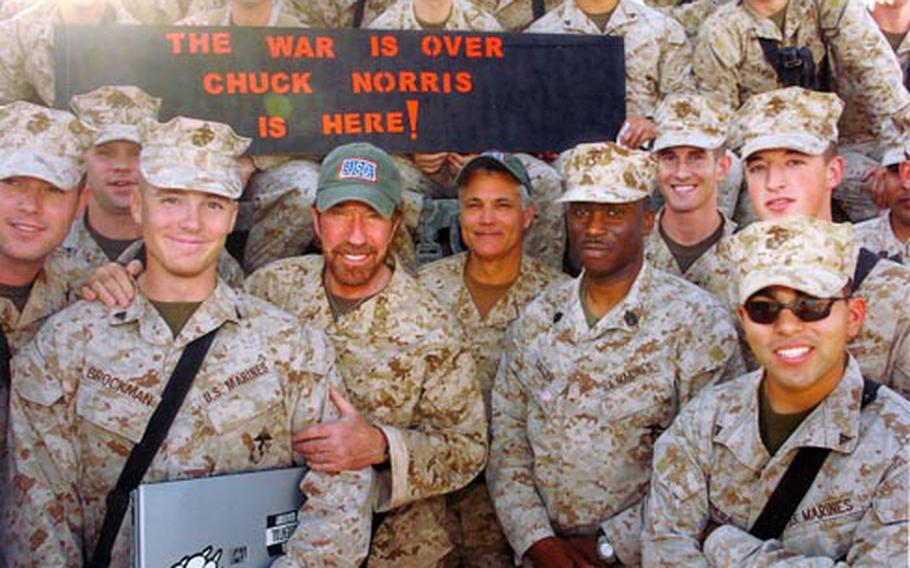 Chuck Norris says it's time to set a date to withdraw from Iraq.
You heard me.
Pentagon Press Secretary Geoff Morrell recently said any Status of Forces Agreement with Iraq would not have any "willy-nilly, arbitrary time lines" for withdrawing from Iraq.
But Oct. 20, Norris gave Morrell a roundhouse kick to the face — metaphorically speaking.
"I really believe we should have a time to leave, but let's leave as winners, not losers," he said in an interview with Stripes.
Norris is a former airman, an honorary Marine, a champion martial artist and an actor — and if you believe the "Chuck Norris Facts" on the Internet, he also possesses superhuman powers.
"Chuck Norris played Russian Roulette with a fully loaded gun and won," according to one.
Norris talked to Stripes about his new book, "Black Belt Patriotism," in which he recalls the warm reception he got when he visited U.S. troops in Iraq.
"When I first arrived in Iraq, the troops held up a huge sign that said, 'Chuck Norris is here, we can go home now!' " Norris wrote."I wish that were true."
He told Stripes that while troops he spoke with were committed to the mission, they need to know when they will be leaving.
"Deep in their heart, they'd like to know an end is in sight," said Norris, who says he shook hands with 37,000 U.S. troops in 2006.
Norris struck a more Republican tone in his most recent book, in which he argues that fighting terrorists overseas is the best form of border control.
"We will either fight extremists overseas or we'll fight them here," he wrote. "Two hundred years of our history proves that."
But he also wrote that he feels the United States has sometimes "stretched her boundaries too far into other countries' business."
"I believe America overplays the role of world peace officer," he wrote.
Norris, who supported Mike Huckabee's presidential bid, described himself as a political independent.
"I kind of vote for the guy rather than the party," he said.
Norris said he is concerned about the political system, which he called corrupted by greed and power. He criticized lawmakers for taking money from special interest groups and insurance giant AIG, which had to be bailed out by the federal government.
He also recalled visiting Congress with his wife and watching lawmakers screaming at each other like children instead of reasoning like adults.
"I'm thinking, how in the world do they get anything done around here by acting like that?" Norris said.
In his book, Norris argues that America must reconnect with the Christian values of the Founding Fathers, but in the interview with Stripes he said that he doesn't know if President Bush — a born-again Christian — can "walk the walk."
"I don't know him," Norris said. "I knew his father. His father walks the walk."
As the presidential election approaches, Norris said he has doubts about both candidates.
Norris said he disagrees with Sen. John McCain's support for the Bush administration's plan to buy bad debt from banks, and he said Sen. Barack Obama has not shown the type of decisive leadership under pressure that a president needs.
Whoever wins, Norris said it is time to bring the Iraq war to a conclusion. He suggested completing the process of Iraqi provincial control and then telling Iraqi security forces, "It's your job now."
Norris said he wants to visit Iraq again early next year, and he'd also like to go to Afghanistan, from where he has been getting lots of mail from troops asking for a visit.
"They sent me a flag that was flown over there," he said.
The situation in Afghanistan has grown markedly worse this year with violence escalating and U.S. casualties mounting. Defense Secretary Robert Gates has even talked about the possibility of political reconciliation with elements of the Taliban.
But now Chuck Norris might be headed there.
Asked if his visit would signal the end of the Taliban, Norris replied, "I wish that was true, too."